Tweet From Britney Spears in 2015 Shows Elton John Collab May Go Back Years
Britney Spears' reported musical collaboration with Elton John may have been several years in the making, if a tweet from 2015 is anything to go by.
On Monday, Page Six reported that Spears, 40, had teamed up with John, 75, to record a modernized rendition of his classic 1970s track "Tiny Dancer."
According to the article, the pair met up at a recording studio in Beverly Hills, California, to lay down vocals for the Andrew Watt-produced track, which is expected to be released by Universal Music in August.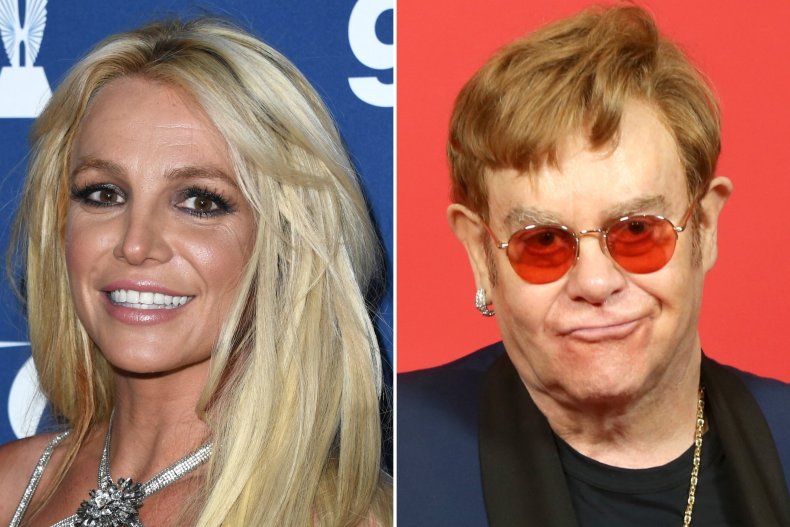 People also reported that Spears and John had collaborated on a version of the musical favorite, which was originally recorded in 1971 and released as a single in 1972.
And while fans anticipate a comeback for "Toxic" singer Spears, it would appear that the song was on her mind for quite some time.
On October 21, 2015, the pop star took to Twitter to share a message with her millions of followers that read: "Tiny Dancer #EltonAlways @eltonofficial."
While no other information was provided, the post has attracted a renewed wave of attention in the hours that have passed since the John collaboration was reported.
A host of fans left tongue-in-cheek comments stating that the star had "predicted" the future, while another wrote that they had missed a vital clue years ago.
"And here I thought thinking this was new," wrote the fan.
Another fan pointed out that the date Spears posted the tweet had great pop culture significance, as it was Back to the Future Day.
October 21, 2015, is when Michael J. Fox's character Marty McFly and Christopher Lloyd's Doc Brown travel into the future in Back to the Future: Part II.
"NOT BRITNEY REVEALING HER COMEBACK SONG ON THE EXACT DAY MARTY TRAVELS TO THE FUTURE," tweeted the fan, alongside a clip of the moment in the classic movie. "HER MIND !!! Time travel is REAL !!!"
Neither Spears nor John have commented on the reports of a collaboration.
Newsweek has contacted representatives of Spears and John for comment.
In mid-July, Spears teased an edgier version of her 1998 breakout hit single "...Baby One More Time" in a video posted on her Instagram account.
The mother of two, who recently tied the knot with partner Sam Asghari, revealed that she had been pushing for a number of years to re-record the hugely popular track but wasn't able to because of her controversial conservatorship.
"I haven't shared my voice in an extremely long time…may be too long," the Louisiana-raised star captioned the clip.
Should Spears release the song with John, it will mark her first single since 2016's "Slumber Party." As has been well documented, Spears met her husband while shooting the track's accompanying video.
During damning testimony in June, Spears alleged that she was made to perform, take medication and wear a contraceptive device against her will—the latter preventing her from realizing her desire to have a baby with Asghari.
In November 2021, a Los Angeles judge ruled for an end to Spears' conservatorship, which had seen her personal and financial decisions taken out of her hands for 13 years.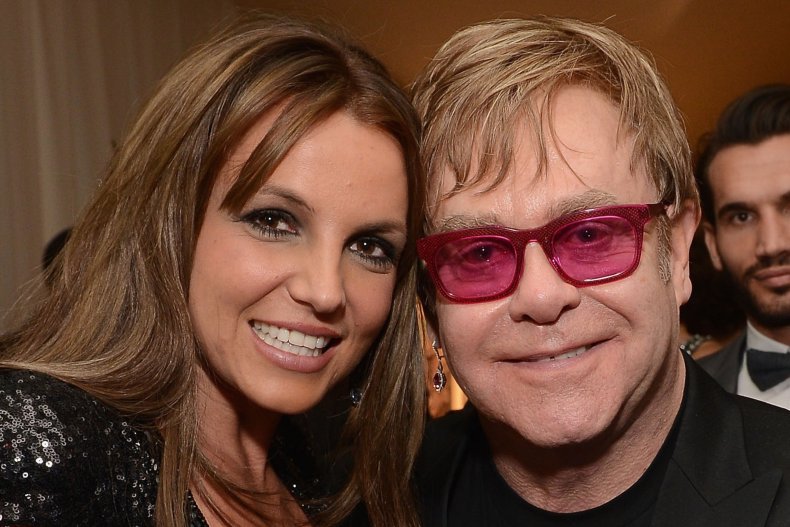 Her father, Jamie Spears, had overseen the arrangement in its entirety from its 2008 inception until 2019, when he stepped down from the personal branch of the conservatorship, citing ill health. He was suspended from his role overseeing the financial branch in September.
Speaking outside the courthouse after the conservatorship was officially ended, Britney Spears' attorney Mathew Rosengart said: "What's next for Britney is up to one person—and this is the first time we can say this in a decade. It's up to Britney. Britney, as of today, is a free woman."
In February, the pop star shared an Instagram post in which she thanked Rosengart for turning her life around, as she also hinted at a return to work.
"So many exciting projects ahead!!!!" Britney Spears captioned her post.