Dad's Reaction to Millennials Celebrating Dog's Birthday Is Priceless
We all love our pets, but one couple's love of their dog has left the internet in stitches this week after a video of their dad's reaction captured viral attention.
With more than 6 million views, the video shared on TikTok by meetmattshep2.0 has received thousands of comments and over 597,000 likes.
In the video, Matt Shepherd and his girlfriend Vida Isaacs have taken their family to a restaurant to celebrate Zumi the cockapoo's second birthday.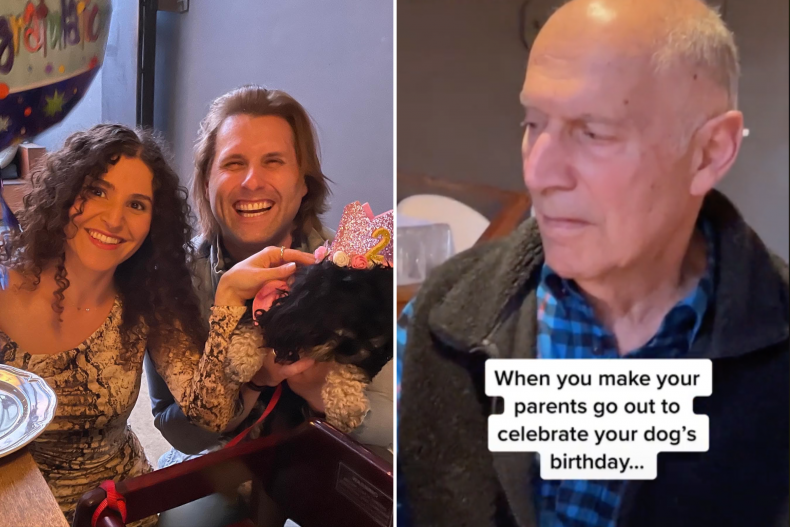 From Los Angeles, they headed to the Momed restaurant in Atwater Village, a dog-friendly venue.
The video shows Isaacs fixing Zumi's special birthday outfit as her dad Joel looks on—a little confused.
Shepherd told Newsweek: "I guess it really spoke to a lot of millennials and their families.
"I just thought it was a cute moment and I was expecting to pan over like a family video and see the grandparents smiling at the kid as well... Clearly we are reminded it's a dog."
But this couple isn't alone in viewing their pet as their child. In a recent study published by Veterinarians.org, 42 percent of millennial women who don't plan to have children say that the COVID-19 pandemic influenced their decision, while 41 percent say they don't want to raise a child in the world's current conditions.
Among those who don't want children, 70 percent say they view their dog or cat as their child, with 69 percent saying that having a pet is easier than having a child.
Thirty-three percent of respondents said that they felt that caring for a pet was more fulfilling to them than the idea of raising a child, while 72 percent said they prefer the company of their cat or dog to the company of children.
In stitches at "grandpa's" reaction to the dog's birthday dinner, TikTok users headed to the comments to share their thoughts.
"Dad is so done," joked one commenter. Another reply said: "Omg his face. Literally can't stop watching this."
"This just made my day thank you," said one viewer.
"He's like: Damn that dog gets better birthday treats than me," joked another reply.
Despite his hilarious reaction in the viral video, Shepherd says that Zumi's grandpa loves the pup as much as they do. "He loves that we all bond over this cute little girl," he explained. "He gets a kick out of her too, but I still see him giving us this look sometimes."
Far from the only canine to get a special birthday treat, earlier this year one dog's reaction to a surprise party organized by his owners melted hearts online.
And it's not just dogs getting the star treatment on their birthday either, in another viral moment, cats were treated to the purrfect birthday complete with homemade treats.