Daunte Wright Protester Interrupts Live CNN Broadcast to Rail Against the Media
A CNN reporter covering the protests following the killing of Daunte Wright was interrupted live on air by a man who accused her broadcaster and the media as a whole of "making things worse", before daring her and her crew to get as close to the demonstrations as possible.
The extraordinary exchange unfolded on Monday night, as Sara Sidner was reporting on a second night of unrest in Brooklyn Center, Minnesota, following Wright's death, a 20-year-old Black man who was shot dead by a police officer after his vehicle was stopped over an alleged traffic violation on Sunday afternoon.
Sirens and explosions could be heard as Sidner was describing the scenes unfolding behind her, when she was abruptly interrupted by a passer by, who suggested the reporter and the crew were persona non grata on the scene.
"You all be twisting up the story", he said as he approached Sidner and reached out for her microphone.
"Do you want to talk to me? Don't take my mic," she replied as the man agreed to be interviewed and shook hands with the reporter.
"We're cool. What's your name?," Sidner asked, only for the protestor to reply: "What's my name? My name is my name."
Sidner attempted to move the conversation on and asked the demonstrator what he thought about the unrest unfolding in Brooklyn Center and appeared somewhat surprised to hear he blamed the media.
"All the press and all the extra s**t you all do is making this worse," he replied, before suggesting TV cameras shouldn't be covering protests.
When the CNN reporter questioned the claim, the man reiterated his point with a few expletive-laden sentences. As Sidner urged him to be careful during the protests, the man sarcastically batted away those concerns, suggesting instead it was the reporter and her crew who had to leave the scene as swiftly as possible.
"Do I look like I'm scared? You all need to get up out of here twisting up the media and s**t," he continued.
In an attempt to reason with the protester and convince him she was purely doing her job and was genuinely interested in his thoughts about the demonstration, Sidner offered to give him her phone number so that "we're going to know each other." The demonstrator, however, took her offer as a stunt that would subsequently be edited out of the coverage.
"Talk about something that's real," he said.
"You are all just going to edit out the s**t and then y'all gonna edit out some of other s**t!"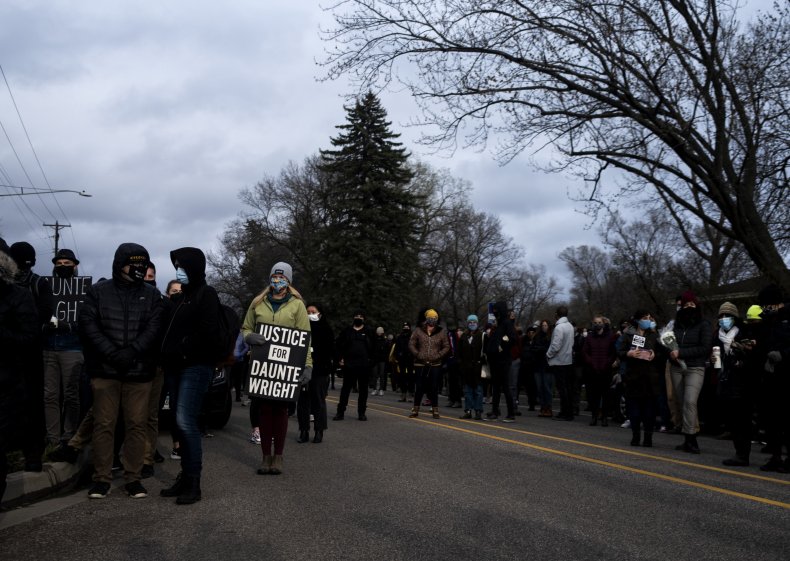 When Sidner pointed out they were broadcasting live, the man rejected the claim, eventually urging the CNN reporter to get closer to the protests when she reiterated the broadcast was live. Sidner walked in the direction the demonstrator had pointed towards, closing the segment by saying: "Everyone's got a hot head right now, as you might imagine."
The remarkable confrontation between Sidner and the demonstrator came as protesters and police clashed for a second night in Brooklyn Center. Officers deployed teargas, flash bangs and other non-lethal devices to disperse crowds that had gathered outside the Brooklyn Police Department headquarters.
Earlier on Monday, BPD's chief Tim Gannon said Wright's death was a result of "an accidental discharge" as officer Kimberly Potter threatened to use her Taser before opening fire and killing Wright.
Brooklyn Center mayor Mike Elliott, the first Black man to hold the position, described the shooting as "deeply tragic" and called for Potter, a 26-year police force veteran, to be fired.
"We cannot afford to make mistakes that lead to the loss of life of other people," he said.
Both President Joe Biden and Vice-President Kamala Harris weighed in on the incident.
"We do know that the anger, pain and trauma amidst the Black community is real," Biden said, before calling for calm and insisting the situation "does not justify violence and looting."
Harris, meanwhile, demanded the police be held accountable.
"Daunte Wright should still be with us," she tweeted.
"While an investigation is underway, our nation needs justice and healing, and Daunte's family needs to know why their child is dead—they deserve answers."