David Spade Jokes Kate Could've 'Slapped' Prince Louis to Help Chris Rock
Actor David Spade has joked that if Kate Middleton had "slapped" Prince Louis, 4, for his cheeky antics during the Platinum Jubilee, it would've taken the heat off Chris Rock who was slapped by Will Smith at the 94th Academy Awards in March.
Spade's comments come as Smith released a public apology video in late July for his behavior at the Oscars ceremony, which he called unacceptable. He also revealed that Rock was "not ready to talk" to the actor following the incident.
Appearing on the podcast Hotboxin' with Mike Tyson, Spade was asked about the confrontation which saw Smith leave his seat in the audience of the awards ceremony in L.A. and physically slap comedian Rock who had made a joke about the actor's wife.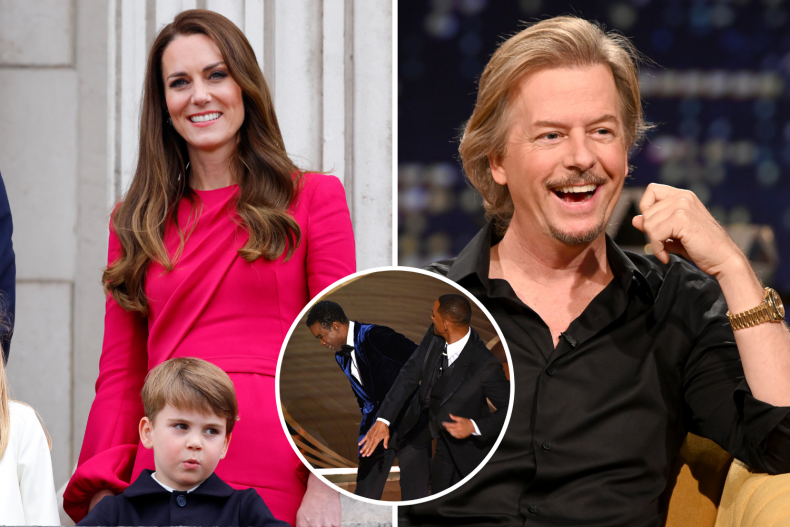 "What did you think about the incident with [Rock] and Will [Smith]?" Tyson said.
"Oh yeah when he got the slap?" Spade responded before jokingly telling the boxer that people would have forgotten about the drama if Kate Middleton had done the same to her son Louis whose cheeky behavior during the Platinum Jubilee sparked parenting criticism of the royal.
"You know it's funny we were just watching Kate Middleton at the jubilee or whatever they were having the other day," he said.
"So, her kid is like 3 and is being being kind of a d*** you know, making faces and telling her to shut up and everything, and I thought it would help Chris [Rock] so much if she slapped the kid."
He continued in jest saying "because on national TV that would be the slap that was heard around the world and his would be second now, because his is the one that everyone kind of remembers and he would love to get that off the books."
Spade ended the comments by saying, "listen this is a fictitious scenario that I wish would have happened but it didn't so it's back to Rock and Will Smith."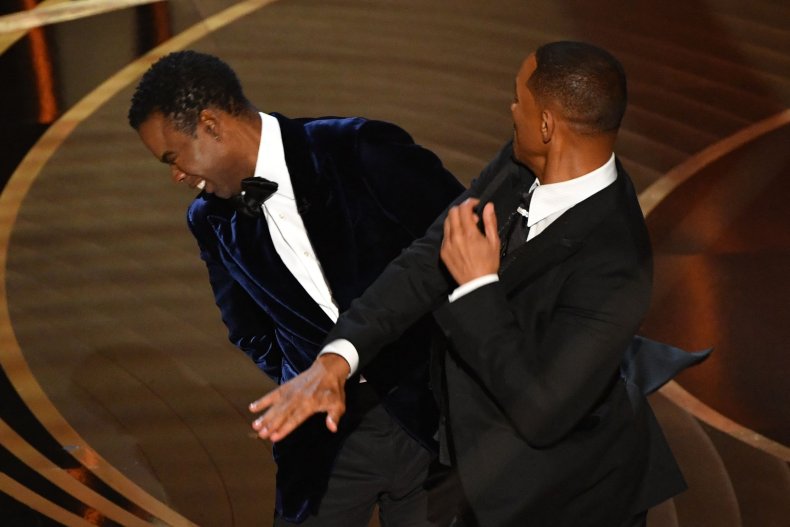 The Platinum Jubilee celebrations for the queen in June saw Prince William and Kate's three children, Prince George, 9, Princess Charlotte, 7, and Prince Louis, 4, take part in their most prominent round of public events to date.
After riding in an open carriage for the first time for the Trooping the Colour parade, Louis' facial expressions while on the balcony of Buckingham Palace during a military flypast were widely shared on social media.
The youngest royal prince was once again the center of attention during the jubilee pageant which was held on the fourth day of the national celebrations in Britain.
The prince sat next to his mother and throughout the three-hour long pageant was seen moving around the royal box, spending a period of the time on his grandfather Prince Charles' knee.
At one point during the pageant press cameras captured the restless prince arguing with Kate in which he covered her mouth with his hand and held his thumb to his nose wiggling his fingers in a cheeky gesture.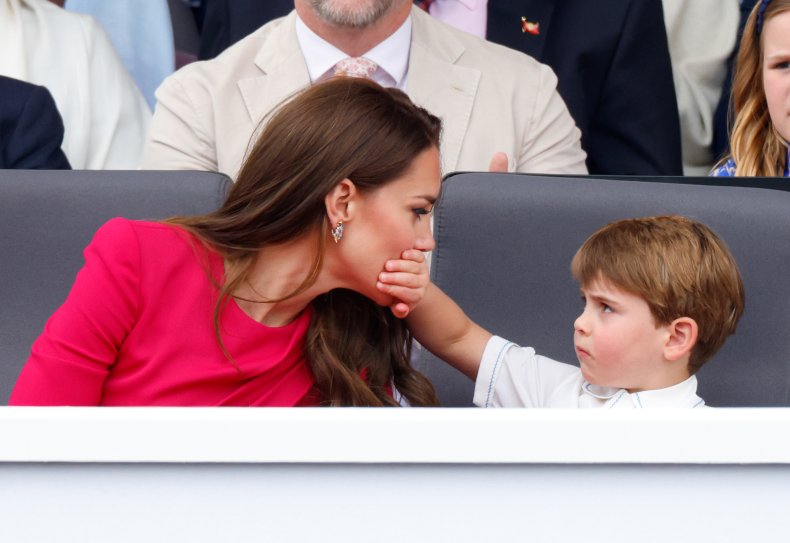 This caused widespread comment on social media after critics of the duchess passed judgment on her parenting style with others coming to her defense.
One public figure who defended Kate's interaction with her son was television Supernanny Jo Frost who took to Instagram to say she was "impressed with how the Duke & Duchess of Cambridge continue to be such impressive parenting role models to our modern parents today, they are open about their own struggles as parents and like all parents out there continue to strive to do their very best in raising their young."
Kate herself appeared to hit back at critics on social media by including a line in a series of tweets personally authored by her and William: "We all had an incredible time, especially Louis... "
Newsweek approached representatives of David Spade for comment.