Is 'Defund the Police' a Gift to Donald Trump's 2020 Campaign?
As protests against police brutality have spread in the wake of George Floyd's death in police custody on May 25, so too have activist calls for police departments across the U.S. to have their funding cut.
The "defund the police" movement backed by some demonstrators proposes taking money away from law enforcement so it can be reinvested in black community projects and initiatives aimed at improving education, healthcare and other amenities.
Responding to the call from protesters, the Minneapolis City Council unveiled plans to disband its local police force, with the council's Democratic president saying the radical change would "re-create systems of public safety that actually keep us safe."
The plans opposed by Minneapolis Mayor Jacob Frey (D) were approved by nine out of 13 city councillors on Sunday afternoon.
New York City's Democratic Mayor Bill de Blasio has also signaled his support for the "defund the police" movement by promising to cut funds from the New York Police Department budget.
"The details will be worked out in the budget process in the weeks ahead, but I want people to understand that we are committed to shifting resources to ensure that the focus is on our young people," he said.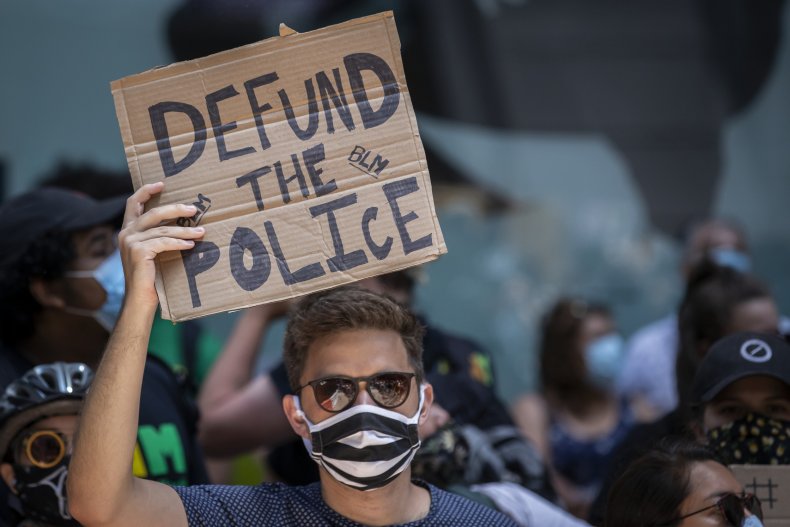 President Donald Trump and his 2020 campaign have seized on prominent Democratic support for the "defund the police" movement, painting former Vice President Joe Biden as weak on law and order.
Hitting out at the presumptive Democratic presidential nominee over the weekend, Trump tweeted: "Sleepy Joe Biden and the Radical Left Democrats want to 'DEFUND THE POLICE'. I want great and well paid LAW ENFORCEMENT. I want LAW & ORDER!"
The president's re-election campaign spokesman, Tim Murtaugh, also tried to tie Biden to calls for police budget cuts, telling reporters that his silence on the issue indicated that he was "endorsing" defunding proposals.
But the former vice president's campaign has refuted the Trump team's attack, positioning Biden as a supporter of policing reform but not wholesale defunding of law enforcement nationwide.
"As his criminal justice proposal made clear months ago, Vice President Biden does not believe that police should be defunded," Biden campaign spokesman Andrew Bates said in a statement. "He hears and shares the deep grief and frustration of those calling out for change, and is driven to ensure that justice is done and that we put a stop to this terrible pain."
One poll published last week could explain why Biden does not want to be seen as a backer of the "defund the police" movement.
A YouGov poll surveying more than 1,000 U.S. adults between May 29 and May 30 found that almost two thirds (65 percent) opposed the idea of cutting funding for police departments. By comparison, 16 percent said they backed the proposal as almost one in five (19 percent) said they didn't know where they came down on the matter.
Almost the exact same position was taken by Independent voters, with only 17 percent backing the proposal to cut police funding. Three quarters of Republicans (75 percent) said they were opposed to the idea, while just 15 percent supported it.
The same poll also found that a combined 59 percent of all American adults had either "a great deal" or some trust in the police, while 41 percent said they had little or no faith in law enforcement.
However, these numbers were almost flipped among Independents. Forty-six percent of the swing voters said they had a lot or some trust in the police, while 54 percent had little or no trust in the institution.
There was also some recognition for a need to reform. More than two thirds (67 percent) of all respondents told YouGov pollsters that blacks and whites did not receive equal treatment from police, and 56 percent said they did not think police were typically held accountable for misconduct.
A similar poll from Emerson College, published last week, also found that American voters were split on whether the police could be trusted to protect the public without prejudice.
But another survey published by Morning Consult on Friday revealed that half of Americans still either "strongly" or "somewhat" supported police amid the protests against the killing of Floyd, compared to a quarter of respondents who said they opposed law enforcement officials.
A further 49 percent plurality said police had done an "excellent" or good job of addressing protests against the killing of George Floyd. Forty-two percent felt officers had handled the demonstrations "only fairly" or poorly over the last fortnight.
So, in light of one poll showing little appetite for cuts to police funding, and further data finding that many Americans support law enforcement officials, is the "defund the police" movement a gift to Trump's 2020 campaign? The truth is that it is still too early to judge what, if any, impact the movement will have on Biden's election chances.
Strategists and pollsters told Newsweek that they were reluctant to offer analysis on the matter as there had simply not been enough direct polling on the "defund the police" proposal to have a fully informed opinion.
It is also not yet clear from head-to-head polling whether the issue has had any cut through with voters deciding who they will back in the November presidential election.
The YouGov poll that found little public support for defunding the police also put Biden eight points ahead of Trump in a head-to-head match-up.
Real Clear Politics' head-to-head polling average has similarly put Biden eight points clear of Trump after the former vice president polled ahead of his rival in at least nine national surveys published last week.
Biden also held similar average poll leads over Trump before calls to "defund the police" mounted earlier this month.
Newsweek has contacted the Biden 2020 campaign for comment and will update this article with any response.