'Defund the Police' Movement Reignited by Daunte Wright's Death
Almost a year on from George Floyd's death, calls to "defund the police" have resurfaced following the killing of Daunte Wright.
A 20-year-old Black man, Wright died in Brooklyn Center, Minnesota, on Sunday afternoon after being shot by a police officer.
According to the Brooklyn Center Police Department, Wright's car was stopped over an alleged traffic violation, before officers realized the driver had an outstanding warrant.
As they tried to take the driver into custody, he returned to the vehicle, prompting one of the officers to open fire. Wright's death came approximately 11 miles north of the south Minneapolis location where George Floyd died while in police custody in Minneapolis on May 25 last year after being arrested on suspicion of passing a counterfeit $20 bill.
His arrest was caught on camera by a bystander, whose video showed officer Derek Chauvin kneeling on Floyd's neck for almost nine minutes.
The video sparked nationwide protests against racial inequality and police brutality, with demonstrators calling for police forces to have their budget cuts.
The slogan returned to prominence on Sunday, as demonstrators clashed with the police around the Brooklyn Center Police Department Headquarters.
What does "defund the police" mean?
Defunding the police isn't a particularly new concept. For years, campaigners have argued federal and state governments should cut or altogether eliminate funds for policing and redirect those resources to reinvest them in services such as education, healthcare, housing and employment.
A petition launched by Black Lives Matter co-founder Patrisse Cullors in the aftermath of Floyd's death called to "defund the police" to "defend black lives" and argued law enforcement in its current form was no longer fit for purpose.
The petition urged local officials to "vote no on all increases to police budgets," "vote yes to decrease police spending and budgets" and "vote yes to increase spending on Healthcare, Education, and Community Programs that keep Black Communities nationwide safe."
High-profile figures including U.S. Women's Team star Megan Rapinoe was among the signatories, as were celebrities such as John Legend, Jane Fonda, Lizzo, Natalie Portman and The Weeknd.
"There is always going to be harm and we have to find transformative ways to think about how we're addressing harm in a way that's not promoting disposability and not promoting punishing people," Jamani Montague of Critical Resistance—a national, member-based grassroots organization working to dismantle the prison-industrial complex in the U.S.—told Newsweek in June.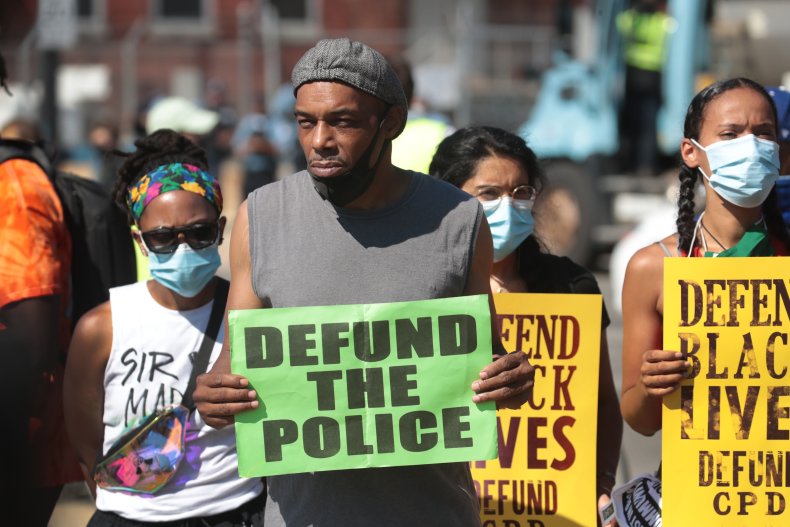 How much does the U.S. spend on police?
According to an analysis of U.S. Census Bureau data conducted by the Urban Institute on behalf of Bloomberg Businessweek and released in June last year, the amount of funding the police receive has tripled over the last four decades.
The cost of policing stood at $42.3 billion in 1977, but rocketed all the way up to $114.5 billion over the following 40 years. In percentage terms, however, policing has amounted for around 3.7 percent of state and local budgets since the 1970s.
What has been the lawmakers' response so far?
A few weeks after Floyd's death, nine out of 13 councilors in Minneapolis voted in favor of dismantling the Minneapolis Police Department to end the city's "toxic relationship" with the police and to "re-create systems of public safety that actually keep us safe."
Ten months on, that hasn't happened, but the debate in the city over police funding continues.
Elsewhere, New York City Mayor Bill de Blasio and his Los Angeles counterpart Eric Garcetti, both announced the cities will divert funding away from their police forces.
Similarly, the chair of Seattle's Council's Select Budget Committee, called for Seattle Police Department to be dismantled and have its $400 million annual budget slashed in half.
In November, Seattle Mayor Jenny Durkan city a new budget that included an 18 percent cut to the city's police department funding.
Is defunding the police possible?
Advocates maintain redirecting policing funds into community-based and community-serving initiatives would be a positive development, particularly given that according to data from the U.S. Bureau of Justice Statistics violent crime and property crime have fallen significantly since the early 1990s.
Critics, meanwhile, have pointed out that defunding the police would coincide with an increase in crime rates and that without adequate funding police forces across the country would be ill-equipped to tackle crime. Several police unions have repeatedly rubbished the thought of defunding the police, suggesting instead that the violent protests that followed the death of Floyd, the verdict over Breonna Taylor's death and the shooting of Jacob Blake already showed cities did not have enough officers.