Following the Supreme Court's controversial decision to overturn Roe v. Wade, which had guaranteed women's right to an abortion across the country, new polling shows Democrats are better positioned to hold on to Congress in November's midterms.
Last Friday, the Court's conservative majority reversed decades of precedent with its controversial abortion ruling, eliminating a right that had been protected by federal law for nearly five decades under Roe.
While women can still access abortion in a number of blue states, many conservative-led states moved rapidly to ban or severely restrict abortions. Meanwhile, some conservatives are calling for even greater restrictions, including pushing for a national ban on abortions or prosecuting women who travel across state lines to get the procedure.
While Republicans are generally seen as likely to win back control of the House and possibly the Senate in November's elections, new polling suggests the tide could be turning against the GOP. In addition, some GOP analysts have raised concerns that the Roe decision could hurt Republicans' chances in the midterms.
Three of four recent public polls conducted after the Supreme Court's abortion decision show Democrats are now favored by voters to take control of Congress in November's races.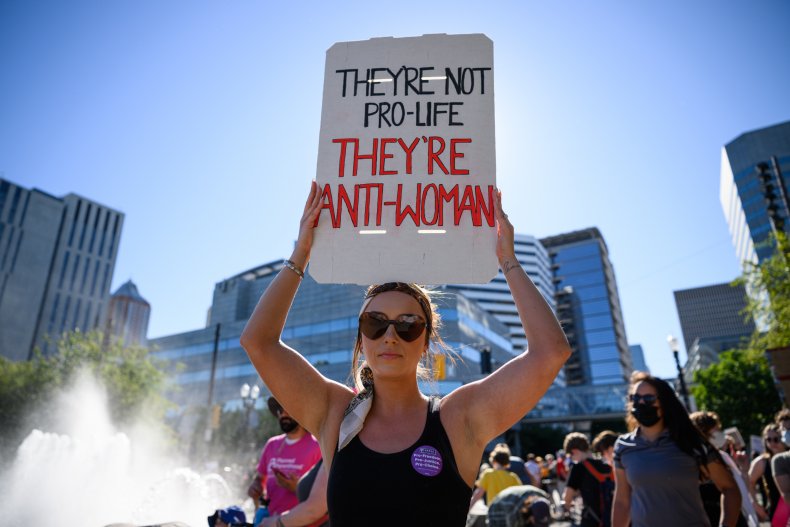 A survey conducted by Marist College for NPR and PBS NewsHour showed Democrats with a 7-point advantage. The poll had Democrats with the backing of 48 percent of registered voters, compared with just 41 percent who supported Republicans on a generic congressional ballot. The poll surveyed 868 registered voters, with a margin of error of plus or minus 5.1 percent.
Just over half (51 percent) of voters said that the Supreme Court's Roe decision would make them more likely to vote for candidates who support abortion protections. Meanwhile, 56 percent of respondents said they opposed the Court's ruling, and only 40 percent said they approved of the decision.
Another poll, by Yahoo News/YouGov, also had Republicans trailing Democrats by 7 percent. That survey showed the GOP with the support of only 38 percent of registered voters. Democrats had the backing of 45 percent. The poll surveyed 1,237 registered voters, with a margin of error of plus or minus 2.9 percent.
Polling by Morning Consult for Politico showed Democrats with a narrow 3-point lead over Republicans. The survey had Democrats at 45 percent and the GOP at 42 percent among registered voters.
It also showed an uptick in enthusiasm among Democratic voters following the Roe decision, with 56 percent saying they were "extremely" or "very" enthusiastic about voting in the midterms, compared with48 percent before the Supreme Court ruling. The poll surveyed 2,000 registered voters, with a margin of error of plus or minus 2 points.
Meanwhile, poll data from The Economist/YouGov showed Democrats down by 5 points. The survey had Republicans with the backing of 45 percent of likely voters, compared with 40 percent who supported Democrats. The poll surveyed 776 likely voters and had a margin of error of plus or minus 3.2 percent.
Whether voter anger over the Roe decision will result in better results for Democrats on Election Day remains to be seen. Historical precedent suggests that Republicans have a good shot at wrestling back control of Congress.
Last June, the University of Virginia's Center for Politics released an analysis of midterm elections going back to 1946. That report showed that a president in power, on average, loses more than 26 House seats during the midterms. The largest loss was 64 seats, while the largest gain was just eight seats.
The analysis showed similar results in the Senate. On average, the president's party has lost more than three seats during the midterms since 1946. The biggest loss was 13 seats, while the largest gain was just four seats.
Democrats currently control the House with a margin of only 10 seats. The Senate is evenly split between the Republican and Democratic caucuses, but Vice President Kamala Harris can cast tie-breaking votes, giving her party the slimmest possible of majorities in the chamber.