Wisconsin Democrats are aiming to flip Ron Johnson's seat blue in November's midterm race, with recent polls showing the GOP senator may face an uphill battle for reelection.
Johnson announced in January that he would seek a third Senate term despite previously pledging not to serve more than two terms. Meanwhile, recent polls show that more Wisconsin voters view the senator unfavorably than those who view him favorably. President Joe Biden won the swing state in the 2020 presidential election after Democrats flipped the governor's mansion blue for Tony Evers in 2018.
It's still unclear which Democrat will face off against Johnson on November 8. Wisconsin's primaries will be held August 9, with the top four Democratic contenders being Lieutenant Governor Mandela Barnes, state Treasurer Sarah Godlewski, businessman Alex Lasry and Outagamie County Executive Tom Nelson.
A new poll released this week and conducted from June 14 to 20 by Marquette Law School showed the incumbent narrowly losing to all of the Democratic challengers—with the exception of Lasry. The poll surveyed 803 registered voters.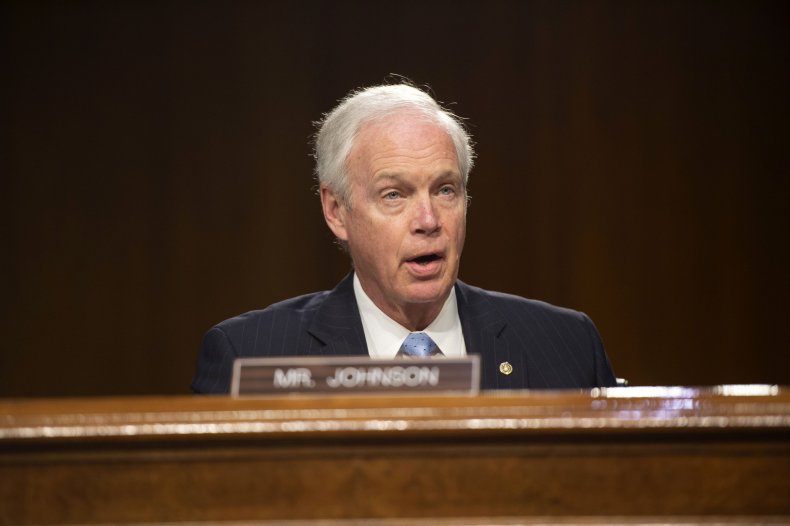 In a matchup with Barnes, Johnson had the support of 44 percent of voters, compared with 46 percent who backed the lieutenant governor. In a head-to-head contest with Godlewski, the Republican was backed by 43 percent, compared with the treasurer's 45 percent. Pitted against Nelson, Johnson was at 43 percent and the Democrat at 44 percent. Only Lasry came in behind the senator, at 42 percent, compared with the 45 percent who supported Johnson.
The same poll showed Barnes as the leader among the Democratic candidates for their party's nomination, at 25 percent. Lasry came in second at 21 percent. Both Godlewski and Nelson had single-digit support.
Notably, the survey also found that 46 percent of Wisconsin voters viewed Johnson unfavorably, compared with just 37 percent who viewed him favorably. Those results closely aligned with a similar poll conducted by Marquette Law School in April. At that time, 46 percent viewed the incumbent unfavorably, and just 36 percent viewed him favorably.
The April survey also showed that half of Wisconsin's voters do not believe Johnson cares about them. Poll respondents were asked: "Please tell me whether the following statement describes Ron Johnson, or not.... He is someone who cares about people like me." Fully 50 percent of voters said the statement "does not describe" the senator. Only 39 percent said it described him correctly.
A previous poll, conducted last September by Clarity Campaign Labs for Barnes' campaign, showed the Democrat tied with Johnson. Both politicians were backed by 43 percent of likely voters. In March 2021, Nelson's campaign carried out a survey with Change Research that showed him leading the Republican by 4 points among likely voters.
Biden narrowly beat Donald Trump in Wisconsin by a margin of 0.7 percent. The Democratic president garnered the support of 49.5 percent of Wisconsinites, compared with 48.8 percent that went for Trump. The former president had carried the state by a 0.7 percent margin in 2016. Before that, Wisconsin had gone for Democrats in every presidential election going back to 1988.
Evers won the governorship in Wisconsin in 2018 by beating out his Republican opponent by a margin of 1.1 percent. The Democratic governor garnered the support of 49.6 of voters, while his GOP rival, incumbent Scott Walker, received the backing of just 48.5 percent.
The June poll by Marquette Law School shows that Biden's approval rating is deep underwater with Wisconsin voters, while Evers' approval rating remains above water. Well over half (57 percent) of voters in the state say they disapprove of the job Biden is doing, and just 40 percent approve. However, that's still slightly higher than the 36 percent who view Johnson favorably. By comparison, 48 percent of Wisconsinites say they approve of their Democratic governor, and only 45 percent say they disapprove.
Whether Democrats are capable of flipping Johnson's seat in November remains to be seen. The liberal party views the GOP senator as one of the most vulnerable going into the midterms because of their successes in the state in 2018 and 2020, as well as his low favorability with voters.
As the Senate is evenly split, Democrats aim to shore up their narrow control of the legislative chamber, while Republicans hope to shift it back under their leadership. If Democrats lose even one seat in November without simultaneously gaining another, Republicans will again hold the majority in the Senate—making the stakes of any close races exceptionally high for both political parties.