Democrats' Feuds Over Biden's Plans Should Have Cooled During Recess. Instead They Heated Up
A brief recess in Congress could have been an opportunity for fractious Democrats to cool tensions within the party and work behind the scenes on a deal to rescue President Joe Biden's legislative agenda.
But this past week, the opposite happened. Simmering feuds exploded in public, and rifts appear to have deepened ahead of Congress returning Monday with just two weeks before House Speaker Nancy Pelosi's October 31 deadline to reach agreement on two bills at the heart of Biden's plans.
Two moderate Democratic senators who have balked at aspects of the Democrats' sweeping $3.5 trillion reconciliation bill, Kyrsten Sinema of Arizona and Joe Manchin of West Virginia, continued to complicate the negotiations.
On Friday, news broke that Manchin told the White House he is strongly opposed to a clean electricity program that is central to the reconciliation package's efforts to combat climate change. It will now likely be dropped from the bill, the New York Times reported Friday. The development drew ire from many progressive Democrats and climate activists.
And Sinema reportedly told Democrats on Wednesday that she wouldn't support a vote on the reconciliation bill until Congress approves the bipartisan infrastructure bill. Sinema's position, first reported by Reuters, comes as House progressives have pushed for the opposite.
With talks dragging on for weeks, Democratic lawmakers have so far failed to reach agreement on the reconciliation bill, also known as the Build Back Better Act, and the $1 trillion bipartisan infrastructure bill, which was approved by the Senate in August.
Sinema and Manchin have wielded outsized influence in the negotiations over the legislation. That's because with an extremely thin majority in the Senate—Democrats only hold 50 out of 100 seats, with Vice President Kamala Harris casting a tie-breaking vote—the party can't afford to lose any votes if it wants to advance the legislation.
Progressives have said that without a deal on the larger reconciliation package—which includes measures to address climate change, programs including paid family and medical leave, Medicare expansion and universal pre-K—they will decline to advance the infrastructure bill.
But Manchin's opposition to the clean electricity program could make it harder for the Democrats to reach an agreement on climate policies.
The initiative in question, the Clean Electricity Performance Program (CEPP), incentivizes utilities to supply more clean electricity to consumers each year.
Leah Stokes, an expert on climate policy at the University of California Santa Barbara, tweeted on Friday that the program "is the most important part of the climate bill when it comes to cutting pollution. We need the CEPP to take on the climate crisis. It's just that simple. No climate, no deal."
Many Democrats and progressives spoke out when it became public that the White House was reportedly rewriting the reconciliation package without the provision opposed by Manchin.
"The Exxon-designed 'bipartisan' infrastructure plan worsens emissions, but pairing it w/clean energy in Build Back Better neutralizes BIF's harm and lets us tackle the climate crisis," Representative Alexandria Ocasio-Cortez tweeted on Friday. "We cannot afford to gut it."
"He is just one person," tweeted Representative Rashida Tlaib, a progressive Democrat from Michigan. "There are more of us who say hell no will we allow the planet to burn."
"Let's be clear: the Build Back Better budget must meaningfully address climate change," tweeted Senator Tina Smith, a Democrat from Minnesota. "I'm open to different approaches, but I cannot support a bill that won't get us where we need to be on emissions. There are 50 Democratic senators. Every one of us is needed get this passed."
Before it became clear last week that Manchin's position on the CEPP could mean that the program is gutted, the president of the United Mine Workers of America, who is close with the West Virginia senator, told Newsweek he couldn't support the reconciliation plan with its current goal of achieving 80 percent carbon-free electricity by 2030 and 100 percent by 2035.
The union leader, Cecil Roberts, said he was worried the CEPP would mean thousands of coal miners and power plant workers losing their jobs.
"If they said they were going to eliminate fossil fuels in 50 years, it may not be a [deal-breaker], but they're not saying that," Roberts told Newsweek on Wednesday. "The way it looks right this minute is to eliminate fossil fuels by 2030, and that is not something we can support."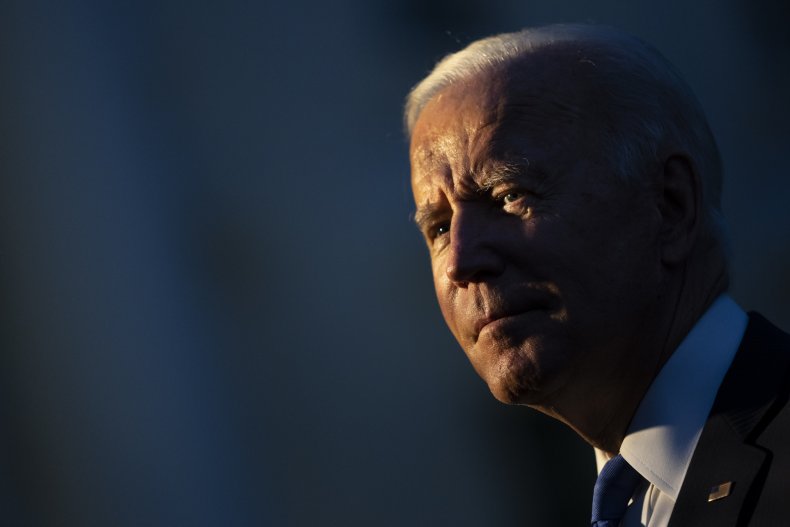 On Friday, Senator Bernie Sanders of Vermont wrote an op-ed in Manchin's backyard urging passage of the proposed $3.5 trillion Build Back Better bill, and pointed out the West Virginia is standing in the way of the legislation.
"Poll after poll shows overwhelming support for this legislation. Yet, the political problem we face is that in a 50-50 Senate we need every Democratic senator to vote 'yes.' We now have only 48. Two Democratic senators remain in opposition, including Sen. Joe Manchin," Sanders wrote in the piece published by the Charleston Gazette-Mail, a West Virginia newspaper.
Manchin fired back at Sanders in a statement, noting that it wasn't "the first time an out-of-stater has tried to tell West Virginians what is best for them."
"Senator Sanders' answer is to throw more money on an already overheated economy while 52 other Senators have grave concerns about this approach," Manchin said.
"To be clear, again, Congress should proceed with caution on any additional spending and I will not vote for a reckless expansion of government programs. No op-ed from a self-declared Independent socialist is going to change that."
The negotiations over the Democrats' two major spending bills continue as the inflation rate is up 5.4 percent from a year ago, and supply chains are strained. The state of the economy has provided critics of Democrats' legislative agenda with more fodder.
In response to a request for comment for this story, Sanders' office referred Newsweek to an interview the senator gave on CNN Thursday.
Speaking with host Anderson Cooper, who pointed out that Sinema and Manchin have pushed to spend less than other Democrats, Sanders, who chairs the Senate Budget Committee, noted that Democrats have already lowered the price tag of the reconciliation bill from an initial $6 trillion.
"That is a huge huge compromise," he stated.
The senator noted that he doesn't "begrudge" the views of Manchin and Sinema.
"But what I do think is simply unfair is that two members of the Senate think that they have a right to obstruct what the overwhelming majority of the American people want, what the president wants," Sanders said, noting that "48 out of 50 members" of the Senate support the bill.
"That's just not right," he said. "I have heard from zillions of members, and we're trying to work this out. At the end of the day I hope and expect that we will."
Newsweek reached out to the offices several other progressives for comment as well as those of House Speaker Nancy Pelosi and Senate Majority Leader Chuck Schumer, but did not receive responses before publication. The White House also did not respond to a request for comment.
But Biden acknowledged this week that the price of the reconciliation bill will likely have to come down if it's going to pass.
"I'm convinced we're going to get it done—we're not going to get $3.5 trillion; we'll get less than that, but we're going to get it," he said in Connecticut on Friday. "And we're going to come back and get the rest."