Democrats Narrow Congress Poll Gap to Republicans, Closest for 6 Months
Democrats are narrowing the gap with Republicans in polling ahead of this year's midterm congressional races, according to analysis from FiveThirtyEight.
FiveThirtyEight, which compiles generic congressional ballot polls, shows that as of July 22, Republicans have a 1-point lead over Democrats, with 44.2 percent of voters saying that they'd back GOP candidates while 43.2 percent say they'd support Democrats.
The latest numbers mark the closest the polling average has been since January, when surveys showed Republicans had only a slight advantage over Democrats. In early January, Republicans were up by only 0.5 percent in the polls. Republicans' lead grew in February to nearly 3 percent, according to FiveThirtyEight, before remaining at around 2 percent for months.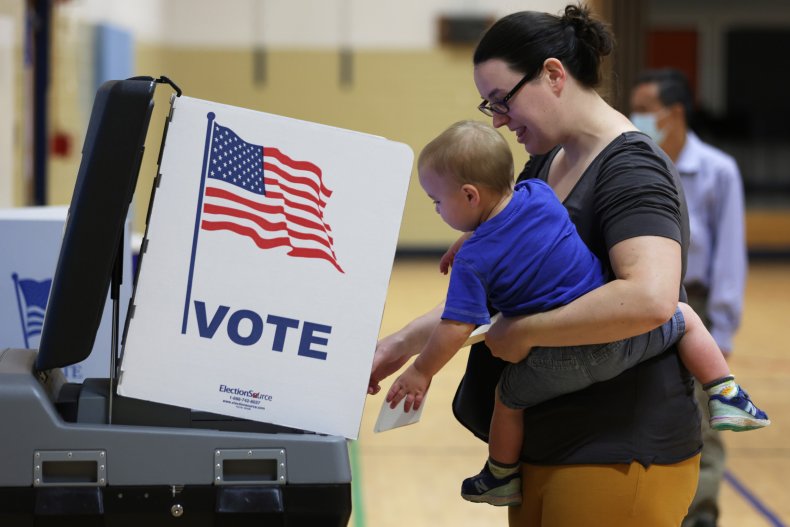 On July 4, FiveThirtyEight analysis showed Republicans with 44.8 percent support on the generic congressional ballot Democrats enjoyed support from 42.8 percent of Americans—a lead of 2 percent for the GOP.
It's unclear what has led to the narrowing in polling averages. However, some analysts have suggested that the Supreme Court's decision overturning the landmark abortion-rights ruling Roe v. Wade in June could help Democrats win in the midterms.
Rebecca J. Kreitzer, associate professor of public policy at the University of North Carolina at Chapel Hill, told Newsweek this month that the development may help "mobilize support" for Democratic candidates more than Republican ones.
"Time will tell if Democrats are about to maintain the current levels of outrage among the mass public. The news cycle moves incredibly fast in this era," Kreitzer said. "However, this is the first time in our history that a fundamental constitutional right was taken away."
A poll conducted by the The Associated Press-NORC Center for Public Affairs Research at the University of Chicago (AP-NORC) after the Court's decision found that 22 percent of voters label abortion or women's-rights as a top-priority issue for this year's election—nearly three times the number it was in December.
Democrats' improvement in midterm polling comes as President Joe Biden continues to see low approval ratings. A poll from Monmouth University released earlier this month showed Biden's approval had dropped to a new low in June, with 58 percent of Americans saying they disapproved of the job he's doing. Only 36 percent of voters said they approved.
Former Republican consultant Tara Setmayer said last week that Republicans are "scared to death" that former President Donald Trump will announce he's running for president again ahead of the midterm elections.