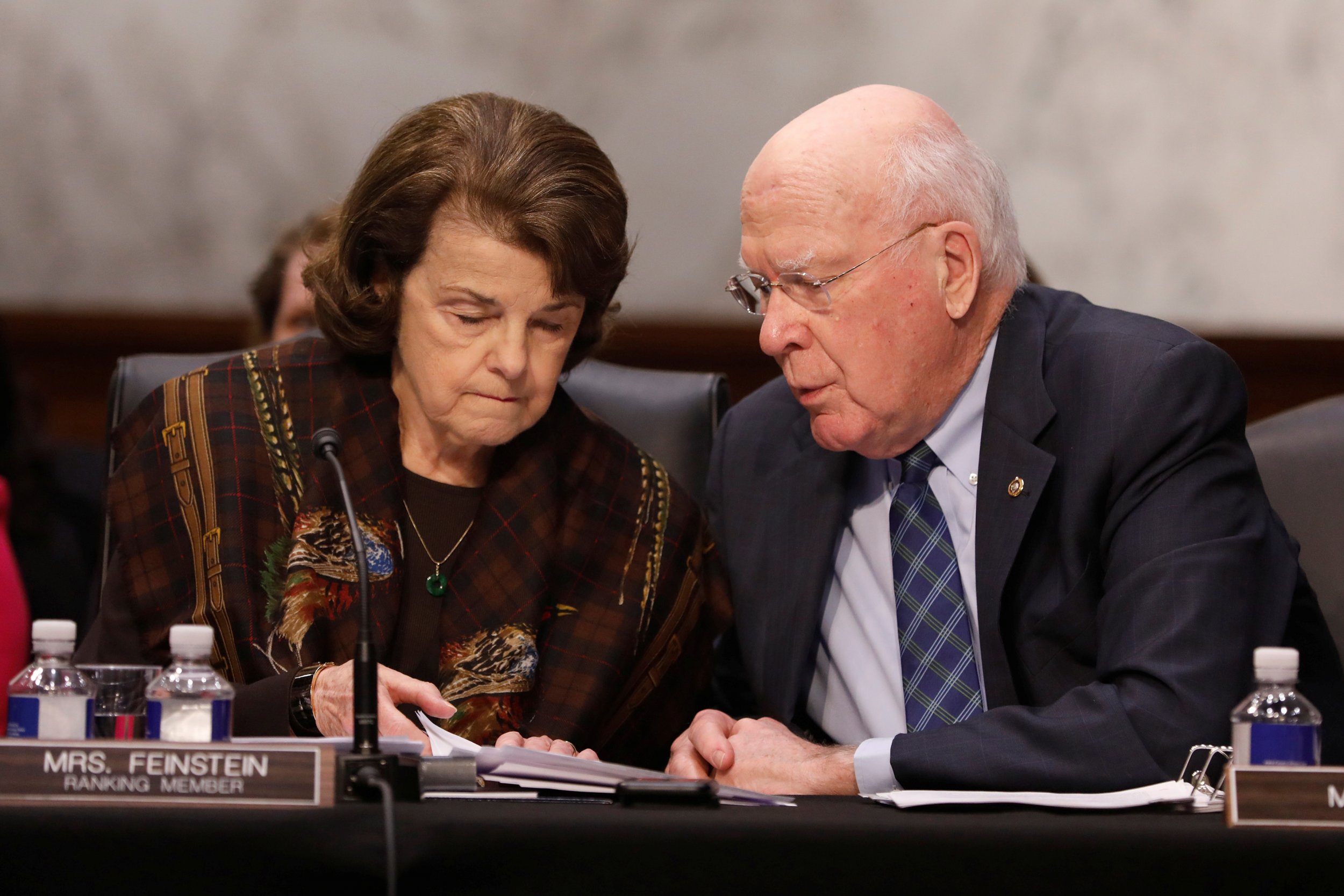 Democrats on the Senate Judiciary Committee are calling on Donald Trump Jr. to reappear before the committee and testify—this time in public.
This follows Thursday night's bombshell report that Michael Cohen, Donald Trump's former personal lawyer, claims the president knew in advance about a 2016 meeting between his aides and a Russian delegation offering dirt on Hillary Clinton.
Democratic Senator Patrick Leahy of Vermont says Cohen's claims "raise important questions," according to NBC News. "It's time for Donald Trump Jr. to come back before the Senate Judiciary Committee to answer them, but this time in public, under oath," Leahy said.
Leahy could not be reached by Newsweek Friday for further comment.
In an email to Newsweek, Tom Mentzer, communications director for Democratic Senator Dianne Feinstein, noted a statement from her that said if recent reports were true, "it would suggest that Donald Trump Jr. may have misled Judiciary Committee staff about the meeting when he was interviewed last fall. It further demonstrates the need to bring him before the committee to answer our questions."
Mentzer also cited a letter sent in February by Senate Democrats to Chuck Grassley, the committee's Republican chairman, saying that "Feinstein and other committee members have called multiple times for Donald Trump Jr. to appear before the committee."
Newsweek could not reach any of the 11 Republican members of the Judiciary Committee about whether they would support having Donald Trump Jr. re-testify.
In July 2017, President Trump told The New York Times he was first hearing about the meeting. Around the same time, Donald Trump Jr. appeared on Fox News and stated that the meeting turned out to be about "Russian adoption."
But in May, the committee released more than 1,800 pages of testimony from Donald Trump Jr. and others who were present for the 2016 Trump Tower meeting. The testimonies were conducted in private sessions with senators in September 2017. Along with the testimony, the committee released emails from the president's son that showed him saying things such as "If it's what you say I love it" in response to an email offering dirt on his father's opponent, Hillary Clinton.
Thursday night's report by CNN said then-candidate Trump was told by his son that Russians were offering to help the Trump campaign by offering compromising information on Clinton. Cohen reportedly alleges that he and several others were in the room when Trump gave the go-ahead to his son to have the meeting with the Russians, according to anonymous sources close to Cohen.
Lanny Davis, Cohen's attorney, told Newsweek that "the CNN leak did not come from us."
Trump claimed Friday morning that he did not know about the meeting beforehand and that Cohen is "[making] up stories." The president also said the only collusion "with Russia was with the Democrats."
At least eight people were present at the June 2016 meeting in Trump Tower. They included Paul Manafort, Trump's former campaign chairman who is currently in jail awaiting trial; Donald Trump Jr., the president's eldest son; Jared Kushner, the president's son-in-law; Natalia Veselnitskaya, a Russian lawyer and lobbyist with close ties to the Kremlin; Rinat Akhmetshin, a Russian-American lawyer and former Soviet counterintelligence officer; Rob Goldstone, a publicist for Emin Agalarov, who is connected to Donald Trump Jr.'s attorney; and Ike Kaveladze, a Georgian-American executive at Aras Agalarov's real estate company. (Aras and Emin Agalarov are father-and-son developers in Russia.)
Trump has continued to call special counsel Robert Mueller's investigation into Russian meddling in the 2016 election a "witch hunt." Despite the intelligence community's assessment that it was likely Russian President Vladimir Putin directly ordered the attacks, he has continued to downplay Russian interference in the election.