In SCOTUS Fight, Democrats Target Trump's Weakness on Health Care, Sound Alarm About ACA
Democrat Senators have attacked Donald Trump, who trails his election rival Joe Biden on health care polling, over the implications for the Affordable Care Act (ACA) should the incumbent president get a conservative justice on to the Supreme Court.
Amid the clash over Trump's push to fill the late Ruth Bader Ginsburg's seat, with critics suggesting the replacement should be picked by the winner of the election, questions have been raised over the implications for the legislation should his pick go through.
A Supreme Court hearing is due in November in which the constitutionality of the act's individual mandate will be debated.
The legal challenge, filed earlier this year, argues that this mandate is inseverable from other provisions in the act, concluding that "the entire ACA thus must fall."
Trump has long criticized the ACA, also known as Obamacare, and earlier this month suggested he had a plan ready to replace it, while stating pre-existing conditions would be accounted for within his package—though he has not given a detailed breakdown of his proposals.
Speaking in the Senate on Tuesday, several Democrats raised the ACA as an issue when it came to a conservative justice being placed in the seat. They suggested that it would likely sway the court in the favor of voting for the act to fall, resulting in around 20 million Americans who have healthcare through it set to lose out.
Sen. Dick Durbin (D-IL) said Trump has "made clear he wants to strike down the entire Affordable Care Act, even without a substitute," and suggested Trump would insist his nominee agrees to eliminate the act.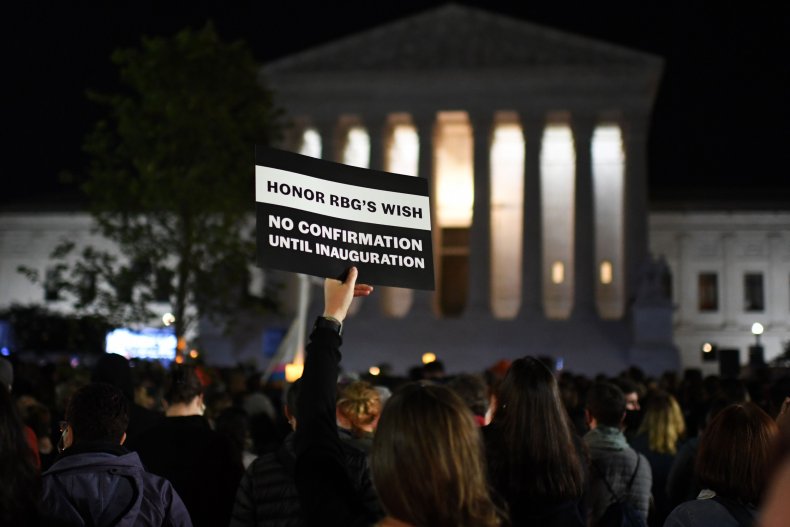 "So I would say to people across America: be prepared. If Mitch McConnell gets his way, if Donald Trump gets his way, if they install a new Supreme Court [Justice] who's taken this oath, this political oath to follow the Trump plan, all of America will be at risk because the protections of the Affordable Care Act will be eliminated by that Supreme Court," he said.
Sen. Amy Klobuchar (D-MN) said that "people's health care is literally on the line," urging lawmakers to grant Justice Ginsburg's dying wish, according to her daughter, that she not be replaced until after a new president is installed.
The issue of the ACA being targeted amid the coronavirus pandemic was also raised by lawmakers.
"The whole architecture of our healthcare system could be destroyed during the worst public health crisis in a century," Sen. Brian Schatz (D-HI) said.
Several other senators raised the issue of the ACA while raising objections over Trump making the Supreme Court appointment, which the president and his fellow Republicans have argued he is within his rights to do—despite some having spoken against former President Barack Obama trying to replace a justice months before the election in 2016.
The criticism comes as Trump trails Democratic presidential candidate Biden in polling upon who would handle the issue of health care better.
Ipsos/Reuters polling, conducted among 1,288 Americans from September 15 to 17, found 45 percent chose Biden when asked who they thought was "best on that particular issue" in regards to health care, compared to 31 percent who chose Trump.
Kaiser Family Foundation polling in Arizona, Florida and North Carolina also suggested Trump was trailing on the issue.
Of 1,298 asked in Arizona, 53 percent said they would trust Biden more to manage health care, compared to 44 for Trump.
In Florida, where 1,009 were asked, 52 percent went Biden compared to 45 percent Trump.
And in North Carolina, 53 percent of 1,172 respondents went for Biden compared to 45 percent for Trump.
Newsweek has contacted the Trump and Biden campaigns, the White House and the senators named above for comment.