While Florida Governor Ron DeSantis' official bid for the 2024 presidential election continues to loom, the Republican took some shots at his anticipated opponent, former President Donald Trump, in an interview with Piers Morgan airing later this week.
Morgan, host of Piers Morgan Uncensored, previewed the interview in an op-ed piece for the New York Post on Tuesday, writing that DeSantis "has finally taken the gloves off" against Trump. The two spoke at the Florida governor's mansion in Tallahassee, and according to a tweet from Morgan following the interview, he has "a feeling President Trump will be caps-locking his phone keyboard when he watches my DeSantis interview."
Although DeSantis has not formally announced his presidential campaign, Trump has wasted no time since launching his reelection bid in November to take shots at his once GOP ally. Most recently, pro-Trump political action committee Make American Great Again filed a complaint with the Florida Commission on Ethics last week that alleged DeSantis was running a "shadow presidential campaign."
Trump also fired shots at "Ron DeSanctimonious" over his Truth Social account Monday, again promoting the rumor that DeSantis partied with underage girls while he was a Georgia high school teacher.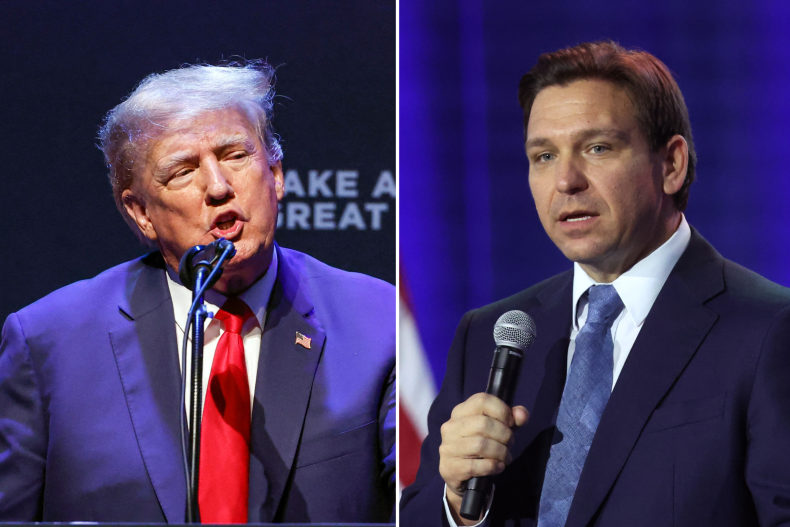 Morgan wrote in his op-ed that he asked DeSantis to "cite specific differences between him and Trump," to which the governor listed "a few things."
"The approach to COVID was different," DeSantis said. "I would have fired somebody like Fauci. I think he got way too big for his britches, and I think he did a lot of damage."
"I also think just in terms of my approach to leadership, I get personnel in the government who have the agenda of the people and share our agenda," DeSantis added, according to Morgan. "You bring your own agenda in, you're gone. We're just not gonna have that."
Anthony Fauci served as Trump's top medical adviser to COVID-19 and often publicly contradicted the former president on his administration's approach to the virus. While Fauci resigned from his leadership positions under the administration of President Joe Biden in December, he recently faced renewed criticism from some Republican lawmakers who accused him of trying to cover up a theory that the coronavirus originated from a mishap at a Chinese lab.
During summer 2021, DeSantis also took his own hits at Fauci and the ongoing coronavirus restrictions, releasing merchandise that read, "Don't Fauci My Florida."
Morgan's prelude to his interview with DeSantis caught the attention of Trump's eldest son, Donald Trump Jr., on Twitter Tuesday evening, who wrote that DeSantis was "pathetically" turning "to the liberal media on orders from his RINO establishment owners to attack my father."
The British host hit back at Trump Jr.'s tweet, however, writing: "Your father (send him my best) ran to me dozens of times for interviews and you never called that pathetic ..."
"and b) He's been attacking DeSantis for months," Morgan said. "Isn't Ron allowed to have a pop back?"
DeSantis also spoke to Morgan about how he has not engaged with any of Trump's "regular attempts to provoke him" and doesn't plan to do so.
"To me, it's just background noise," DeSantis said. "It's not important for me to be fighting with people on social media. It's not accomplishing anything for the people I represent. So, we really just focus on knocking out victories, day after day, and if I got involved in all the undertow, I would not be able to be an effective governor. So, I don't think it's something that makes sense for me."
Newsweek has contacted Trump's press team via email for comment.