Detroit Concours d'Elegance Honors Black GM Designer, 1937 Delahaye
The inaugural Detroit Concours d'Elegance went live over the weekend with events in and around the Motor City. The event is now stewarded by Hagerty Inc. and held at the Detroit Institute of Arts and Comerica Park as opposed to the lawn at the Inn at St. Johns as it was in previous years. It coincides with the Detroit Auto Show.
Best in show went to a 1937 Delahaye 135M Cabriolet by Chapron during the event, which also honored former General Motors VP of Global Design Ed Welburn. He started at GM in 1972 as the company's first Black designer and rose to the highest position for an African-American at any global automaker. Recent products include the Cadillac Escalade, Chevrolet Corvette and Camaro.
The Concours on Sunday capped the festivities, which hosted more than 5,000 people and started on Friday.
The first day of events featured local students from Detroit Public Schools attended Detroit Electrified at Beacon Park. It educated students on the evolution of alternative-powered vehicles. GM and Ford displayed the electric Cadillac Lyriq and Ford F-150 Lightning.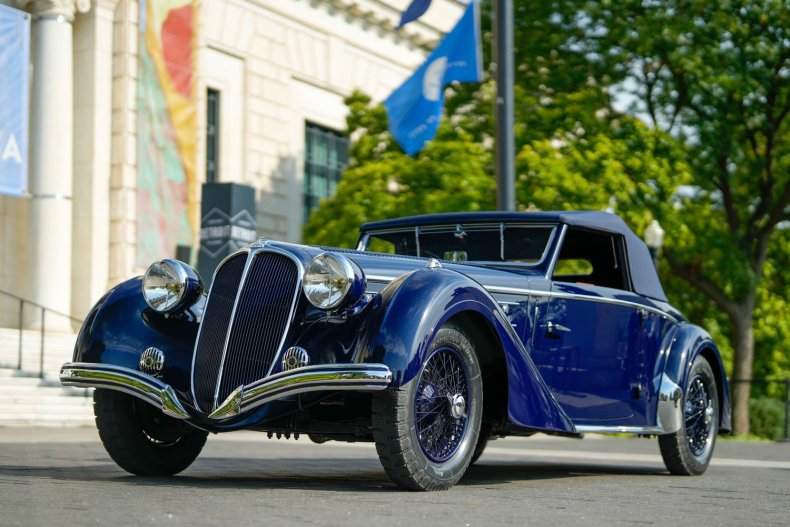 Saturday's event, called Cars & Community, took place at Comerica Park and featured more than 200 vehicles divided among Concours d'Lemons, RADwood and a curated car club display. RADwood, is a celebration of '80s and '90s cars, and the style that goes along with them.
"Today's concours was the fulfillment of a vision. Our goal was to create a world class automotive event in the heart of Detroit, one that is worthy of the Motor City and thanks to our entrants and our partners, that is exactly what we did," said McKeel Hagerty, CEO of Hagerty in a press release.
"The 1937 Delahaye was a perfect choice for today's Best of Show. It's a sleek, elegant car that people rarely see. It's the kind of car that concours events are made for. Congratulations to owner Tom McGough for a well-deserved win."
The 135 was first shown at the 1934 Paris Salon. Soon after Delahaye merged with French manufacturer Delage, inheriting the company's clients. It has a 3.5-liter, six-cylinder engine with a triple-Solex downdraft carburetor. It makes 120 horsepower, a lot at the time, and has a four-speed electric shift transmission. A total of 2,592 were produced from 1935-1952 including 1,115 built post-World War II, according to Hagerty.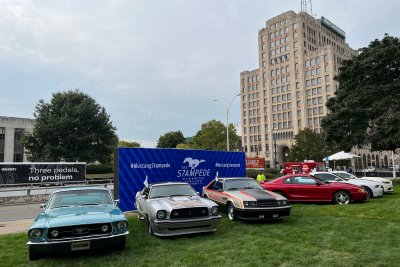 Chassis No. 47538 has a unique grille, lower fender profile and interior doors with wood surrounds. The coachwork is by Henri Chapron of Paris.
Other winners included a 1940 Packard Darrin for the American Classics class. A 1957 Cadillac Series 62 won as the best car designed by Harley Earl, who was also honored at the event. A 1962 Pontiac GTO won best of Cars on Woodward and a 1966 Ford Mustang Shelby GT350 won for best Limited Production Ford.
Other classes included Limited Production GM and Chrysler, American and Italian Sports Cars, Hot Rods, Supercars and more.
The Detroit Concours, whether held in Detroit or at St. John's, always comes with a charity component. This year the Detroit Concours and the Hagerty Driver's Foundation pledged a combined $55,000 to local nonprofit partners including College for Creative Studies, Drive One Detroit and Midtown Detroit, Inc.