A parody account posing as a cow owned by Rep. Devin Nunes (R-CA) which sparked legal action from the lawmaker has followed him from Twitter to rival social media platform Parler.
Nunes has posted several tweets promoting Parler, after his failed bid to sue Twitter over content from accounts on the site which he deemed defamatory and said hurt his reelection campaign.
One of the accounts in question was @DevinCow, which a lawsuit filed by Nunes said "engaged a vicious defamation campaign against Nunes that lasted over a year. Devin Nunes' cow has made, published and republished hundreds of false and defamatory statements of and concerning Nunes."
At the time of filing, Nunes' legal counsel noted the Twitter account had 1,204 followers. It has more than 730,000 at time of writing.
Nunes' bid to sue Twitter failed, with a judge ruling it could not be held responsible for the posts made by third parties on its platform. And while Nunes can still pursue action against the account @DevinCow, the identity of who runs it is unknown, with Twitter having refused to give up this information.
Following the judge's ruling, one of Nunes' tweets read: "IS THIS MYSPACE? NO ONE IS RESPONDING TO MY TWEETS!!! IS EVERYONE AT PARLER ???"
To which @DevinCow replied: "I'm at Parler! Come say hi!"
Alongside this was a screengrab of a Parler account named @Therealdevincow.
According to the profile @Therealdevincow joined Parler on June 11.
On that day it shared a post which read: "Hay @devinnunes ! Skin still thin?"
In recent days it has posted an image of a cartoon cow holding a sign which reads: "Devin is a loser." It has 182 followers on the platform at time of writing.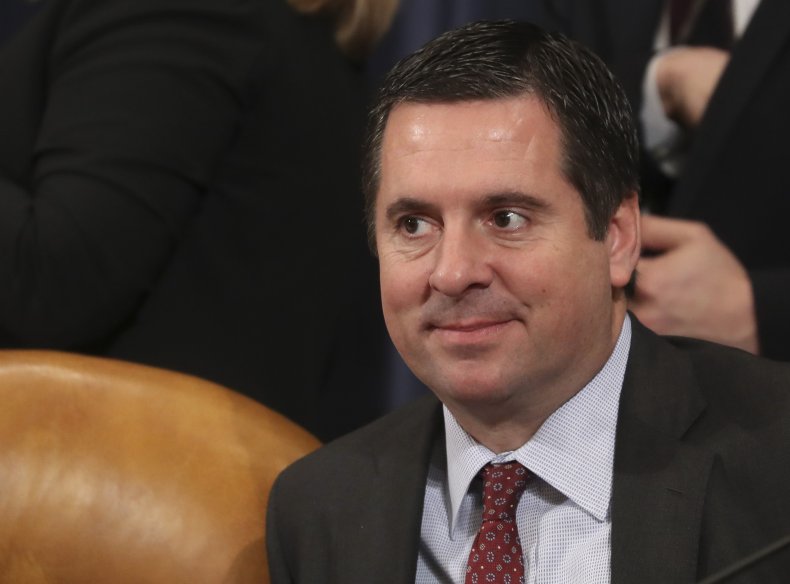 Nunes' profile states he joined on February 4, 2020. He has 174,000 followers on the platform.
Nunes has made several posts promoting Parler on Twitter, writing: "Come to Parler to see UNFILTERED news!"
He also shared a photo from the site to his Twitter account and wrote: "Picture for those who remain in Twitter Hell. Parler is open for business!"
His comments come as a number of pro-Trump accounts have moved over to Parler, stating their desire to escape censorship on Twitter. Some have tagged Trump on Twitter and encouraged him to use the rival platform, which was set up in 2018 and describes itself as "unbiased social media."
Trump has recently criticized social media companies, after it Twitter marked or restricted several posts he shared. He also signed an executive order targeting Section 230 of the Communications Decency Act, which gave platforms immunity for content posted by third-party users.