Democrats Willing to Break With Biden, Give GOP Win on the Border
Two prominent Senate Democrats have floated a possible deal with Republicans that would keep in place Trump-era immigration restrictions in exchange for moving forward on a COVID aid package.
Senator Dick Durbin from Illinois and Senator Patty Murray from Washington have stated they are open to a deal with Republicans on Title 42, a controversial policy that has limited asylum at the U.S.-Mexico border for two years and is scheduled to end on May 23, Politico reported. A possible deal would allow for Republicans to bring a reversal of the immigration policy's scheduled termination up for a vote and also allow for a currently stalled $10 billion COVID aid package to move forward.
Republicans have argued that the planned termination of Title 42 will create a sharp increase in border crossings. During the first week of April, a group of GOP senators said they would stall the COVID aid package until there's a vote to reinstate the border policy. Also in early April, a poll of voters conducted by Morning Consult/Politico found that a majority of respondents, 56 percent, opposed the decision to lift Title 42.
Durbin and Murray indicated to Politico that a deal may be necessary so that Republicans do not try to stop other bills and legislative measures important to Democrats.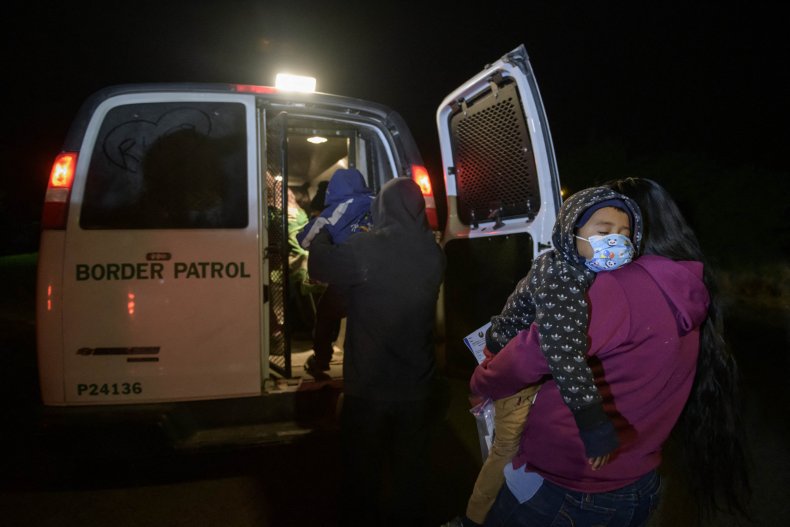 "I'm old-school. Amendments on the floor, it's part of the assignment. And now we have people scared to death of all amendments on both sides. And I think that really is taking away from this place," Durbin said to Politico.
However, while most Republicans are generally against the Biden administration's plan to drop Title 42, some Senate Democrats are also against the idea, particularly those from border states.
In April, Democratic Senator Mark Kelly of Arizona told Newsweek that he had voiced his concerns about lifting the restrictions to the White House.
"Well, there's no plan right now, and that's a big concern of mine. I've told the White House, 'You don't have a plan,' and same thing with regards to the secretary of Homeland Security," Kelly said.
On Tuesday, White House press secretary Jen Psaki was asked if the president would agree with a vote happening that could potentially block the termination of Title 42 in order to get a vote on COVID funds.
Title 42 restrictions "should not be holding up funding that's necessary to save the lives of Americans. But again, those are ongoing discussions in Congress at this point," Psaki responded.
Newsweek reached out to the White House and to the offices of senators Durbin and Murray for comment.