Did an Anti-Putin Army Kill Alexander Dugin's Daughter? What We Know
After a car explosion in Moscow on Saturday night killed the daughter of one of Russian President Vladimir Putin's major allies, several groups and individuals, including an anti-Putin organization, have been accused of being responsible for her death.
Alexander Dugin is a political philosopher and commentator known for promoting Russian propaganda, sometimes referred to as "Putin's brain" and "Putin's Rasputin." He has been credited with being an architect of Russia's ongoing invasion of Ukraine that has drawn widespread condemnation.
His daughter, 29-year-old Darya Dugina, was a journalist and political commentator who shared similar views. Russian state media reported that she was in a Toyota Land Cruiser Prado when it exploded near the village of Velyki Vyazomy on the outskirts of Moscow. The Investigative Committee branch for the Moscow region has attributed the blast to a bomb planted in the vehicle.
Russian media suggested that the blast was meant for Dugin, but because he ended up taking a different car than her at the last minute, it ended up killing his daughter instead, The New York Times reported. It has not been officially confirmed whether or not he was the intended target.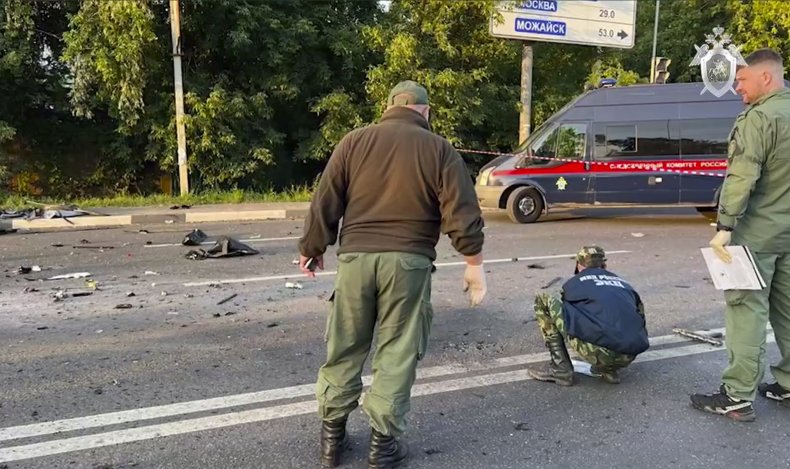 While many questions remain about how and why Dugina died, a former Russian state deputy said that a group called the National Republican Army (NRA) was behind the bombing. During an appearance on his Russian-language opposition TV channel Utro Fevralya, ex-Duma member Ilya Ponomarev said that he was approached by the group, which purportedly authorized him to release their "manifesto."
According to Ponomarev, the group describes itself as being made up of Russian activists, military members and politicians who have a goal to "overthrow" and "destroy Putin." The NRA's "manifesto" said that they are against the Russia-Ukraine war and warned that Russian officials who do not resign will be "destroyed."
The group was targeting Dugin and Dugina in the car bombing, according to Ponomarev.
But Russia's Federal Security Service alleged Monday that Ukrainian secret services organized the attack. It accused a female Ukrainian citizen of traveling to Russia in July and then escaping to Estonia afterward, Russian state-owned news agency TASS reported.
Ukraine's government has denied any involvement in the bombing.
"Ukraine definitely has nothing to do with this, because we are not a criminal state, which the Russian Federation is," Mykhailo Podolyak, an adviser to Ukrainian President Volodymyr Zelensky, said during a telethon on Sunday. "And even more so, we are not a terrorist state."
Newsweek reached out to Ukraine's Foreign Ministry and the Kremlin for comment.