Did China Build World's First Railgun at Sea? Photos Show What Looks Like Powerful Electromagnetic Weapon on Warship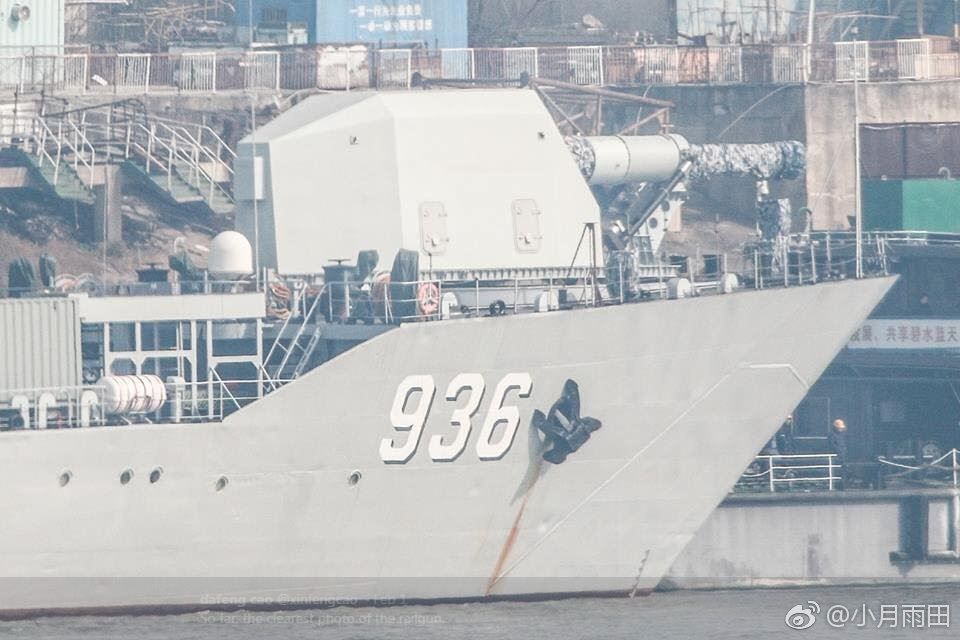 China has potentially become the first country in the world to successfully equip a warship with a powerful electromagnetic weapon known as a railgun, based on photos that have recently emerged online.
Social media users that closely follow Chinese military developments were shocked earlier this week when they discovered images of a massive, previously unseen weapon mounted to Type 072III-class landing ship Haiyang Shan at what appeared to be a shipyard in Wuhan. While details surrounding the images are not entirely clear, they are believed to be recent and several clues suggest China may very well be preparing to test the world's first battleship-mounted railgun, surpassing even the U.S.
Related: China wants new nuclear weapons to keep up with U.S. and Russia military power
"Provide the first-class naval weapon & equipment for building the first-class navy in the world," a banner seen behind the weapon read, according to Chinese Twitter user "dafengcao," who told Newsweek he initially found the pictures on Chinese social media site Weibo and that they were all posted within the past month.
A railgun is a futuristic weapon that fires a projectile by supplying two parallel, conductive rails with a powerful electric charge, creating a magnetic field. The projectile, likely some sort of missile, is placed between the rails and is launched at supersonic speeds through the barrel by an electromagnetic reaction known as Lorentz force. The result can be devastating for conventional armor and defenses.
The Chinese weapon featured was surrounded by other equipment, including containers that "dafeng cao" and other users identified as a potential power station to provide the charge. "Dafeng cao" cited the weapon's short, thick barrel—unsuitable for firing long-range, gunpowder-based weapons—was indicative of it being an electromagnetic railgun.
A verified, popular Weibo account belonging to an author describing himself as a retired Chinese navy officer also weighed in on the possible railgun, affirming that a project to develop a ship-mounted railgun had been approved years ago, potentially with the help of the Beijing Institute of Technology and an institute of the China Aerospace Science and Industry Corporation. He also said the Haiyang Shan provided the ideal platform to test such a weapon because of its large deck area.
The U.S. has widely been considered the leader of the pack in terms of military power and technology, but its top two competitors Russia and China have invested considerable resources in catching up in recent years, including railgun technology. The U.S. has its own land-based version of the railgun, which fired kinetic energy projectiles at over 4,500 miles per hour, and has tested it for years, but has struggled to install the costly, overpowered weapon at sea.
"China is still on the way to catch up to the western countries, the railgun just embodied their great endeavor," "dafang cao" told Newsweek, describing himself as a "watcher" of China's People's Liberation Army (PLA).
Chinese President Xi Jinping has made strides in reforming his country's military, vowing to revolutionize what began in 1927 as a communist guerrilla group into a world-class military "built to fight" by 2050. He has pursued close defense ties with Russian President Vladimir Putin, who has also sought to expand and improve his armed forces. As a result of these and other initiatives, U.S.-led Western military NATO has noted a shift in global power from West to East.
In his "America First" national security strategy, President Donald Trump claimed that "China and Russia challenge American power, influence and interests, attempting to erode American security and prosperity," a charge they have both denied.