Man Walking Dog Stabs Pet Puppies That Escaped, Killing One: Family
A family in Michigan say their beloved dogs were attacked by a fellow dog walker last week, leaving one dead and the other needing surgery.
The Brown family of Roseville, Michigan told Fox 2 their two puppies escaped the their home after a storm on September 15.
"He stabbed my boy dog in between the eyes and in the side," mom Veronica Taylor told Fox 2. "He viciously just attacked them."
The 10-month-old puppies—Jnixx and Saije—belonged to Taylor's twin daughters as support dogs.
Roseville Police told Newsweek that an investigation "revealed it was not an attack targeting the dogs, it appears the dogs attacked a citizen who was walking his dog."
Newsweek has contacted Roseville Police for further information and confirmation.
The dogs allegedly got loose from the family home on Thursday afternoon after climbing onto a tree a knocked over by the storm, and then out of the yard.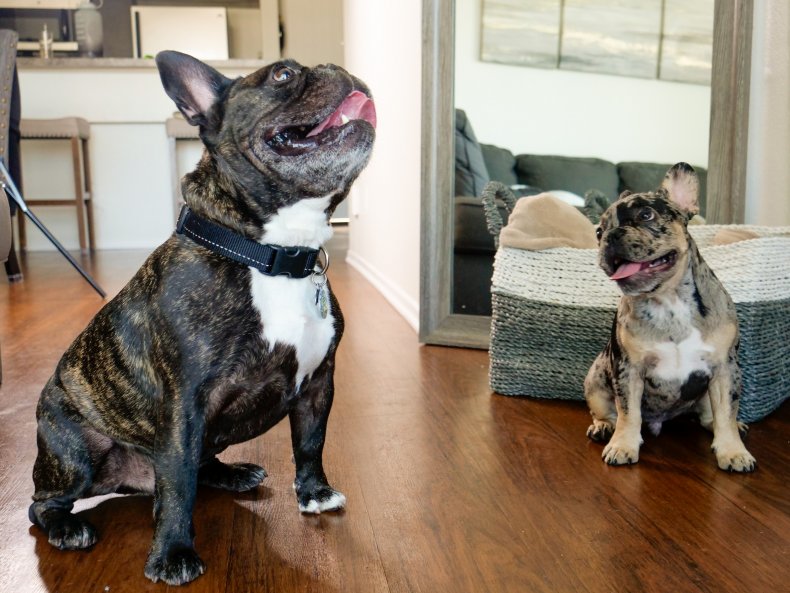 According to reports, the dogs found themselves encountering a man walking his black terrier one street away. Neighbor Brad Somervell witnessed the aftermath of the alleged incident and dialed 911.
"The dogs were wrapped around him a few times and he had a pocketknife and there was blood on it," Somervell told Fox 2. "And I asked what happened and he said the dogs came out of nowhere and attacked him."
Daughter Versharria Brown told Local 4 that when she caught up to her dogs, she found them gushing with blood and panting.
"The other man was still yelling from the side, and I'm like they're puppies. They are only 10 months old. They don't bite or nothing," she alleged.
According to the outlet, the man took off and was nowhere to be found once police arrived at the scene. Taylor told Fox 2 that she's seen the man a "thousand times" walking his dog past the house before, but has not since seen him.
Taylor described the incident as a "hate crime" in her GoFundMe page for medical help and alleged to Local 4 that she heard him use racial slurs among other insults before he ran off.
Roseville police say the person they are looking for is a white man between 60 and 65 years old, bald with a scruffy goatee, who owns a black terrier mix.
Anyone with information can contact Roseville police at (586) 775-2100.
Newsweek has contacted Veronica Taylor for comment and further information.
In the U.S., a pet receives emergency medical care every 2.5 seconds, according to recent statistics, and every six seconds a pet owner is faced with a vet bill of more than $1,000.
The stabbing has left the family's surviving dog needing a $1,500 surgery that they can not afford, with a three-inch deep wound on her side.
According to the mom's GoFundMe page, the emergency veterinarians cleaned up the wounds but the family are not left manually pushing fluid out of the dog using a warm compress four times a day as she needs a drain.
Update 9/22/22, 3:10 a.m. ET: This article has been updated to include comment from Roseville Police.
Update 9/23/22, 3:37 a.m. ET: This article has been updated to include a new image.