Don Lemon Faces 'Ethical Questions' Over Jussie Smollett's Tip-Off Testimony
CNN anchor Don Lemon is facing "ethical questions," after it was claimed in court that he had warned Jussie Smollett about the police investigation into his alleged racist and homophobic attack.
Former Empire star Smollett is currently awaiting the jury's verdict, after standing trial amid accusations he orchestrated his own alleged attack by two men in 2019 on the streets of Chicago, during which he stated that a noose was tied around his neck.
During a court testimony earlier this week, Smollett alleged that Lemon had sent him a message informing him that the Chicago Police Department did not believe his account of what had happened on the night in question.
The claim sparked an outcry among prominent conservative pundits, a number of whom called on CNN to fire Lemon, while others questioned the legality of his alleged actions.
However, if it turns out to be the case that Lemon did, indeed, send such a message to Smollett, legal experts have shared that it wouldn't indicate any illegal activity on the newsman's part—though there could be other questions.
"If these same facts had occurred in California, I would not see any criminal liability for Don Lemon telling Jussie that the cops did not believe him," San Francisco-based attorney-at-law Marc Pelta told Newsweek.
"For instance, does Lemon have a contract with CNN that prohibits from him sharing such information about a developing story with the subject of the investigation? Was Lemon trying to help Smollett just as [Chris] Cuomo was trying to help his ex-governor brother?
"This could be nothing more than one friend looking out for another, while potentially having civil liability ramifications, again, depending on the terms of the contract, and which jurisdiction's law would apply to such issues.
"I do not know where Lemon signed the contract or to which jurisdiction the contractual terms would even apply. There are some important unanswered questions here."
Smollett is accused of paying brothers Abimbola and Olabinjo Osundairo $3,500 to help stage the alleged attack. The siblings have been accused by the actor's defense team of asking for $1 million each to not testify that the alleged attack was a hoax.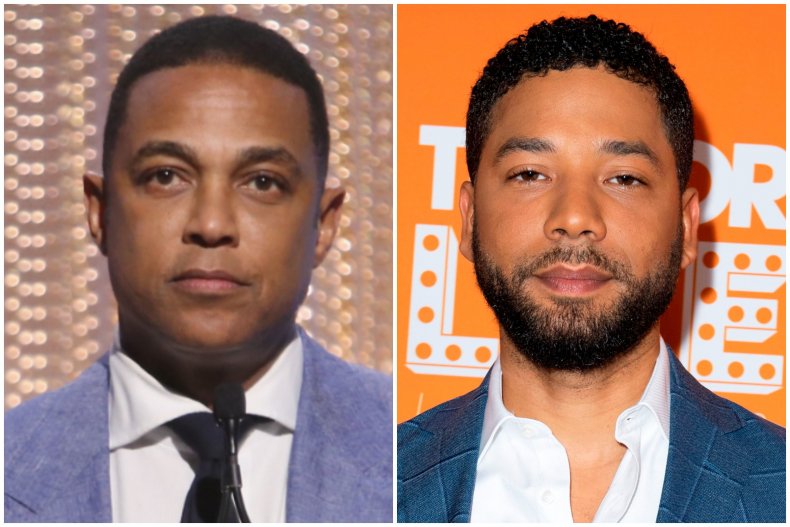 Reasons for Making Contact
With Smollett's account of what happened on the night in question being scrutinized, New York City-based criminal defense attorney Julie Rendelman told Newsweek that no hasty conclusions can be made on the details shared.
"The first question regarding the Don Lemon controversy is whether he, in fact, texted Smollett as Smollett indicated in his trial testimony," Rendelman said. "After all, Smollett does have a motive to not be fully forthright in his testimony as he is the one on trial.
"Assuming it is true, the next question is how Don Lemon received the information regarding the police. Was he simply assuming the police didn't believe Smollett or had he received it from a source?
"Either way, ethical questions arise regarding his conduct, but it would seem much more egregious if the information provided to Smollett came from a source, particularly when Lemon was commenting on the case in the context of his show."
'Personal' Significance
Amid the questions, it's also worth noting that it is common journalistic practice to contact a source regarding a major news story.
Shortly after news of the alleged attack first broke, Lemon told CNN viewers that the story was of "personal" significance to him as he was acquainted with the actor. He also revealed that was in regular contact with Smollett at the time.
Stating that Smollett should be viewed upon as "innocent until proven guilty," Lemon added that the star will have "squandered the good will of a whole lot of people" if it later emerged that his account was fabricated.
"He even lied to a lot of people... including me. And that's not cool," Lemon had said, per Fox News. "He squandered the good will of very high-profile people who one day may be running this country like Kamala Harris and Cory Booker and people like President Trump."
Another Perspective
Pelta, a former criminal prosecutor, told Newsweek that Lemon may have had other reasons for contacting Smollett about the police investigation at the time.
"[For] all we know, maybe Lemon told that to Smollett as a way to indirectly suggest that Lemon did not believe Smollett," Pelta said. "I seriously doubt Lemon is a gullible person and he is probably as intelligent as some of the best cops out there and then some."
He went on: "I have no bias here other than the average taxpayer seeing one's tax-dollars at work because it's obvious Smollett does not seem to think he has much to lose and is insisting on his constitutional right to a fair trial regardless of what most people may think about the case already."
Newsweek has contacted representatives of Lemon and CNN for comment.
Smollett is charged with six counts of felony disorderly conduct for making what prosecutors have said was a false police report. If found guilty, he faces up to three years in prison, though legal analysts have said that he is more likely to be ordered to perform community service.
The star has maintained his innocence throughout, and testified during his trial that the alleged attack was not a hoax.
Closing arguments were presented in court on Wednesday, before members of the jury were given instructions ahead of deliberations.