Don Lemon Puppy Video Garners Snarky Jabs After 'Sexist' Comments
A post shared on Don Lemon's Instagram page of his puppies has been flooded with a number of snarky comments amid backlash over the CNN host's statement that women over 50 aren't in their prime.
On Thursday's installment of CNN This Morning, Lemon and co-host Poppy Harlow discussed 2024 presidential hopeful Nikki Haley's recent comments about requiring competency tests for politicians over the age of 75.
"This whole talk about age makes me uncomfortable," Lemon, 56, said on the matter. "I think it's the wrong road to go down. She says people, you know, politicians are suddenly not in their prime. Nikki Haley isn't in her prime. Sorry. When a woman is considered in her prime in her twenties and thirties."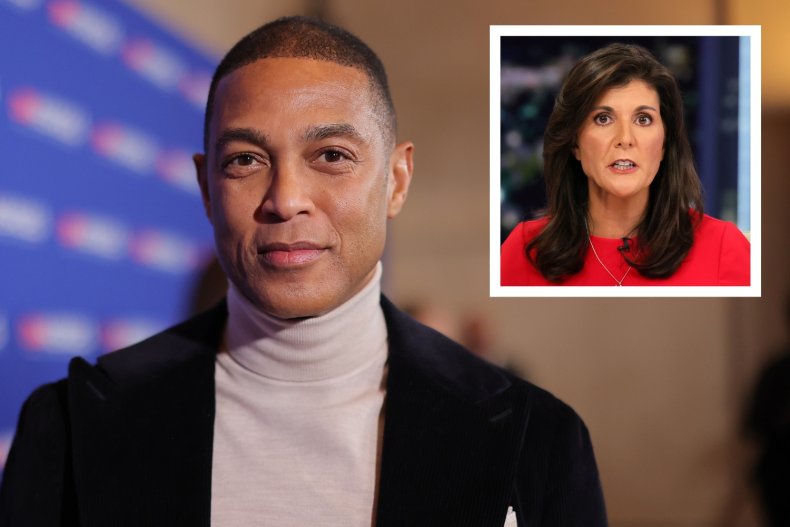 TV personality Lemon was interrupted by Harlow, who asked: "Prime for what?"
He went on to say that it is not specifically his opinion but said: "If you Google 'when is a woman in her prime,' it'll say twenties, thirties, forties."
Harlow then questioned Lemon again about what he meant by "prime" to which he responded: "I'm just saying what the facts are. Google it. Everybody at home, when is a woman in her prime? It says twenties, thirties and forties. I'm just saying Nikki Haley should careful about saying that politicians are not in their prime, and they need to be in their prime when they serve. She would not be in her prime according to Google or whatever it is."
Lemon faced widespread backlash for his comments in the immediate aftermath, with Republican Haley, 51, captioning a clip of the moment on Twitter: "Liberals can't stand the idea of having competency tests for older politicians to make sure they can do the job. BTW it's always the liberals who are the most sexist."
Lemon later apologized for his comments, writing on Twitter: "The reference I made to a woman's 'prime' this morning was inartful and irrelevant, as colleagues and loved ones have pointed out, and I regret it. A woman's age doesn't define her either personally or professionally. I have countless women in my life who prove that every day."
However, the backlash showed no signs of waning on Sunday, when Lemon was slammed on what should have been received as an everyday Instagram post.
Lemon's fiancé, Tim Malone, shared a video of their trio of puppies, alongside the caption: "Home sweet home. Nothing better than coming home to our 3 babies."
While the post would have been received as heartwarming in any other circumstance, a host of detractors targeted Lemon for his comments about Haley.
"Your dog doesn't think you are relevant either," commented one Instagram user, while another wrote: "Terrible comments Don. Unreal. Your network brought the word 'misogyny' to the dinner table. No coming back from that."
"At 56 YOU ARE PAST YOUR PRIME!" said another. "What a sexist statement you made. It's men like you who perpetuate this misogynistic caveman mentality! Women are only in their prime in their 20's 30's and maybe their 40's? 'Prime' for what exactly Don? Yep, thought so... SHAME ON YOU! And before this, I liked you. No insincere apologies will make me forget how you TRULY FEEL about women."
Another suggested that Lemon should not be on his nationally broadcast show until he learns "why so many" women were offended his comments.
"I've always admired you, but you are clueless about women," they said. "You seem to think that because you were brought up by women whom you dearly love, you cannot be sexist. That's similar to a racist saying, '....but some of my best friends are black.' We black people recoil when we hear that response.
"Your original comment was awful, and your apology was worse. I'm old enough to be your mother, and I AM NOT PAST MY PRIME!!!!! I hope you learn and grow from this experience. I also think you should not be on national TV—especially with women—until you fully comprehend why so many of us are offended."
While Lemon faced much criticism on the post, there were also a number of people who expressed their support for the news anchor as they weighed in on the matter.
"I agree with you regarding the fact that Nikki Haley is past her prime," commented one. "Who is she to decide what age a president should be? She only said what she said for her own selfish political gain. She needed to be put in her place. I can't stand Trump who she is trying to move out of the way with her comment. She's the one that's sexist!"
Said another of Lemon: "I would certainly appreciate it if they keep him at CNN because I always appreciate the opportunity to listen to him ever since he started as a correspondent. Keep your head up and shoulders high."
Last week, Haley announced her plans to run for president in 2024 as a Republican nominee. Shortly after announcing her bid for office, Haley, who previously served as the South Carolina governor and United Nations ambassador, spoke about her plans if she were to win the election.
"In the America I see, the permanent politician will finally retire. We'll have term limits for Congress. And mandatory mental competency tests for politicians over 75 years old."
Current President Joe Biden is 80 years old. In November 2020, he defeated real estate mogul Donald Trump, who is 76.