In 1999, Alec Baldwin Introduced Donald Trump at a Charity Event as the Next Potential U.S. President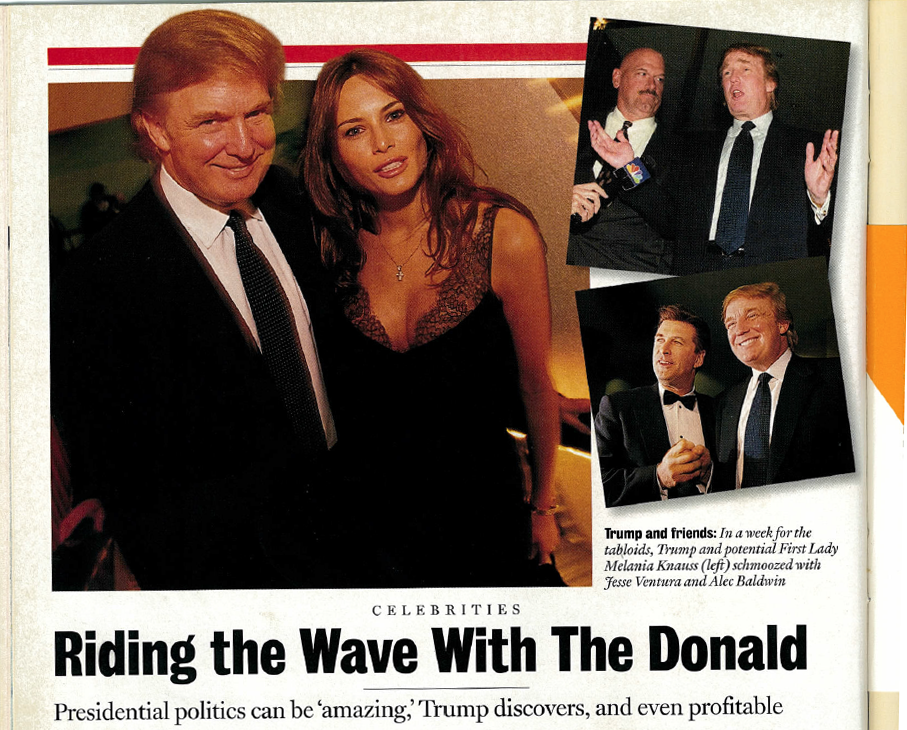 Donald Trump really does not like Alec Baldwin right now. On Saturday Night Live, the actor has depicted the U.S. president as petulant, inept, feckless and a Manchurian candidate doing Putin's bidding, among other scathing portrayals, and it's really gotten under his skin. Trump has taken to Twitter numerous times to denounce both the show and Baldwin's impersonation, calling SNL boring, biased and unfunny, and claiming that Baldwin's portrayal of him "stinks."
RELATED: Watch Baldwin's Trump take the travel ban to People's Court
But before the brash billionaire became the unlikely U.S. president and thus the butt of a weekly recurring joke on the late-night comedy show, and even back in the late 90s when Trump first started dropping hints about a potential run at the presidency, Trump and Baldwin were friendly. At a charity event in 1999, they downright schmoozed.
In 1999, Newsweek spent some time with then-53-year-old Trump, on a mission to dissect the would-be president who was already living like one. At the time, most "serious-minded" people balked at Trump's flirtation with running for president, according to Newsweek, calling it a publicity stunt. But Trump insisted he was seriously considering a run—and Baldwin was on board. At a charity event hosted by the Hollywood Baldwins in Manhattan, when it was Trump's turn to speak, Alec Baldwin introduced the mogul as "potentially the next president of the United States," before which a band began playing "Hail to the Chief."
There have been a great many things Trump has had to get over as president—his aversion to handshakes, for one ("It's a barbaric custom, he told Newsweek), and the fact that he has to live in Washington D.C., where he won't be able to build anything taller than the Washington Monument. Now maybe it's time for Trump to stop getting so miffed about Baldwin's SNL impersonations. They were predestined.
In 1999, Alec Baldwin Introduced Donald Trump at a Charity Event as the Next Potential U.S. President | U.S.