How to Watch Donald Trump's Arizona Rally and Live-Stream His Speech
Donald Trump is set to appear in Arizona to show his support for Kari Lake's campaign for governor ahead of the state's primaries on August 2.
The former president's endorsement has increased the tensions between him and the outgoing governor, Doug Ducey, who is backing Lake's opponent for the GOP nomination, Karrin Taylor Robson.
Trump and Ducey have long been at odds, with the 45th president attacking the Arizona governor and ice cream maven for disagreeing with Trump's disproven claims that there was widespread voting fraud in the 2020 presidential election.
Trump will appear at a rally for Lake on July 22 at the Findlay Toyota Center in Prescott Valley. He had been set to appear on July 16, but the event was postponed after the death of his ex-wife Ivana Trump at the age of 73.
She died on July 14 in New York City.
Trump's Save America political action committee announced the postponement in a statement, writing: "Out of love and respect for Ivana, our big Arizona Rally will be postponed until next Friday. On behalf of our family, I want to thank everyone for all of your thoughtful messages of prayers and support."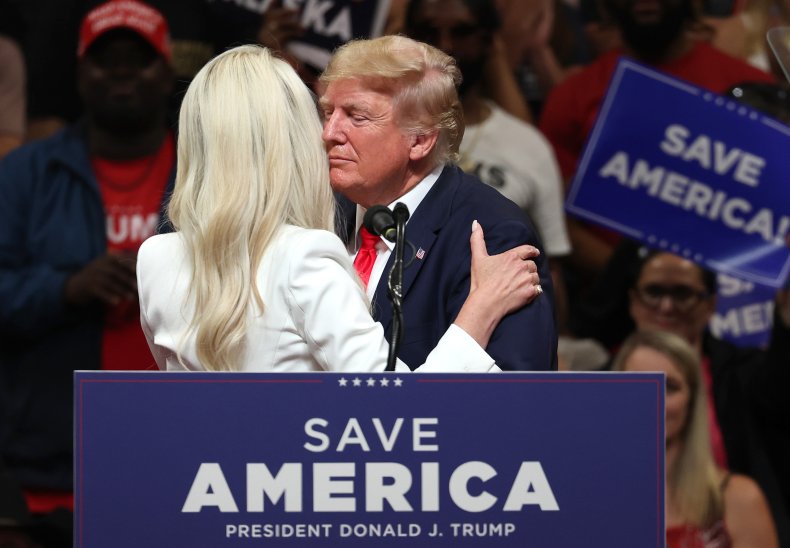 How to Live-Stream Donald Trump/Kari Lake Rally
You can watch and live-stream the rally on YouTube for free. The event will begin at 4 p.m. (local time) and Trump will be speaking at roughly 7 p.m.
When Trump first announced the trip, he said he would be speaking "in support of Kari Lake for governor, Blake Masters for U.S. Senate and the entire Arizona Trump ticket."
In a statement on July 6, Trump wrote: "With Kari, you'll have Election Integrity, Strong Borders, Safe Streets, and all of the other things you've wanted for so long. Vote for Kari Lake. She has my Complete and Total Endorsement!"
Who Is Kari Lake?
Lake is a former local TV news anchor. This is the first time she has run for public office.
She is running as a Republican. She has set out her platform in remarks as "common sense conservatism dedicated to individual liberties, low taxes, limited regulation, and protecting Arizona's great Western heritage.
"The ongoing border crisis is nothing less than a national security and humanitarian disaster. ... I will not wait for Washington's approval or rely on the empty promises of far-away politicians to do what's best for Arizonans. After I take my hand off the Bible, we are going to issue a declaration of invasion. We are going to finish President Trump's wall, and we are going to send our armed National Guard to the border and stop people from coming across."
Lake supports Trump's disproven claims that the 2020 election was stolen. She has said that had she been Arizona governor at the time, she would not have certified the Arizona results in favor of President Joe Biden.
Update 07/21/22, 6:40 a.m. ET: This article was updated to state that the rally has been postponed because of Ivana Trump's death.