Donald Trump Building New Liberal World Order Despite Global Critics, Mike Pompeo Declares
Secretary of State Mike Pompeo declared that President Donald Trump was creating a new world order underpinned by U.S. leadership and democracy, despite suggestions to the contrary from allies and adversaries alike.
Delivering a foreign policy speech to diplomats in Brussels, Pompeo blamed Iran and China for instability in the world, and said the U.S. was committed to peace and prosperity, Reuters reported.
"In the finest traditions of our great democracy, we are rallying the noble nations to build a new liberal order that prevents war and achieves greater prosperity," Pompeo said. "Under President Trump, we are not abandoning international leadership or our friends in the international system," he added.
Pompeo hit back at China, Russia and Iran, whom he accused of endangering global stability, Radio Free Europe noted. The secretary of state called the three nations "bad actors" that had exploited loopholes within global institutions for their own gain, and vowed the U.S. would continue to call out such behavior.
The U.S. has come into confrontation with Russia over its alleged breach of a 1987 nuclear arms treaty, which banned nuclear and conventional missiles with ranges of 310 miles to 3,417 miles. Trump has threatened to withdraw from the treaty and deploy U.S. missiles in Europe in response.
Belligerence toward Iran had been one of the key characteristics of the Trump administration. The president withdrew the U.S. from the 2015 nuclear deal with Tehran that lifted crippling economic sanctions in exchange for a freeze on Iran's atomic weapons program. China, Russia and the European Union all criticized the decision.
The Trump White House claimed Iran was an increasingly malign presence in the Middle East, having cultivated significant influence through wars in Syria, Iraq and Yemen. Alongside allies Israel and Saudi Arabia, Trump has sought to limit Tehran's military, diplomatic and economic clout since entering the Oval Office.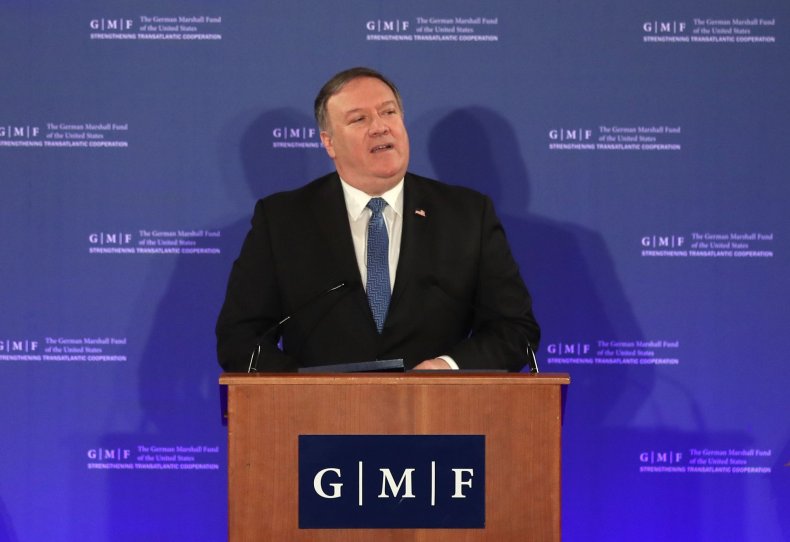 And last but not least, the president harbored a wide range of grievances against China, much of which is to do with what he considers unfair trade policy. At the G20 summit in Argentina this week, Trump and President Xi Jinping agreed to delay a looming trade war, but many major points of contention remain between Washington and Beijing.
Pompeo may have been portraying the U.S. as a force for global cooperation and progress, but Trump's "America First" policies have drawn criticism from around the globe. Adversaries and allies alike have denounced perceived U.S. unilateralism and the disregarding of established global diplomatic bodies.
Trump seems to hold an inherent distrust of all multinational institutions, and has delivered scathing rebukes of NATO, the United Nations, the EU, NAFTA and the World Trade Organization, among others.
Pompeo acknowledged: "Even our European friends sometimes say we're not acting in the free world's interest." But, he declared, "This is just plain wrong. We are acting to preserve, protect, and advance an open, just, transparent and free world of sovereign states."
"This project will require actual, not pretend, restoration of the liberal order among nations. It will require an assertive America and leadership from not only my country, but of democracies around the world."
Pompeo suggested the U.N., EU, African Union, International Monetary Fund and World Bank have all been exploited, undermined and require change, for which U.S. assistance will be required.
For example, Pompeo noted the U.S. was pressuring the World Bank and IMF to cut funding to countries like China, which already have access to financial markets to raise capital.
Pompeo is in Brussels to meet foreign ministers of America's NATO allies, who Trump has regularly accused of "ripping off" the U.S. and not paying their fair share toward the shared defense of Europe.