Donald Trump Claims Nobody Has Done More 'for Religion Itself' Than Him
Former President Donald Trump lauded himself for the way he served religious communities in the U.S. during his time in office.
"Nobody has done more for Christianity or for evangelicals—or for religion itself—than I have, [doing] so many different things," he said during a phone interview with host Gene Bailey on the show Flashpoint on Thursday on The Victory Channel.
Trump referenced "getting rid of" the Johnson Amendment, legislation he described as "a very bad thing and very costly." Part of the U.S. tax code, the measure, which he weakened, bans nonprofits from supporting or opposing political candidates.
He noted that he gets more credit for what he has done for the evangelical community than what he did for the Jewish community in America, "but Israel's a very important element so nobody's done what I've done and I'm very happy to do it."
Trump also claimed that President Joe Biden's administration "cheated very much on what they really think of organized religions and frankly Christianity."
"I said that Biden was going to be bad; he's turned out to be far worse than anybody ever thought," he said on the show last Sunday.
Evangelical Christians have been a key base of support for Trump since his 2016 presidential campaign and could prove crucial again should he run in 2024, which he's strongly hinted he will even as polls point to his waning influence.
Recent polls among Republicans suggest Trump is becoming less popular in his own party. One released Wednesday by GOP pollster Carter Wrenn showed him in a tie with Florida Governor Ron DeSantis for the 2024 race.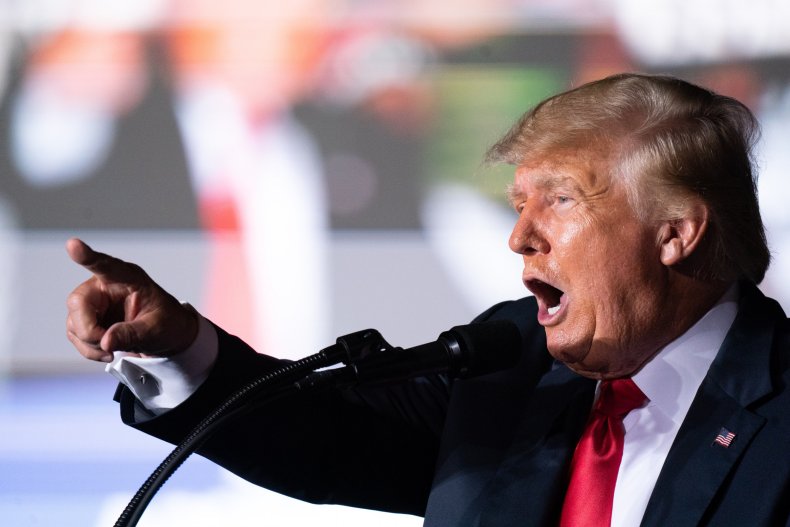 The poll, conducted on behalf of the super PAC of Trump's former national security adviser John Bolton, showed Trump support from Republican voters dropped to 26.2 percent in September, down from 46 percent in July.
"These numbers will probably come as a shock to Donald Trump," Bolton said in a statement. "After 20 years in Afghanistan, it's clear that Americans are unhappy with leaving as we did. Voters were smart enough to see that President Trump started the withdrawal and legitimized the Taliban through negotiations."
A straw poll from Mackinac Republican Leadership Conference in Michigan last month also suggested Trump's influence is waning. Sixty percent of respondents said they would vote for a Republican even if the candidate disagreed with Trump's claim that the 2020 presidential election was fraudulent.