What Donald Trump Said at First Rally Since COVID Recovery
President Donald Trump held his first rally since recovering from COVID-19 in Florida on Monday, claiming he felt good enough to "kiss everyone in that audience" and defending his track record in dealing with the coronavirus crisis.
Trump has spoken of how good he feels in recent days despite having contracted the virus, while also claiming to now have immunity—though there have been questions over such a claim.
The commander-in-chief's physician said in a memo the president had tested negative for COVID-19 on consecutive days, with Trump expressing his pleasure at having overcome the illness.
Trump's COVID-19 Experience
"It does give you a good feeling when you can beat something and now they say you're immune," he said. "I don't know how long for, some people say for life, some say for four months, every time think about it, every time I hear them, it gets shorter, and shorter, and shorter, because they want it to be as bad as possible."
Prior to this, commenting on how he felt, he said: "I'll walk into that audience. I'll walk in there, I'll kiss everyone in that audience. I'll kiss the guys and the beautiful women and everybody. I'll just give ya a big fat kiss."
COVID-19 continued to be a focus of his speech, in which he defended his response to the crisis.
Coronavirus Response
Trump again spoke of his decision to block travel from China then Europe, saying this saved "millions of lives." However, the true impact of these actions is unclear, while his China travel ban was also in part questioned as it did not fully close off travel with the nation.
Foreign nationals who had traveled to China within 14 days prior to coming to the U.S. were mostly barred, save for exceptions for people such as immediate family of U.S. citizens, while Americans returning from China were allowed into the nation following an enhanced screening process.
At the rally, Trump criticized Democratic presidential candidate Joe Biden, who he insisted was against the action of barring travel from China—though the Democrat's campaign has said he did back this move as it had been supported by science.
The president also took this opportunity to hit out at China, who he has persistently said should be blamed for the coronavirus pandemic having spread worldwide.
"It's China's fault, they allowed this to happen, they allowed it to escape China," he said.
He later added: "Right now, I'm fighting to make sure we eradicate the virus, rebuild the economy and save our country from the radical left."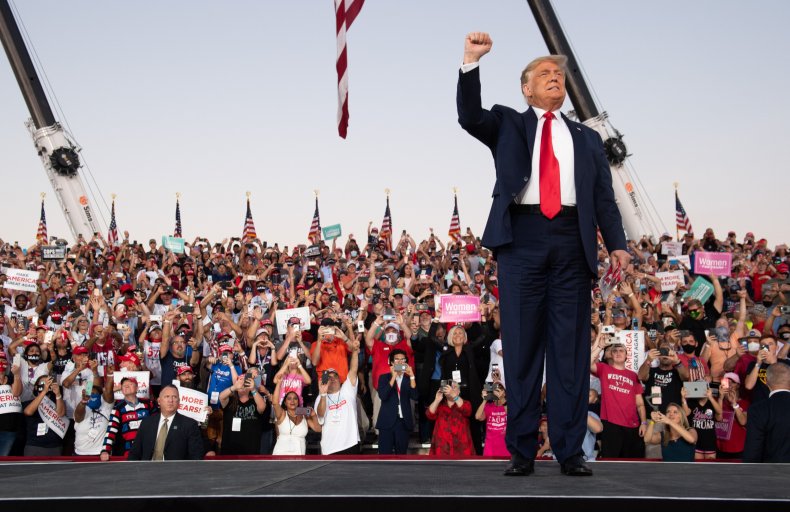 He described the way people in the U.S. had handled the pandemic as being an "incredible love fest together." Trump went on to add he had "lost friends," with the crowd then chanting "we love you."
After this, he said "you're gonna love me even more," before stating there are "great vaccines coming" and "even greater" things coming in terms of cures.
The chances of a vaccine have been touted as positive by scientists, though experts have not necessarily bought into the timeline outlined by Trump.
On Biden
Trump also hit out further at Biden—criticizing his stance on China, suggesting the Democrat would give up jobs to the nation. He also described him as potentially "the worst presidential candidate in history."
"And I got him, I got him," he said. This comes despite Trump being down in the majority of national polls, while also trailing in a number of key states.
On Biden's running mate Kamala Harris, he said there was nobody who was "so mean" to Biden, questioning him having picked her.
Stating he is glad to have Biden as a rival, Trump said: "He's alienated the left, he's alienated the right."
He then went on to say Biden is pushing "the most far-left agenda" ever proposed by a presidential candidate. Polling has shown voters do not agree with the characterization of Biden and Harris as far-left.
Law and Order
Law and order messaging has been a focus of Trump's re-election campaign.
"We will never allow ourselves to even think about surrendering to the left-wing mob," he said, targeting again people from the far left-wing, who he has suggested are responsible for unrest across the nation.
"Biden's supporters are causing mayhem in the streets."
Biden has insisted he condemns any violence which has been linked with recent protests.
As well as attacking the left, Trump also defended his own approach to law enforcement.
"Nobody's been better to law enforcement than I have," he said, claiming some Democrats in law enforcement had switched their support to him and were in attendance at the rally. He spoke of a lot of Democrats having done so. This follows a number of high-profile Republicans having shifted to support Biden over Trump.
On the point of the law, he also took the opportunity to defend his Supreme Court nominee Amy Coney Barrett, whose confirmation hearings began Monday, calling her a "brilliant scholar" who would defend "our rights, our freedoms, our laws" in a way "very few people would have the capability of doing."
As well as this law and order message, he also reverted to his touting of a border wall—returning to his 2016 promise of building such a blockade between the U.S. and Mexico, stating there is almost 400 miles completed.
"Nobody talks about that anymore," he said. His comments come despite long-standing questions over the rate at which the wall is being built, while there have also been suggestions parts of the wall are at risk of collapse.
Newsweek has contacted the Trump and Biden campaigns for comment.
Trump's comments on COVID-19 come with more than 7.8 million confirmed cases having been identified across the U.S. throughout the pandemic.
The graphic below, from Statista, shows the nations with the most confirmed cases of COVID-19 as of October 12.