President Donald Trump has once again mocked the schoolgirl climate change activist Greta Thunberg after she scooped Time magazine's Person of the Year award for 2019.
"So ridiculous. Greta must work on her Anger Management problem, then go to a good old fashioned movie with a friend! Chill Greta, Chill!" Trump wrote on Twitter on Thursday morning.
Thunberg, who was awarded Person of the Year for her global campaign work to raise awareness about climate change and the urgent need for governments to tackle it, hit back subtly by changing her Twitter bio.
"A teenager working on her anger management problem. Currently chilling and watching a good old fashioned movie with a friend," Thunberg's bio now says after Trump's tweet.
It is a trick she has used before to respond to world leaders who attack her. When Brazilian President Jair Bolsonaro recently labeled her a "brat" she added the insult to her bio.
The Swedish teenager founded the "school strike for the climate" campaign, which spiraled into an international movement for young people.
She gave an emotional address to the U.N. headquarters in New York City during a summit on climate change back in September.
"This is all wrong. I shouldn't be up here. I should be back in school on the other side of the ocean," Thunberg told the U.N.
"Yet you all come to us young people for hope. How dare you? You have stolen my dreams and my childhood with your empty words. And yet, I'm one of the lucky ones.
"People are suffering. People are dying and dying ecosystems are collapsing.
"We are in the beginning of a mass extinction and all you can talk about is money and fairytales of eternal economic growth. How dare you?"
Trump then mocked Thunberg after a clip of her glaring at the U.S. president as he walked past at the U.N. went viral on social media.
"She seems like a very happy young girl looking forward to a bright and wonderful future. So nice to see!" Trump wrote on Twitter alongside a clip of Thunberg's speech.
He subsequently targeted her again on Twitter, quote-tweeting praise for a supporter of his who had criticized Thunberg as "an actress."
The tweet by user @Opinion8dKellie said of Thunberg: "What an actress! 'I should be in school.' She's getting the best education socialism can steal. I won't be held hostage by someone who just got a learner's permit. Sorry kiddo! Tell Al to try again."
"Keep up the great work Kellie!" Trump wrote.
Thunberg has responded to Trump's taunts by shrugging them off.
"You can interpret it in different ways. Many different ways," Thunberg told Scandinavian talk show Skavlan about Trump's tweet calling her a "very happy young girl."
"But, I mean, I knew that sometime he is probably going to say something about me. And it was like, it doesn't make any difference, in a way."
The host asked Thunberg if she read any sarcasm in Trump's tweet.
"Well, of course I do, but, yeah, of course he is going to write that," Thunberg said, dismissively.
In an interview on the Ellen show in November, Thunberg also ruled out meeting Trump to discuss climate change.
"I don't understand why I would do that," Thunberg said. "I don't see what I could tell him that he hasn't already heard, and I just think it would be a waste of time, really."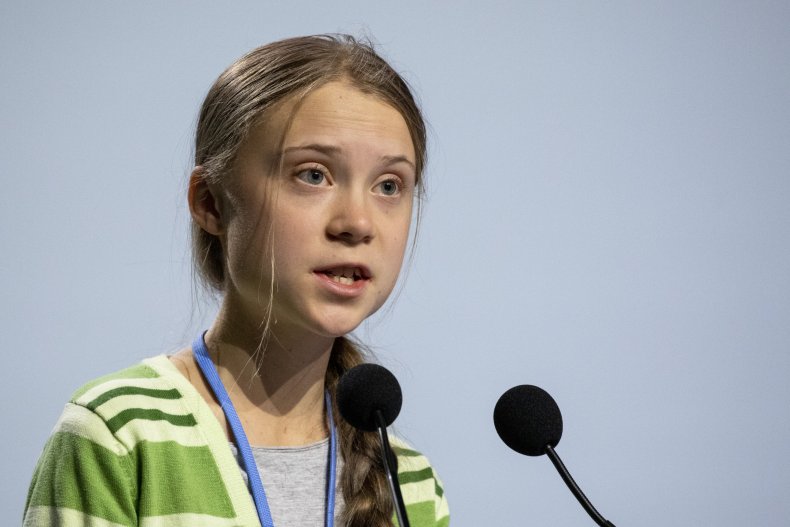 This article was updated with more background information.