Donald Trump Jr. took to Twitter Wednesday to insist that House Speaker Nancy Pelosi was filled with "hate" when she tore up his father's State of the Union speech, but Republicans got revenge when they "shredded her impeachment" in the Senate.
President Donald Trump's State of the Union address was delivered in a very tense and sharply divided partisan atmosphere on Tuesday. Republicans could be heard shouting "four more years" at one point, while Democrats sat silently or shook their heads in disagreement.
Trump spurned Pelosi's offer of a handshake at the beginning of the speech and she tore her copy of his speech at the conclusion. The tweet from the president's eldest son echoed a number of other social media posts by conservatives blasting Pelosi, including the initial response by the White House.
"Pelosi ripped up @realDonaldTrump's speech last night. In that speech were stories of American Heroes & American Dreams," Trump Jr. tweeted. "Their stories are more powerful than her hate. We shredded her Impeachment. Now let's all tear up the Democrat's chances in 2020."
The tweet also contained a video titled "Powerful American Stories Ripped to Shreds by Nancy Pelosi." The video showed selected moments from the speech repeatedly intercut with a brief clip of Pelosi tearing the speech, attempting to suggest that the House speaker had intended to literally tear up the individual experiences of people, rather than Trump's speech in general.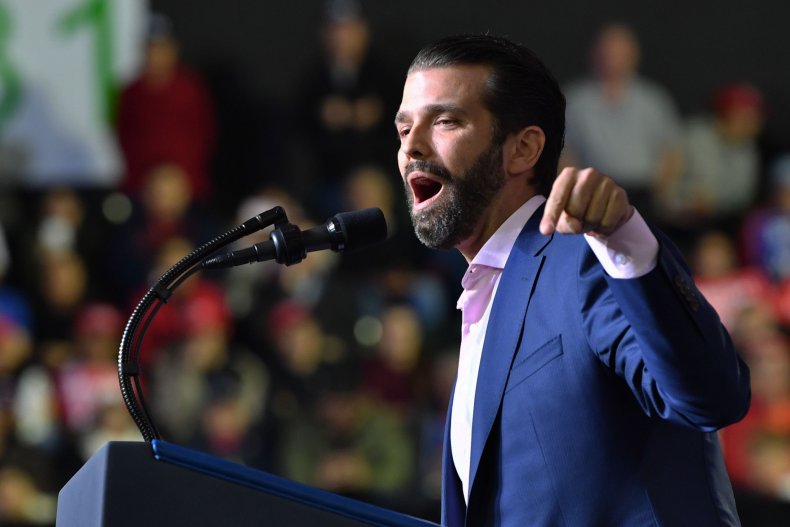 Moments from the speech that the tweet suggests Pelosi "ripped up" included Trump taking credit for statistics concerning the economy and minority groups. The stories of a Gold Star Family and a Tuskegee Airman joined by his grandson, along with the surprise reunion of an Army family were also allegedly ripped up by Pelosi.
The tweet also implied that Pelosi shredded the Presidential Medal of Freedom, which was awarded in unprecedented fashion during the speech to conservative talk show host Rush Limbaugh, one day after announcing he had been diagnosed with advanced lung cancer.
Newsweek reached out to Pelosi's office for comment but did not receive a response in time for publication.
Pelosi reportedly slammed the president and his speech during a closed-door meeting with House Democrats on Wednesday morning.
"He shredded the truth, so I shredded his speech," said Pelosi during the meeting, according to Politico, citing multiple unnamed sources. "What we heard last night was a disgrace."
Pelosi was a key figure in the effort to impeach Trump, which the House successfully did on December 18. The House speaker had initially been reluctant to pursue Trump's impeachment, deeming him "not worth it" during the time of the Russia investigation.
However, she changed her mind when news broke of Trump's alleged scheme to arrange a "quid pro quo" deal with Ukraine by exchanging foreign aid for an investigation of former Vice President Joe Biden.
The Senate trial ended in acquittal for Trump on Wednesday, as nearly all observers had expected. Sen. Mitt Romney was the only Republican to vote in favor of removing the president.
Trump Jr. quickly expressed outrage at Romney's vote on Twitter, calling for him to be "expelled" by the Republican party due to having become "a member of the resistance."