Donald Trump Jr. Blasts 'Un-American' Companies Opposing Voting Bills
Donald Trump Jr. has urged Republicans to "stand up" against companies that are pushing back against new state voting laws.
The son of former President Donald Trump also accused corporate America of censoring conservative voices and promoting "freedom-killing" vaccine passports.
On Wednesday, Trump Jr. shared on Twitter an article by the conservative website The Federalist, which criticized a virtual meeting of business leaders last Saturday who discussed how to respond to the passage of what some consider to be more restrictive voting measures in numerous states across the U.S.
The high-level meeting among corporate leaders from the health care, media and transportation sectors follows moves in 47 states to change voting laws, CBS reported.
The Federalist article, written by Tristan Justice and published on Monday April 12, disparaged the corporate leaders as belonging to a group in which "wokeism is indoctrinated as a secular religion to strategize on circumventing Republican governance."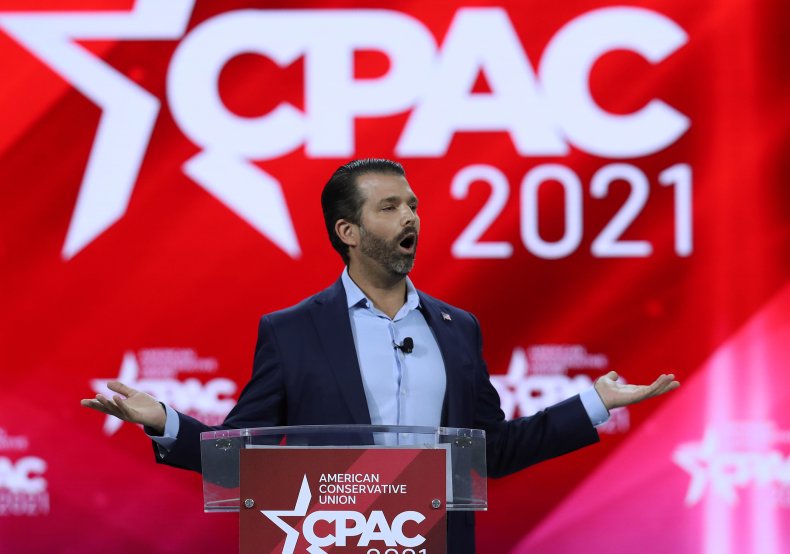 In his tweet, Trump Jr. added his own message: "Corporate America is pushing freedom-killing vaccine passports, censoring conservatives on social media & trying to stop common-sense Voter ID laws."
Trump Jr. has previously taken aim at vaccine passports whose proponents argue can allow for increased capacity at social events. Opponents consider it a breach of privacy and an example of government overreach.
"These woke corporations are un-American to their core. Time for Republicans to finally stand up to them!" Trump Jr. added in his tweet.
Trump Jr.'s comments follow similar sentiments by prominent GOP figures such as his father, who have called for boycotts of companies that have opposed the new voting legislature passed last month in Georgia.
Delta Air Lines and Coca-Cola, which are major employers in the Peach State's capital Atlanta, have spoken out against the GOP voter ID law, arguing it would disenfranchise minority voters.
Trump Jr.'s tweet about corporations opposing further voting measures comes as Amazon, BlackRock, Google, and hundreds of other companies and executives signed a statement opposing "any discriminatory legislation" that would make it harder for people to vote.
A copy of the letter appeared on Wednesday in advertisements in The New York Times and The Washington Post on Wednesday. It was organized by ex-CEO of American Express, Kenneth Chenault, and Merck CEO Kenneth Frazier, who led 72 Black executives in demanding that corporate America oppose Georgia's new voting laws.
The letter, which carries the names of the signatories underneath the heading "We stand for democracy" is the biggest statement of intent by big business opposing GOP-sponsored bills in states that aim to curb mail-in ballots and put in place new voter ID requirements, among other measures.
According to the Brennan Center, as of March 24, at least 55 "restrictive bills" are moving through legislatures in 24 states, 29 of them have passed one chamber, while 26 of them have made it through a committee vote.