What Are Donald Trump's SAT Scores? Michael Cohen Claims President Threatened Schools to Keep His Grades Secret
President Donald Trump allegedly ordered that threatening letters be sent to his schools so that they would not make his grades or SAT scores public, according to his former lawyer and fixer Michael Cohen.
Trump was educated at New York Military Academy, a boarding school, from 13 before enrolling at Fordham University as a student. He transferred as a junior to the Wharton School of Business at the University of Pennsylvania and graduated with a bachelors degree in economics in 1968.
Cohen is headed to Capitol Hill Wednesday morning to testify before the House Oversight and Reform Committee about his years working for Trump. A copy of his opening statement was published by The New York Times.
Attached to the statement are "copies of letters I wrote at Mr. Trump's direction that threatened his high school, colleges and the College Board not to release his grades or SAT scores," according to the document.
Trump often boasts of his intelligence and admonishes others for their alleged stupidity or "low IQ" as he perceives it. But there is little record of Trump's academic achievements beyond the fact that he graduated from high school and college, with no public details of his grades or SAT scores.
"When I say con man, I'm talking about a man who declares himself brilliant but directed me to threaten his high school, his colleges, and the College Board to never release his grades or SAT scores," Cohen is set to tell Congress.
"As I mentioned, I'm giving the Committee today copies of a letter I sent at Mr. Trump's direction threatening these schools with civil and criminal actions if Mr. Trump's grades or SAT scores were ever disclosed without his permission.
"The irony wasn't lost on me at the time that Mr. Trump in 2011 had strongly criticized President Obama for not releasing his grades. As you can see, Mr. Trump declared 'Let him show his records' after calling President Obama 'a terrible student.'"
Newsweek asked Lanny Davis, Cohen's attorney, for copies of the letters mentioned. Davis did not respond immediately.
The White House did not respond immediately to a request for comment. But on Tuesday, White House press secretary Sarah Sanders dismissed Cohen as a "disgraced felon."
"Disgraced felon Michael Cohen is going to prison for lying to Congress and making other false statements," Sanders said in a statement.
"Sadly, he will go before Congress this week and we can expect more of the same. It's laughable that anyone would take a convicted liar like Cohen at his word, and pathetic to see him given yet another opportunity to spread his lies."
Cohen, 52, is scheduled to begin a three-year federal prison sentence in May following his convictions for tax fraud, campaign finance violations relating to the election of Trump and lying to prosecutors. He also pleaded guilty to lying to Congress about the extent of Trump's dealings in Russia.
The president's ex-fixer had arranged for hush payments to be made to two women shortly before the 2016 election, one of whom was adult film actress Stormy Daniels, real name Stephanie Clifford, who alleged she had an extramarital affair with Trump.
Having initially claimed the payments were to protect Trump's family, Cohen later admitted that they were made to benefit the election campaign. He also said that Trump directed him to make the payments, which the president denied.
On Wednesday morning, Trump tweeted: "Michael Cohen was one of many lawyers who represented me (unfortunately). He had other clients also. He was just disbarred by the State Supreme Court for lying & fraud. He did bad things unrelated to Trump. He is lying in order to reduce his prison time. Using Crooked's lawyer!"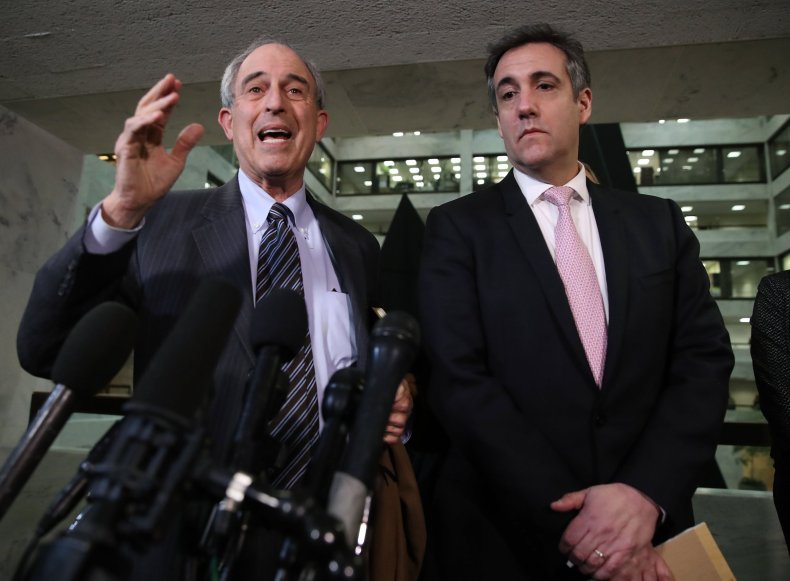 This article was updated with background information about Trump's education.