Donald Trump Suggests Nuclear War 'More Likely To Happen Than Not'
Donald Trump has suggested nuclear war is "more likely to happen than not" for the United States because of President Joe Biden.
Writing on Truth Social, the former president said he never thought "in my wildest imagination" that the U.S. would be involved in a nuclear war.
"Now, however, because of our leaders rhetoric and very poor choice of words, it is perhaps more likely to happen than not," Trump said.
"Russia/Ukraine would NEVER have happened under a TRUMP Administration. Now there are fewer cards to play, but still very playable. China up next?"
His comments follow Biden indicating the U.S. military would defend Taiwan if China, a major nuclear power, attacked the island—remarks the White House insisted were not a policy change—and as NATO indirectly helps Ukraine defend itself from Russia, which has the largest stockpile of nuclear warheads in the world.
Trump made similar comments in an interview on Real America's Voice show Outside the Beltway, which aired on Monday.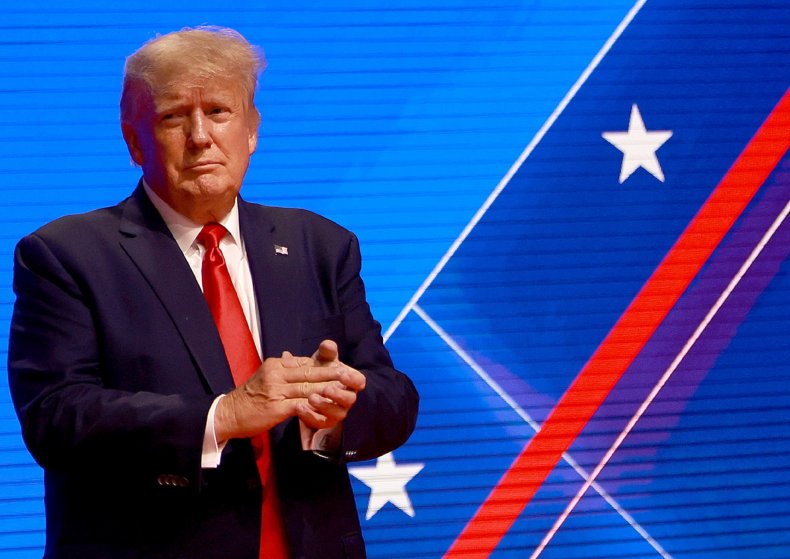 "I would have never thought that would have happened, we're the greatest danger of a nuclear war, it's just a great danger. We're not a respected country anymore," he said.
The U.S. was among other countries in not wanting to fulfill Ukraine's request for a no-fly zone, with Biden fearing NATO and Russian troops clashing would be "World War III."
Trump has previously suggested that, if he were still in the White House, he would threaten Russia with nuclear submarines.
Speaking to Fox News in March, Trump said that the U.S. should deploy nuclear submarines to go "back and forth, up and down" Russia's coast in order to intimidate President Vladimir Putin amid the war in Ukraine.
"I listened to him [Putin] constantly using the n-word, that's the n-word, and he's constantly using it: the nuclear word," Trump told Fox Business.
"And we say, 'Oh, he's a nuclear power.' But we're a greater nuclear power. We have the greatest submarines in the world, the most powerful machines ever built," Trump added.
"You should say, 'Look, you mention that word one more time, we're going to send them over and we'll be coasting back and forth, up and down your coast.'"
In January 2018, Trump also boasted the U.S. had power to annihilate North Korea.
"North Korean Leader Kim Jong Un just stated that the 'Nuclear Button is on his desk at all times,'" Trump tweeted. "Will someone from his depleted and food starved regime please inform him I too have a Nuclear Button, but it is a much bigger & more powerful one than his, and my Button works!"
Trump has also, at times, lavished praise on authoritarian rulers, repeatedly saying that getting along with countries such as Russia and China "is a good thing."
The White House has been contacted for comment.