Trump Attacks Press Again at Pennsylvania Rally: 'They Are Fake, Disgusting News'
President Donald Trump launched yet another attack on the press at a Make America Great Again rally in Wilkes-Barre, Pennsylvania, on Thursday night, pointing at reporters in the room and eliciting boos from a crowd hostile to the media.
It comes after similar rants about the media at other rallies and Trump's incitement of hostility toward journalists, particularly those working for CNN. The president has even described the media as "the enemy of the American people," a view that press secretary Sarah Huckabee Sanders declined to distance herself from when given the opportunity this week.
During his Pennsylvania rally, Trump praised himself for the summit with North Korean despot Kim Jong Un, which was panned by some policy analysts as a largely fruitless endeavor that legitimized the regime in exchange for recycled and previously broken commitments to denuclearize.
"I said the media is gonna treat me finally so good. So good. I mean, it's gonna be so great, baby. I'm looking so forward to getting up tomorrow and reading those dying papers," Trump said.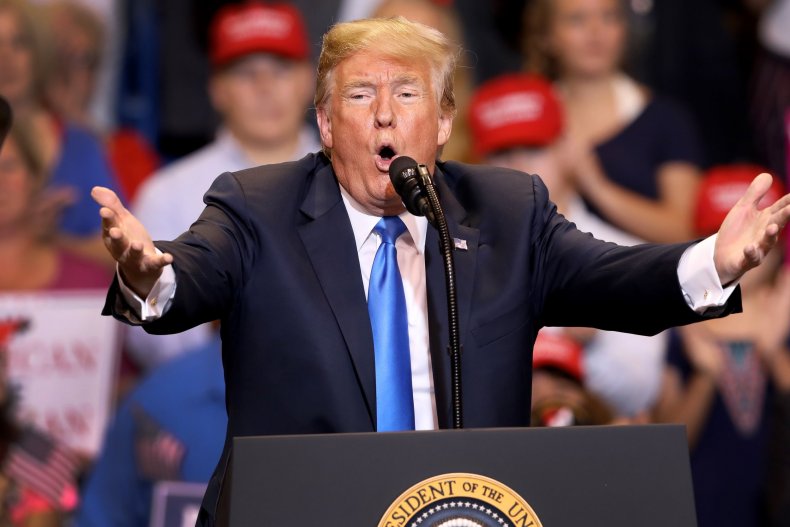 "And what do I read? What do I read? So I left three months ago. What do I read? They've been working on this stuff for 75 years. [Barack] Obama didn't do anything. In all fairness, other administrations did nothing. They'd been working on it for so many decades.
"What do I read? I left three months ago. 'Donald Trump isn't moving fast enough.' Can you believe? I'm not moving fast enough. Oh boy, what a group. What a group."
Trump also denied a story claiming that he was late to tea with Queen Elizabeth II during his recent visit to the U.K. and that he had overstayed his welcome. He gestured at journalists at the rally and said, "They are the fake, fake, disgusting news."
The president also talked about his meeting in Helsinki, Finland, with Russian President Vladimir Putin. The details of what was agreed on by the two leaders behind closed doors remain unknown.
But at a press conference after the meeting, Trump invoked bipartisan outrage by suggesting he believed Putin's claim that Russia did not interfere in the 2016 election through cyberwarfare over the unanimous conclusion of America's intelligence agencies that the Kremlin had done just that. Trump later backstepped and claimed to have misspoken.
During the Pennsylvania rally, Trump said he had a "great meeting with Putin" during which they "discussed everything." The president also called special counsel Robert Mueller's ongoing investigation into suspicions of collusion between Russia and the Trump 2016 campaign a "hoax," even as the probe closes in on some of those people closest to him.
The president also falsely claimed "Russia's very unhappy that Trump won," despite Putin himself saying at the Helsinki press conference that he wanted Trump to win the 2016 election.
"Now we're being hindered by the Russian hoax," Trump said. "It's a hoax, OK. I'll tell you what: Russia's very unhappy that Trump won. That, I can tell you. But I got along great with Putin. And everybody said, Wow that was great.
"Couple of hours later, I started hearing these reports that they wanted me to walk up...and go like this [starts shadowboxing]. They wanted me to go up and have a boxing match. I said, Whatever happened to diplomacy?"
Trump then claimed that had he been combative with Putin instead of friendly, the media would have criticized him for it.
"Whatever happened to fair press?" Trump said, pointing at the journalists in front of him as the crowd booed. "Whatever happened to honest reporting?... They only make up stories."
He also referred to the media's "fake news" in connection with its coverage of the NATO summit, during which Trump hectored U.S. allies to spend more money on defense and accused them of ripping off America. NATO allies agreed to increase spending over time by around $40 billion, but at the rally Trump falsely claimed this figure was $200 billion.
"Honey, wait until you see the press I get on this, it's going to be great. It's going to be great!" Trump said, referring to a conversation with his wife, Melania, after the NATO summit.
"And here's what the fake news said. Largely. They said Donald Trump, our president, was extremely rude to presidents and prime ministers, and in a couple of cases dictators, but that's all right. That Donald Trump was very rude. They don't talk about the money I raised."