Donald Trump Is Not Letting Go of Melania's Christmas Tree Criticism
Donald Trump praised his wife Melania's unconventional White House Christmas decorations as "magnificent" as he railed against the response they received.
The former president made the remarks while delivering what was billed as a "Christmas greeting" at the First Baptist Church in Dallas, Texas, on Sunday while he was in town for the final stop on "The History Tour" with former Fox News host Bill O'Reilly.
But he went off-topic, discussing issues ranging from the country's "embarrassing" withdrawal from Afghanistan to inflation.
"I have to just start by wishing everybody a very, very merry Christmas," Trump said, about a third of the way into his 10-minute address.
Trump then segued into talking about how the former first lady was "loved by everybody," but "didn't exactly get a fair shake."
"She would make the most beautiful Christmas decorations," he said. "And I remember she made these magnificent red trees and the media said, 'Oh, that's terrible.' I said, 'Honey, next time, try white.'
"She made magnificent, remember the most beautiful you've ever seen, white trees? And they said, 'Oh that's terrible.' I said the next time, let's do it more traditional. Let's go with green.
"We went with beautiful green trees and they said, 'why wouldn't you make them white like they used to be? But I'll tell you what, she's loved all over and she's got a tremendous heart and she says 'hello.'"
Despite Trump's claim that he suggested his wife opt for white trees after the red ones didn't go down well, white was the color theme during the Trumps' first Christmas in the White House in 2017.
The controversial red trees that sparked criticism were part of the holiday decorations a year later in 2018, while the next two years saw the return of traditional green trees in the White House.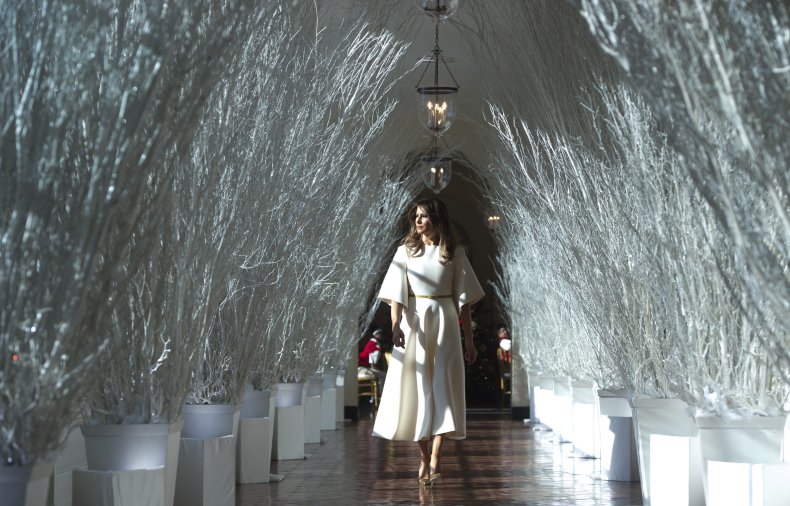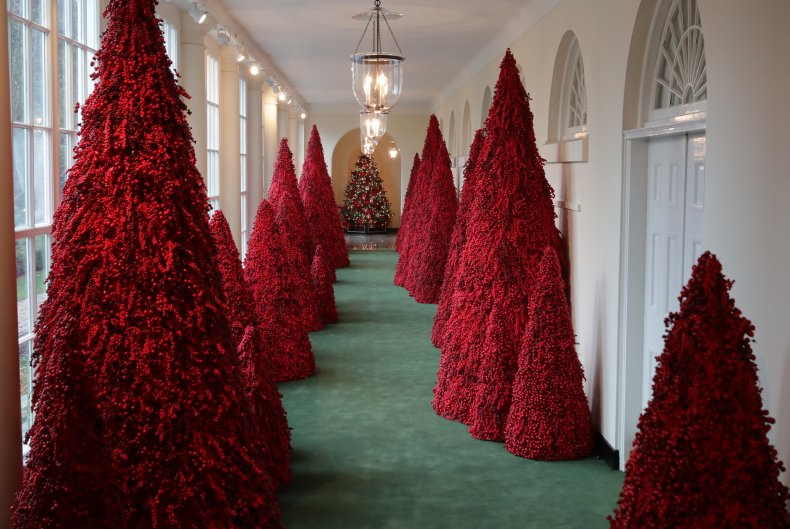 Melania Trump's unveiling of the Christmas decor for her final festive season as first lady in 2020 came weeks after an audio recording was released where she was heard complaining about having to decorate the White House for the holidays.
The recording of the 2018 conversation was made and released by Stephanie Winston Wolkoff, who was fired from the White House earlier that year and later published a tell-all about her friendship with Melania Trump.
"I'm working like a—my a** off at Christmas stuff that you know, who gives a f*** about Christmas stuff and decoration?" Melania Trump is heard saying. "But I need to do it, right? Correct?
"OK, and then I do it. And I say that I'm working on Christmas planning for the Christmas. And they said, 'Ooh what about the children, that they were separated? ' Give me a f****** break."
Donald and Melania Trump's office has been contacted for additional comment.