Donald Trump 'Really Impressed' by Holocaust Denier Nick Fuentes—Kanye West
Rapper Kanye West said Donald Trump was "really impressed" with white nationalist Nick Fuentes when the three met at Mar-a-Lago recently.
In a video posted onto his Twitter account, West discusses the meeting he had between himself, the former president and Fuentes, a Holocaust denier and leader of the far-right group the "Groyper Army."
In the clip, recorded in Los Angeles, California, West said that the thing that Trump was "most perturbed about" was when the hip hop star asked him to be his running mate in the 2024 election.
West, who recently confirmed his intentions to run for president again following an unsuccessful run in 2020, then described how "the fact that I walked in with intelligence," also caught Trump "off guard" at the meeting at his Florida home.
"Trump is really impressed with Nick Fuentes," West said. "And Nick Fuentes, unlike so many of the lawyers and so many of the people that he was left with on his 2020 campaign, he's actually a loyalist."
There is no suggestion the former president is antisemitic, and he has never expressed any antisemitic views.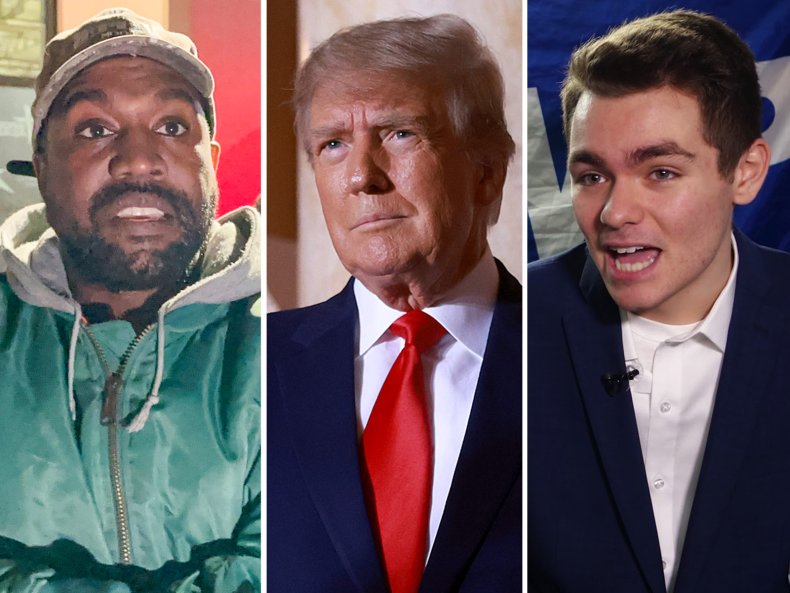 West and Fuentes were previously seen together at an airport in Miami, Florida on Tuesday, November 22. Later that night, West tweeted that he had visited Mar-a-Lago for the first time, adding "can't believe I kept President Trump waiting."
West then asked his 32.2 million followers what they thought Trump's reaction was when he asked the former president to be his running mate in 2024.
Fuentes is a far-right figurehead and host of the "America First" podcast. Fuentes, who attended the neo-Nazi "unite the right" rally in Charlottesville, Virginia in 2017.
In a 2019 livestream, Fuentes compared the atrocities of the Holocaust to baking cookies in an oven, saying that "the math doesn't seem to add up" that six million Jewish people were killed.
The Southern Poverty Law Center describes Fuentes as a "white nationalist live streamer" who sees America's "white demographic core" as central to its identity.
Fuentes's other extremist comments include suggesting segregation "was better" for Black people and that the First Amendment was "not written for Muslims."
The Anti-Defamation League (ADL) says Fuentes challenges the mainstream conservative movement while "doubling down on themes central to the white supremacist movement," including pushing racist conspiracy theories about "white genocide" being carried out.
Fuentes founded the America First Political Action Conference (AFPAC) in a bid to counter the more mainstream Republican annual event, the Conservative Political Action Conference (CPAC).
In February 2021, Fuentes gave a speech at AFPAC which contained white nationalist rhetoric.
"White people founded this country. This country wouldn't exist without white people, and white people are done being bullied," Fuentes said.
Despite his far-right credentials, Fuentes has received support from elected GOP officials, most notably Arizona congressman Paul Gosar, who attended AFPAC in 2021.
Elsewhere in the clip shared by West—who has recently made a string of antisemitic statements and tropes—the rapper asks why Trump did not "free the January 6ers" when he had the chance.
West also said he urged Trump to "go and get these people that the media tried to cancel and that the media told you to step away from," including his former campaign manager Corey Lewandowski.
During this segment of the clip, images of longtime political strategist Roger Stone, and conspiracy theorist Alex Jones are also displayed on screen.
West said Trump also dismissed his presidential aspirations, and the former president told a "would-be mob-esque" story claiming that he granted clemency to former federal prisoner Alice Johnson in 2018 for West and not for his ex-wife, Kim Kardashian.
Johnson was released from jail and pardoned by Trump after being sentenced for life for drug and money laundering offenses in 1996 following a campaign personally headed by Kardashian.
"He goes into the story about all that he went through to get Alice Johnson out of jail, and he didn't do it for Kim, but he did it for me," West said.
"But then he goes on to say that 'Kim is a [expletive], and you can tell her I said that.' And I was thinking, that's the mother of my children."
Trump has been contacted for comment.
Do you have a tip on a politics story that Newsweek should be covering? Do you have a question about the far-right? Let us know via politics@newsweek.com.