Kanye West's Campaign Worker Milo Yiannopoulos' Antisemitic Controversy
Kanye West is planning to run for president in 2024 and will apparently enlist the help of an alt-right agitator who himself has been accused of antisemitism.
West seemingly let slip his presidential ambitions in a video posted to YouTube over the weekend. In it, the rapper walks alongside conservative provocateur Milo Yiannopoulos.
"This is Milo right here, working on the campaign," West said in the clip.
"Is that an announcement?" Yiannopoulos replied.
"I guess it is," West answered.
"Thanks, I accept," Yiannopoulos said, laughing.
The news comes as West has returned to Twitter after getting locked out of his account for making antisemitic statements.
Last month, he vowed to go "death con 3 on JEWISH PEOPLE" in a tweet, and his name has been used by individuals involved in antisemitic incidents in the days since.
Yiannopoulos has also faced allegations of antisemitism, helping to land him on the watchlist for groups like the Anti-Defamation League and the Southern Poverty Law Center.
The SPLC blasted Yiannopoulos in a 2018 blog post explaining that the former Breitbart editor often appeared to sympathize with racist and prejudiced thinking.
In June of that year, he trolled a Jewish journalist by donating $14.88 to her PayPal account, a number used to signal a racist ideology.
That amount, $14.88, is loaded with antisemitic symbolism, the SPLC explained in its post. Fourteen is used to denote the racist "14 Words" mantra about securing "a future for white children," and 88 means "Heil Hitler," since H is the eighth letter of the alphabet.
The digits 1488 are widely embraced by neo-Nazis and white supremacists, per the SPLC.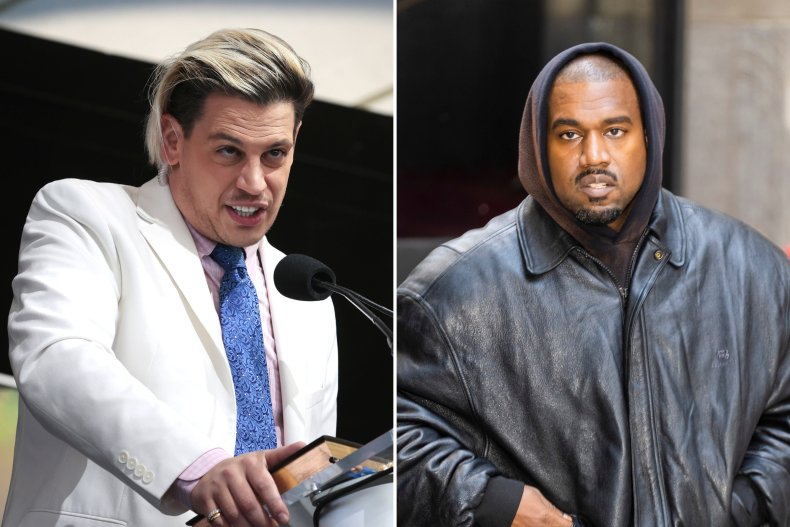 Following Yiannopoulos' dog whistle, Venmo and PayPal barred the far-right troll, The Wrap reported at the time.
Yiannopoulos has also generated controversy for targeting transgender people, and Twitter banned him in 2016 for harassing Ghostbusters actor Leslie Jones. He lost a book deal the following year over comments he made in which he seemingly condoned child abuse.
"We get hung up on this child abuse stuff, to the point where we're heavily policing even relationships between consenting adults," he once said in an online interview.
Yiannopoulos' mother is Jewish, but he was raised Catholic, according to Forward. Still, he appeared to provide fodder for antisemitic trolls in one 2016 interview while discussing a spike in online hate speech.
"Most of the generation Trump, the alt-right people, the people who like me, they're not antisemites. They don't care about Jews," he said, per Forward.
He continued: "They may have some prejudice about Jews. Like the Jews run everything. Well we do. The Jews run all the banks. Well we do. The Jews run the media. Well we do. You know they're right about all that stuff."
Yiannopoulos announced over the summer that he'd begun working as an unpaid intern for Republican U.S. Representative Marjorie Taylor Greene of Georgia.
Newsweek has reached out to West and Yiannopoulos for comment.