Donald Trump Snipes at Mitt Romney's 'Slaughtering by Obama' in Clash Over Election Fraud Claims
President Donald Trump has clashed again with Senator Mitt Romney (R-UT), branding his 2012 defeat to Barack Obama a "slaughtering" in response to the Utah Republican's criticism of Trump's unevidenced claims that the 2020 election was stolen.
Romney is one of few Republican lawmakers to acknowledge President-elect Joe Biden's election success after networks called the Democrat the victor in the contest, which was not close. States are now in the process of certifying their results.
Trump has disputed Biden's win, crying foul play and insisting widespread fraud and irregularities facilitated his opponent's success. His team has launched a raft of lawsuits related to the election, which have so far failed to substantiate claims of mass fraud.
Romney called Trump's actions undemocratic and said the president and his allies have "failed to make even a plausible case of widespread fraud or conspiracy before any court of law" and are trying to "subvert the will of the people and overturn the election."
Following these comments, Trump shared a news article quoting a tweet of his from 2012 in which he commented on reports of "voting machines switching Romney votes to Obama."
Alongside this, Trump tweeted: "RINO Mitt Romney should read this. I'm sure, however, that he feels he got slaughtering by Obama 'fair and square'."
It comes with Trump having suggested Dominion software saw votes for him deleted or switched to Biden, though there has not been evidence of widespread voter fraud caused by these voting systems.
Romney ran against Obama in 2012, a race which saw the Democrat secure 332 of the 538 Electoral College votes while Romney secured 206. Romney received 60,589,084 votes to Obama's 65,915,795, in terms of the popular vote results.
According to the Associated Press' calls, Biden has secured 306 Electoral College votes this time out, compared to Trump's 232.
Newsweek has contacted Romney and the Trump campaign for comment.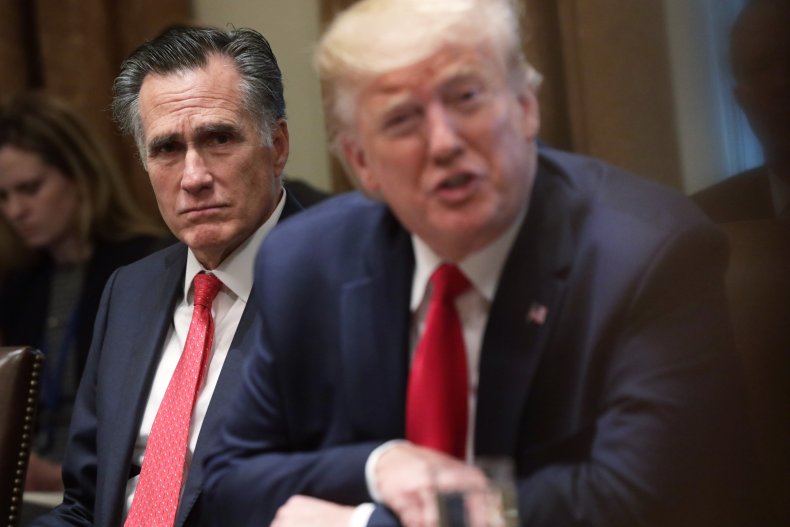 Romney has been outspoken in his criticism of the president as he mounts his argument against the election outcome.
In a recent statement, he said: "Having failed to make even a plausible case of widespread fraud or conspiracy before any court of law, the President has now resorted to overt pressure on state and local officials to subvert the will of the people and overturn the election. It is difficult to imagine a worse, more undemocratic action by a sitting American president."
This comes amid the president's bid to alter the outcome of results in Michigan, which has also been criticized by Sen. Ben Sasse (R-NE), with him having reportedly invited the state's top legislative leaders to visit him for a meeting as he continues with his push.
Romney has also expressed his concerns of what Trump might do in his lame duck period.
He previously said that while he thinks pursuing legal recourse over the results is not necessarily an issue in itself, he has criticized the manner in which Trump has voiced his grievances.
Speaking on NBC's Meet the Press earlier this month, he said: "I think it's fine to pursue every legal avenue that one has. But I think one has to be careful in the choice of words. I think when you say that the election was corrupt or stolen or rigged, that's unfortunately rhetoric that gets picked up by authoritarians around the world."
Romney and Trump have clashed in the past, with the senator having been the only Republican to vote against him in his impeachment trial in January—becoming the first Senator to vote to remove a president from his own party. Following this, Trump branded Romney a "low life."