Trump Said 'Biden' 41 Times in Acceptance Speech. Biden Didn't Say 'Trump' Once
After Joe Biden chose not to mention Donald Trump directly while accepting his party's presidential nomination, the Republican incumbent proceeded to name-check his adversary 41 times in his speech.
The president built upon the attacks of his allies as he took aim at Biden, furthering his claims the Democrats are swaying to a "socialist agenda" and labeling the former vice president's record as catastrophic.
Trump frequently referred to his rival by name throughout as he lambasted Biden's past actions and what he claims the future of the nation might look like under his leadership.
While Biden made his thoughts on the president clear in his own address at the Democratic National Convention, he did not actually speak his name at all throughout—a decision which appeared to be tactical, as he expressed his feeling that he wanted to represent the nation in what he called an "American moment" and "not a partisan moment."
"America isn't just a collection of clashing interests of red states or blue states," he said, as he spoke of working beyond partisan divides.
"We're so much bigger than that. We're so much better than that."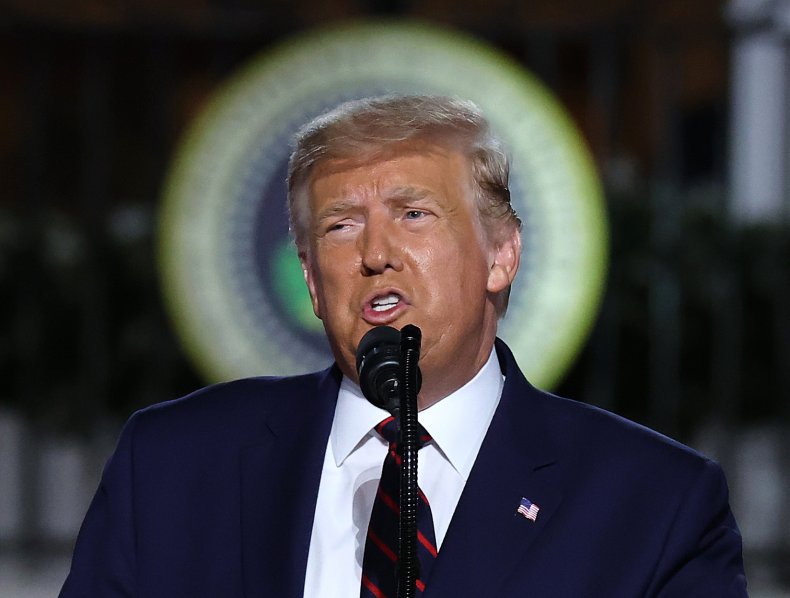 Biden still gave a negative view of Trump's presidency, though throughout did so by contrasting how he would behave if he himself were commander-in-chief.
He said the current president "has cloaked America in darkness for much too long," before then suggesting he would be "an ally of the light."
Biden's decision not to use Trump's name starkly contrasted with his rival's attacks, while it also varied from his predecessor Hillary Clinton's speech in which she named Trump 21 times throughout.
Trump also used his speech in order to express the divide in stances between him and Biden, suggesting that at "no time before have voters faced a clearer choice between two parties, two visions, two philosophies or two agendas."
Newsweek has contacted both the Trump and Biden campaigns for comment.
Trump's attacks on Biden come as he continues to lag behind the Democrat in the polls, around 8 points nationally according to trackers.
Strategists have suggested Trump's attempt to drag down Biden could be his most effective means of narrowing this gap.
"Unless Trump can successfully portray Biden as someone to fear or dislike, then I think he's going to struggle," Richard Johnson, lecturer in U.S. politics and international relations at the U.K.'s Lancaster University, previously told Newsweek.
This could be one method of getting undecided voters on side, while his comments on law and order may win over some who would usually go Republican but are considering Biden.