Student GOP Leader Says Republicans Voting for Trump is a 'Betrayal' to the U.S.
A student conservative leader has joined a growing chorus of Republicans calling for people not to vote for President Donald Trump in this year's election.
In a video posted on the website of the group Republican Voters Against Trump (RVAT), Will Galloway, who is chairman of the South Carolina College Republicans, lambastes Trump whom he describes as a "supposedly Republican commander-in-chief."
Galloway listed recent controversies involving Trump, such as the accusation the president had been informed about Russian bounties being paid to Taliban militia to target American soldiers in Afghanistan. He also referred to reports that Trump has sidelined the country's top infectious diseases expert, Dr. Anthony Fauci, during the coronavirus pandemic, which the White House denies.
"That's why I can't vote for him in November, that's why I would hope Republicans all over this country don't vote for him in November," Galloway said.
"It is not only antithetical to the kinds of conservatism and the kinds of principles and morals that inspired me to get involved in this movement, it's antithetical to the principles of a free society.
"For too long we have all been too afraid to step up and to say anything about it, but now the time has come that there is no excuse not to and we have to get involved."
Galloway, who first got involved in the GOP at the age of 14, is a political science student at Clemson University and was a former chairman of the South Carolina Teenage Republicans.
He continued: "We have to say 'enough is enough,' that we are not going to have a president like this, that we are not going to have a betrayal of conservatism and we are not going to have a betrayal of this country."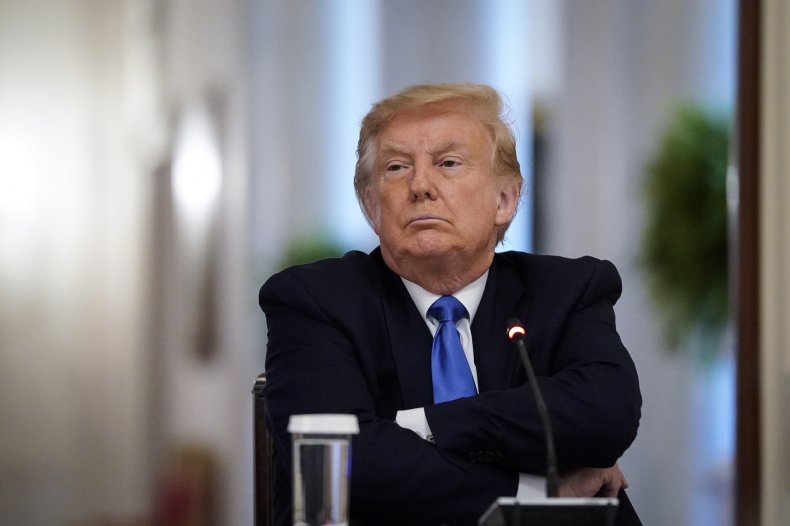 The video was shared on social media by conservative commentator and opponent of Trump, Bill Kristol, who tweeted: "Kudos to South Carolina College Republicans Chair @WillGalloway."
RVAT, which Kristol leads, contains videos from disillusioned Republicans from around the country and is among a number of organized GOP groups working to oust Trump in November.
The latest group with that aim is called 43 Alumni for Biden, which has gathered those who worked for the administration of former President George W. Bush to drum up support for the Democrat candidate.
The word "betrayal" was also used in an attack ad by the best-known anti-Trump Republican group, the Lincoln Project, which last week took aim at allies of the president.
The ad said the lawmakers will "beg you to forgive their votes to exonerate Trump from his crimes" and lists prominent figures including Sens. Mitch McConnell, Lindsey Graham and Ted Cruz.
In a statement to Newsweek, spokesperson for the Trump campaign, Erin Perrine, said that the movement by Republican groups was an example of "the swamp—yet again—trying to take down the duly elected President of the United States."
"President Trump is the leader of a united Republican Party where he has earned 94 percent of Republican votes during the primaries—something any former president of any party could only dream of," Perrine added.
This story has been updated to include a statement by the Trump election campaign.