Tweet Explaining 'Don't Worry, Darling' Drama 'in NFL Terms' Goes Viral
A Twitter user has gone viral after breaking down the Don't Worry Darling saga in NFL terms.
More than 20,000 social media users have liked a pair of posts that use sports to explain the reported feud between the movie's director Olivia Wilde and leading lady Florence Pugh, the bizarre "Spitgate" accusation about Harry Styles and Chris Pine, and why Shia LaBeouf leaked videos to the press.
The drama came to a head on Tuesday at the Venice film festival, where the film had its premiere.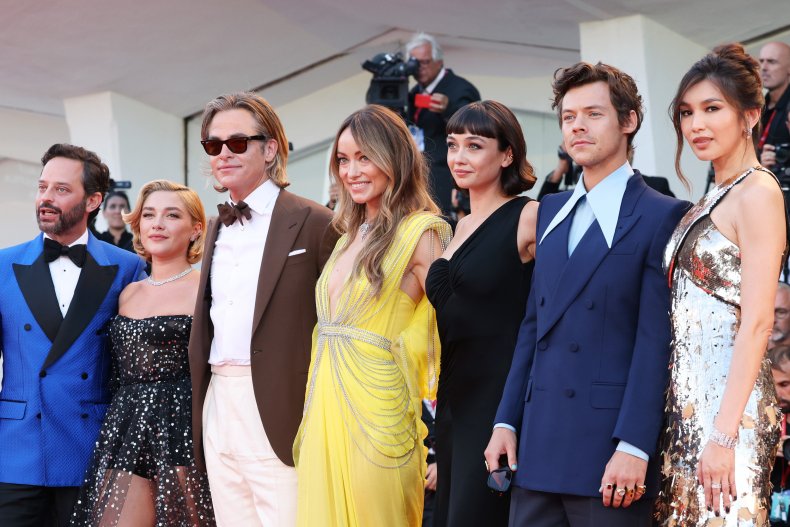 One Twitter user tried to summarize the story, using the meme of a girl yelling into a boy's ear at a music festival.
This post by @MvelaseP read: "So Florence Pugh didn't like Olivia Wilde hooking up with Harry Styles because she's friends with Olivia's husband Jason Sudeikis so Florence wouldn't promote the movie. Then Shia LeBeouf leaked a video of Olivia calling Florence 'Miss Flo' & now Harry spit on Chris Pine, but..."
Despite this explanation, some people were still struggling to understand the drama.
One Twitter user replied to @MvelaseP asking: "Someone please explain this to me in NFL terms."
That's when @ranchocarnetor0 stepped in to save the day, describing Wilde as the coach, Pugh as the quarterback and LaBeouf as the wide receiver.
"Coach is not so secretly sleeping with a player, making the entire team feel awkward, but esp the qb who is friends with the coach's wife," they began.
"Also the wr w/ domestic abuse allegations the coach claims he cut for qb's sake posts video proving he actually requested a trade."
Many social media users applauded the well-crafted analogy, but some needed a clarification.
"Wait so what's Chris Pines role in all this? Still missing that," asked one person.
@ranchocarnetor0 answered by describing the Star Trek actor as the tight end, posting:
"Nose to the grindstone TE just trying to make it through the season."
Others ran with the NFL analogy, pointing to the viral footage of Pine staring off into the distance during the tense Don't Worry Darling press conference in Venice.
"He's just here so he doesn't get fined," responded one person.
Another added: "And Chris Pine is the player on the last year of his contact who can't wait to free agency and leave."
Twitter users loved the NFL explanation. "I know absolutely nothing about American football and that was still easier to understand than the original post," wrote one person.
Another commented: "This legit, made so much more sense."
Reports of tensions began to surface during production of Don't Worry Darling, after LaBeouf quit and Pugh allegedly took over directing because Wilde was distracted by her brewing relationship with Styles.
Pugh and other crew members were also reportedly upset at the romance after Wilde's then-partner Jason Sudeikis visited the set with their kids.
Although Wilde and Pugh had praised each other publicly, pundits began to notice the leading lady's absence from promotional activities for the film earlier this year.
Pugh was apparently not happy with the focus on sex in the film's marketing, telling Harper's Bazaar: "When it's reduced to your sex scenes, or to watch the most famous man in the world go down on someone, it's not why we do it. It's not why I'm in this industry."
Things got even more complicated in August, when Wilde told Variety that she had fired LaBeouf from the film.
In December 2020, LaBeouf's ex-girlfriend, singer FKA Twigs, had filed a lawsuit against the actor, citing "relentless abuse" and sexual battery, according to The New York Times.
LaBeouf has denied "each and every" assault allegation, but recently said on Jon Bernthal's Real Ones podcast: "I hurt that woman," describing himself as "a pleasure-seeking, selfish, self-centered, dishonest, inconsiderate, fearful human being."
In her Variety interview, Wilde said LaBeouf's "process was not conducive to the ethos that I demand in my productions. He has a process that, in some ways, seems to require a combative energy, and I don't personally believe that is conducive to the best performances.
"I believe that creating a safe, trusting environment is the best way to get people to do their best work."
LaBeouf refuted those claims, saying he had quit the film because of a lack of rehearsal time and proving it by sending Variety a video message from Wilde, in which she begged him to come back.
In the message, Wilde referred to Pugh as "Miss Flo" and talked about a "wake-up call" for the actress.
At the press conference in Venice on Tuesday, Wilde explained Pugh's absence by saying she was busy filming Dune: Part Two in Budapest and would attend the premiere later that day.
Before the conference had even finished, Pugh was photographed arriving in Venice wearing a Maison Valentino outfit and carrying what appeared to be an Aperol spritz cocktail.
Later on the red carpet, the director and star were not photographed together and did not seem to acknowledge each other in the theater.
Wilde and Styles also arrived separately, adding fuel to the rumors their relationship is over.