Doug Collins Reminded Trump 'Attacked' Gold Star Families After Democrats Soleimani Comment
Republican Rep. Doug Collins was reminded that President Donald Trump has been in spats with the families of troops killed in the line of duty after the congressman said Democrats mourned the death of Iranian General Qassem Soleimani "more than they mourn our Gold Star families."
Social media users hit out at the Georgia Republican, accusing him of "spewing your bulls**t" and saying the commander-in-chief had previously "mocked and disparaged" a Gold Star family.
Their criticism of Rep. Collins came after he told Fox Business that Democrats grieved more for the former Quds Force leader than Gold Star families "who are the ones who suffered under Soleimani."
Speaking to the Lou Dobbs Tonight show about Democrat criticism the Trump administration's decision to assassinate Soleimani in a drone strike near Baghdad International Airport on January 3, the GOP congressman said: "They're in love with terrorists. We see that they mourn Soleimani more than they mourn our Gold Star families, who are the ones who suffered under Soleimani. That's a problem."
Responding to a clip of the interview shared on Twitter, The Weekly Standard founder Bill Kristol tweeted: "There is one politician I know of who mocked and disparaged, by name and with malice aforethought, a gold star family. His name is Donald Trump."
"I only know of one guy who has attacked gold star families," the Daily Beast columnist Matt Lewis tweeted.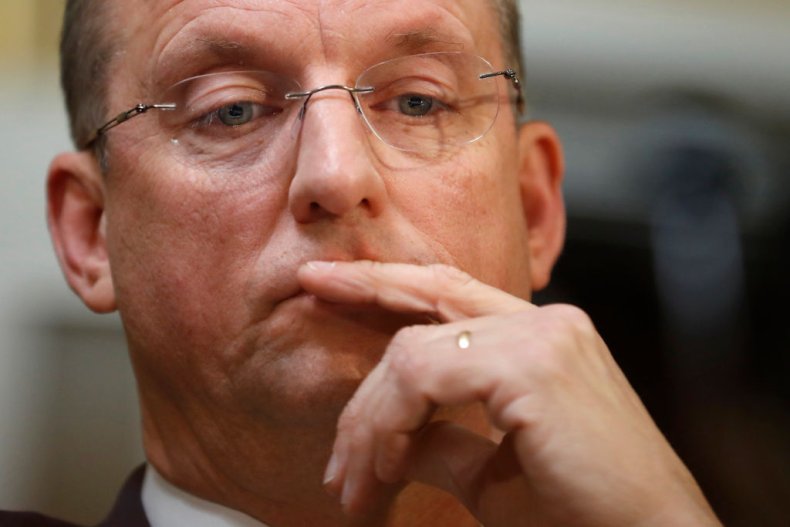 The Obama administration National Security Council spokesperson Tommy Vietor said: "Trump viciously attacked multiple gold star families but keep spewing your bulls**t @RepDougCollins."
"This is an absolutely insane thing to say," the Democratic Coalition co-founder Scott Dworkin said. "Especially since no one has been more disrespectful to Gold Star families than Trump and the Republicans."
Newsweek has contacted the office of Rep. Collins and the White House for comment and will update this article if any response is received.
President Trump famously attacked the family of Captain Humayun Khan during the 2016 presidential election campaign after his father, Khizr Khan, criticised the then-candidate's proposal to ban Muslims from entering the United States at the Democratic National Convention.
"Have you ever been to Arlington Cemetery?" Khan said in his July 2016 speech. "Go look at the graves of brave patriots who died defending the United States of America. You'll see all faiths, genders and ethnicities."
In response to the Gold Star father's speech at the DNC, Trump wrongly suggested that Captain Khan's mother, Ghazala Khan, had been told not to speak to the crowd despite appearing with her husband on-stage.
"If you look at his wife, she was standing there, she had nothing to say," Trump told ABC News. "She probably, maybe she wasn't allowed to have anything to say. You tell me."
Ghazala Khan later dismissed his comments, saying it was her own decision not to speak at the 2016 DNC, despite encouragement from her husband.
Two years after his victory in the 2016 presidential election, President Trump signed a bill naming a post office in Charlottesville, Virginia after Captain Humayun Khan, who was killed in Baghdad, Iraq on June 8, 2004.
The president had a separate dispute with Gold Star widow Myeshia Johnson in 2017 after she said Trump forgot the name of her husband, Sergeant La David Johnson, during a condolence call after his death in Niger.
Responding to an interview with Ms. Johnson on Good Morning America, Trump tweeted: "I had a very respectful conversation with the widow of Sgt. La David Johnson, and spoke his name from beginning, without hesitation!"