Donald Trump's 'Very Presence, It's Frightening,' Says El Paso Victims' Family Member
Andrew Torres, who had two family members killed in the El Paso mass shooting on Saturday, told CNN that the "very presence" of President Trump in the Texas border city Wednesday was frightening to survivors and others in the community.
"A lot of people in my community feel as though he is a part of the problem," Torres, who lost both his cousin and her husband in the attack, told the network Thursday. "Many of the victims ... didn't want to see him right now. They didn't want to hear his condolences," he added, saying this was something the nation needed to "grasp."
"It's not that we don't appreciate his visit," Torres continued. "Just his very presence, it's frightening. It's as though this whole country is suffering through anxiety."
Trump has faced significant backlash in the wake of the El Paso shooting, which left 22 dead and more than two dozen wounded. A manifesto linked to the alleged shooter, 21-year-old Patrick Crusius, included language similar to that often used by the president, referring to a "Hispanic invasion of Texas." The document also called for Latin American immigrants to be killed.
Prosecutors have said they are considering federal hate crime charges against Crusius, as they believe from the evidence that the attack was racially motivated.
The president has repeatedly described the influx of Latin American immigration at the southern border as an "invasion." He has also broadly claimed that migrants are "criminals" and described Mexicans as "rapists." During a May rally, Trump laughed and made a joke after a supporter yelled out that immigrants crossing the border should be shot.
Torres says many victims, as well as others in the community, did not want the president to visit El Paso in the wake of the weekend attack.
According to The Washington Post, none of the eight victims still being treated for their injuries agreed to meet with Trump.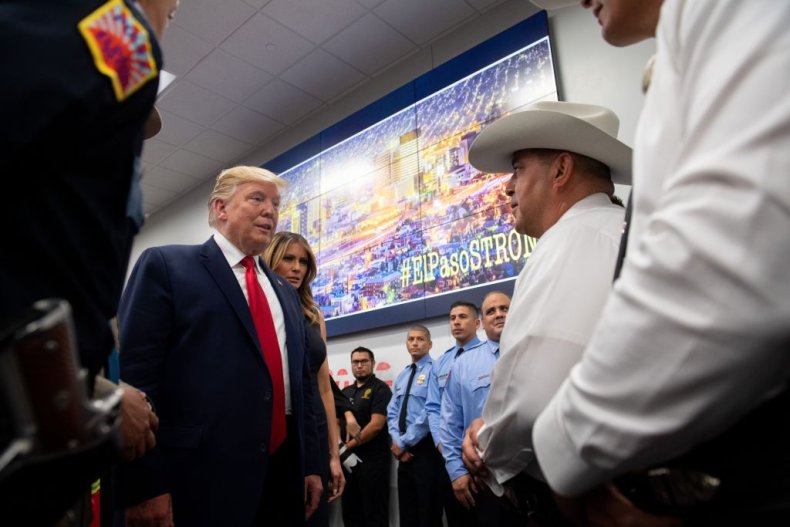 The patients were going through a "very sensitive time in their lives," a spokesperson for the University Medical Center, where survivors are being treated, told the Post. "Some of them said they didn't want to meet with the president. Some of them didn't want any visitors."
In an address to the nation on Monday, Trump condemned white supremacy and all forms of hate. But critics argue he wasn't going far enough to change his divisive language.
"We have [a] president who is an overt racist and xenophobe," 2020 presidential hopeful Bernie Sanders tweeted on Wednesday. "He should stay away from El Paso. What he should do right now is end his anti-immigrant rhetoric."
This week, though, the Trump campaign doubled down on using the word "invasion" in ads describing the situation at the southern border.
"At any given moment, there are 100,000 migrants making their way through Mexico to attempt to break our immigration laws," the president's campaign communications director, Tim Murtaugh, said. "By objecting to an accurate description of the situation, Democrats and the media are trying to make it impossible to oppose illegal immigration without being called racist."