El Salvador Makes Bitcoin Legal Tender, Will Others Follow?; Secrets of Mall Survival
CryptoCorner
El Salvador's legislature has adopted a bill making Bitcoin legal tender, the first nation to recognize the cryptocurrency as an acceptable form of payment for all debts.
Therefore...what?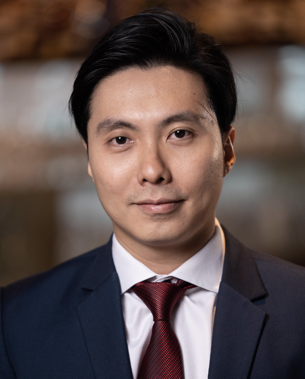 "this is definitely a small but significant step for Bitcoin in the right direction." Lennard Neo, head of research, Stack Funds, Singapore, told Newsweek.
stackfunds.com
"We should not expect a significant impact on Bitcoin for a country with a GDP per capita less than 7% that of the U.S., with its economy suffering the worst crash in decades last year," Lennard Neo, head of research at Stack Funds in Singapore, said in a research report. "Nevertheless, this is definitely a small but significant step for Bitcoin in the right direction."
Bitcoin has limited use in other nations other than as an investment.
Turkey has banned the use of Bitcoin in commerce, citing the danger of "irreparable" damage and transactional risk. China plans to block access to domestic and foreign crypto exchanges. India may ban Bitcoin.
"It would be interesting to see how other Latin American countries such as Mexico, Paraguay, Brazil, Argentina react with similar approaches," Neo said, "and more importantly, reduce their reliance on the U.S. dollars."
Mastercard has said it will add cryptocurrencies to its payment system, but El Salvador is the only nation to accept Bitcoin as payment for all types of debt, including taxes.
Major investors typically buy and hold Bitcoin as a bet on future price gains. MicroStrategy took on new debt to expand its holdings in the cryptocurrency when the price dipped. During the recent market downturn, blockchain activity suggests that many retail investors sold in an attempt to limit their losses.
El Salvador's new law also excludes Bitcoin from capital gain taxes, and that could become a major advantage or at least a real world experiment for other nations.
The U.S. appears to be moving in the opposite direction.
President Joe Biden has proposed increasing the top capital gains tax to 39.6% from 20% to fund his $1.8 trillion American Families Plan.
Financial advisors said the proposed increase will hit long-term and short-term capital gains, because both would be taxed as ordinary income in the highest bracket.
This could lead some investors to sell assets before the tax hike becomes law. It's unclear how extensive the selling would be or how the market would react.
Critics fear a higher tax rate could limit funds available to startups and hamper the next round of innovation in a range of sectors, including biotechnology, computers and electric vehicles.
El Salvador's new law doesn't compel transactions to be completed in Bitcoin—it only makes the crypto an alternative. The law requires that users have the option to convert Bitcoin to dollars on demand. iT also establishes an education program to inform people how Bitcoin works and how it can be used.
However, Bitcoin may not be El Salvador's best choice as it moves to digital currency. A study by the Federal Reserve Bank of St. Louis concluded that Ethereum is better suited to commerce.
The U.S. isn't ignoring the importance of digital currency, and neither is its biggest economic competitor, China.
The Federal Reserve Bank of Boston and researchers at the Massachusetts Institute of Technology are developing a digital dollar and are expected to seek public comment on a prototype later this year.China is testing a digital yuan and may use it to challenge the dollar.
But Bitcoin is receiving much closer scrutiny worldwide, particularly with the prominent position it has played in recent ransomware attacks.
Nevertheless, El Salvador has great hopes for Bitcoin.
"In order to promote economic growth of the nation, it is necessary to authorize the circulation of a digital currency whose value answers exclusively to free-market criteria, in order to increase national wealth for the benefit of the greatest number of inhabitants," an English translation of the bill authorizing Bitcoin as legal tender states.
El Salvador dollarized its economy in 2001 in an effort to boost direct foreign investment. Interest rates fell, but so did foreign money flowing into the country, a report in the Milken Institute Review said.
"I would argue that . . . El Salvador would be wise to stop the search for magic bullets and do what they should have done from the start—undertake reforms to improve market flexibility, raise productivity and improve governance in order to capture the advantages associated with dollarization," Robert Looney wrote. "Sometimes, the only path to health is to substitute leafy greens for the empty calories of quick fixes."
The Salvadoran colon is still legal tender, but few use it. One colon is now worth about 11 cents. The country could derive great advantages from making Bitcoin legal tender, but the outcome of its experiment is uncertain.
"The potential of El Salvador's GDP per Capita to grow alongside the adoption of Bitcoin could translate into an imminent wealth transfer, creating the next generation of economic growth," Neo said. "It is anyone's guess how a country with a population of 6 million utilizes Bitcoin and its attributes—medium of transfer, store of value—going forward. This is something we would keep a close watch on."
In mid-morning trading Friday, Bitcoin changed hands at $37,423.93, down 0.80% in the last 24 hours but up 28.46% for the year. The 24-hour range is $35,827.51 to $38,206.05. The all-time high is $64,829.14. The current market cap is $701.02 billion, CoinDesk reported.
MarketPulse
Shopping malls have been pounded by online commerce and the COVID-19 lockdowns, but the strong centers continue to thrive despite bankruptcies of major retailers.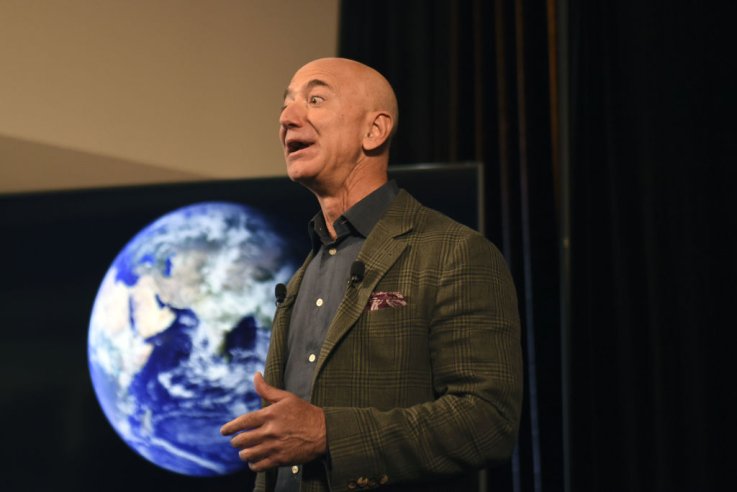 Amazon has steadily increased its share of online sales each year since 2016 and now grabs about half the digital market, easily outpacing rivals eBay, Walmart, Home Depot, Best Buy and Costco. In this photo, Bezos speaks to the media on Amazon's sustainability efforts on September 19, 2019 in Washington, D.C.
Eric Baradat / AFP/Getty
Amazon has steadily increased its share of online sales each year since 2016 and now grabs about half the digital market, easily outpacing rivals eBay, Walmart, Home Depot, Best Buy and Costco.
For malls, it's ruthless natural selection: Only the strong and those willing to adapt to changing market conditions survive.
"Although enclosed shopping centers are continuing a contraction that was already underway before COVID-19, the long-term future of malls is bright," Bill Thayer, co-founder and co-CEO of Fillogic, a New York-based logistics platform for retailers, told Newsweek. "There are currently around 1,100 enclosed malls in the U.S. The survivors will be the best malls in the best locations offering services to support both the offline and online consumer."
For starters, that means shopping online but picking the item up at the mall—a foolproof way to defeat porch pirates, skip shipping fees and avoid delivery errors.
Many brick-and-mortar stores adopted curbside pickup during the lockdown intended to limit spread of the coronavirus and have made it a key part of their growth strategy.
"Mall owners now work closely with their retail partners to help improve operations," Thayer said. "The days are over when the mall owners would simply build the facility and collect the rent."
The stronger malls are located in the suburbs near major cities and along transportation routes. But a good location isn't enough. Many top malls now seek to become destinations by offering a mix of restaurants, entertainment, arcades and diversions for kids.
Thayer said "experiential offerings" are a hit with customers. It can make a trip to the mall a family event, and if nothing else, it gives customers more and varied opportunities to spend their money.
Call it "retailtainment": Rainforest Café, treasure hunts, live performances, arcades, skateparks and the addition of common spaces to create a sense of community.
Top mall operators, including Simon Property Group, Brookfield Property Partners, Taubman Centers, Macerich, Unibail-Rodamco-Westfield and Tanger Factory Outlet Centers have embraced changes needed to keep pace with new market conditions, Thayer said.
But it's often the unseen side of malls that keep them competitive.
"This includes offering a commercial grade logistics service that provides frictionless purchase, return and shipping options," Thayer said.
Mom and Pop stores couldn't compete with Walmart, the world's largest retailer, and the smart ones didn't try. Instead, they specialized and offered what's often hard to find in Big Box retailers: individual and friendly service.
Major malls weren't designed with Mom and Pop in mind, but they can learn from the experience of independently owned stores by offering service and special items impossible to match online.
Branded fashion has difficulty selling online. It's a big ticket item and many shoppers like to inspect and touch expensive items before buying. Many beauty and grooming products also do well at malls.
That suggests specialization is an important element in a successful mall.
Of course, there is no guarantee of success in the free market.
Major retailers filing for bankruptcy protection during the pandemic include Brooks Brothers, Century 21, GNC, J. Crew, JCPenney, Lord & Taylor, Neiman Marcus, Tailored Brands (Men's Wearhouse, Jos. A. Bank) and Ascena Retail (Lane Bryant, Ann Taylor).
Some mall owners were also pummeled during the lockdown.
Pennsylvania Real Estate Investment Trust, a mid-sized publicly traded mall owner, filed to reorganize during the COVID-19 shutdown after some tenants defaulted on rent. It quickly emerged from bankruptcy protection and kept its malls open.
Many retailers face a labor shortage because, in part, the extra $300 in federal unemployment benefits means some workers at the low end of the scale can make more by sitting on the couch than by returning to work.
The federal program is set to expire in September.
It's unclear how the 2021 shopping season, the first time people were permitted to return to malls since the COVID-19 lockdown, will shape up, but retail sales are up and people are eager to spend. The National Retail Federation, a Washington-based trade group, expects robust sales this year.
Consumer spending represents about two-thirds of the U.S. economy.
However, kinks in the supply chain may persist into next year.
What's clear is that the pandemic has accelerated changes in the retail market and mall owners must continue to adapt.
"Retail property was once a simple business—how times have changed," S&P Global Market Intelligence said in a research report. "The COVID-19 pandemic has overturned much of what retail landlords and their tenants have long taken for granted."
Thayer said the number of enclosed malls could fall to about 700, but those that fail or are converted to other uses typically won't be top-tier sites.
In the first quarter of 2021, e-commerce sales accounted for 13.6% of total U.S. retail sales, up from 11.4% for the same period a year ago, Statista reported.
In 2019, online sales in the U.S. totaled $578 billion, a small chunk of $5.27 trillion in total retail sales. But online sales have forever altered the industry and forced brick-and-mortar retailers to change the way they do business.
Thayler believes mall owners are up to the challenge.
"The long-term future of malls is bright," he said.