Elise Stefanik 'QAnon Queen' Rhetoric Threatens U.S. Security: Matt Castelli
Matt Castelli's run for Congress was prompted by the deadly events at the U.S. Capitol on January 6, 2021.
Republican Representative Elise Stefanik's actions in the aftermath and her repeated promotion of former President Donald Trump's "big lie" that the 2020 election was stolen from him sealed Castelli's decision to launch a bid as a Democrat to unseat her in New York's 21st Congressional District.
The third-ranking House Republican's continued promotion of the baseless claims is "an ongoing threat" to the security of the country, said Castelli, a former CIA officer who served as the director for counterterrorism at the National Security Council in both the Obama and Trump administrations.
"The position that she has taken and has done so consistently and very recently has been to continue to promote the big lie that led to the deaths of five police officers, and the injuries of hundreds of others, in what was really one of the greatest assaults on law enforcement in the history of our country," Castelli told Newsweek.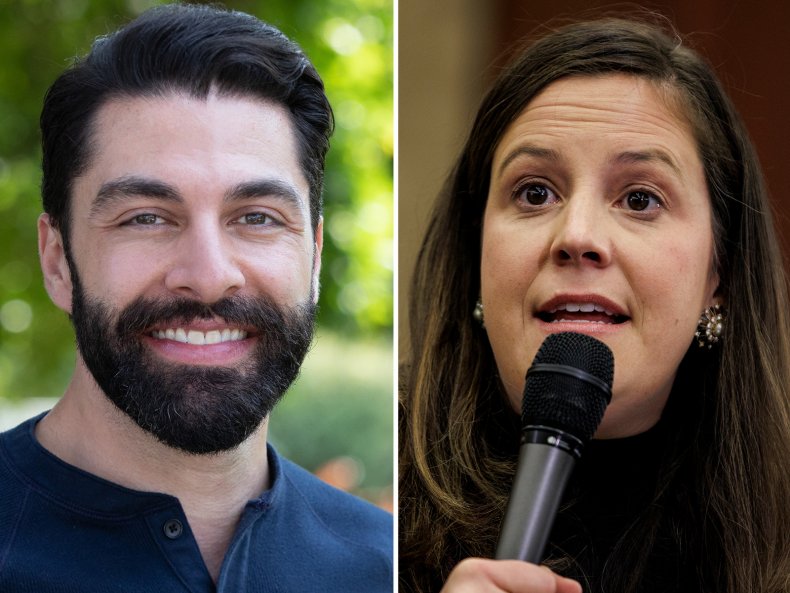 The Buffalo shooting and "Great Replacement Theory"
"I think what's an even greater disappointment has been her ascension within Republican leadership and taking the Republican Party, my mother's Republican Party, down this descent towards extremism and conspiracy theories," Castelli continued.
In recent days, Stefanik and other GOP lawmakers have come under scrutiny for previously echoing the racist "Great Replacement Theory" that apparently motivated the gunman accused of killing 10 while targeting Black people at a supermarket in Buffalo, New York, on Saturday.
The theory alleges white people and their influence are being intentionally "replaced" by people of color through immigration and higher birth rates. Once confined to white nationalist circles, replacement theory has made its way into mainstream right-wing politics—with Stefanik and other conservatives amplifying its ideas as part of anti-immigrant rhetoric intended to fire up the Republican base ahead of the midterm elections.
In a tweet, GOP Representative Adam Kinzinger recently asked his followers: "Did you know: @EliseStefanik pushes white replacement theory?"
Kinzinger was talking about Facebook ads circulated by Stefanik's campaign last year which claimed that "radical Democrats" were planning a "PERMANENT ELECTION INSURRECTION" by granting amnesty to illegal immigrants.
"Their plan to grant amnesty to 11 MILLION illegal immigrants will overthrow our current electorate and create a permanent liberal majority in Washington," one of the ads said.
"Extremist rhetoric that allows violent extremism to thrive"
"The major difference...[between] the kind of terrorism and extremism that I combatted overseas from what we're seeing now here at home is you have senior politicians like Elise Stefanik, who have legitimized the kind of extremist rhetoric that allows violent extremism to thrive," said Castelli, who served in Iraq and Afghanistan.
"This used to be hate speech and extremist rhetoric in the dark corners of the internet and now, you have the leadership of a major political party here in the United States and Elise Stefanik—their messaging chief—continuing to promote and spread the same sort of hateful rhetoric that allows for the kind of attacks that we saw in Buffalo."
He pointed to other recent examples of Stefanik's "extremism," including her recent amplification of rhetoric associated with adherents of the QAnon conspiracy theory when she referred to Democrats as "pedo grifters."
"When she embraces this ultra MAGA crown and then goes full swing into the QAnon Queen territory, where she's calling for the starvation of babies, and then when people are critiquing her, she criticizes those opponents of her as pedo grifters, using the same kind of playbook out of QAnon," Castelli said.
"She's the GOP messaging chief in the House and this is really uncharted territory for our country. I happen to know from my personal professional experience that extremists like that don't suddenly just become sensible. They just keep crossing increasingly dangerous lines until they're stopped... extremist talk has the power to incite extremist violence."
In a statement to Newsweek, Alex DeGrasse, a senior adviser to Stefanik's campaign, said, "Far-left downstate Democrat Matt Castelli disgracefully launched his quixotic campaign comparing January 6th to 9/11. He does not live in the district and is embattled in a primary with progressive Matt Putorti."
In a previous statement, DeGrasse said Stefanik "has never advocated for any racist position or made a racist statement." He added: "She opposes mass amnesty for illegal immigrants and Joe Biden's wide-open border."
"Self-interest has created insecurity"
Stefanik's loyalty to Trump saw her elevated to a leadership post in the House Republican caucus, and she has been touted as a potential running mate if Trump runs for the presidency again in 2024.
"I think at the core of some of Stefanik's extremism is been advancing her own self-interest at the expense of our country," Castelli said, but he believes the upcoming election will be a referendum on her almost eight years representing New York's 21st congressional district.
"What we've seen is whether it's January 6 or Buffalo, Stefanik's extremism and her self-interest has created insecurity in our country and in our communities, specifically in this district," he said.
"But it's also the kind of insecurity that is jeopardizing the future of working families who live there," he added, citing the additional challenges affecting people such as the rising cost of living. "What has she done to actually address those issues?"
He noted that only two bills sponsored by Stefanik have become law—one for a commemorative coin to celebrate the 100th anniversary of women's suffrage and the other to rename a post office.
"So while she uses her bully pulpit to complain a lot, she actually hasn't delivered many solutions for her district," he said. "Her failure to represent this district means we're going to vote her out."
Castelli will face off against Matt Putorti for the Democratic nomination in New York's primary on August 23.
Updated 5/18/22, 2:58 p.m. ET: This article has been updated with a comment from Alex DeGrasse, a senior adviser to Elise Stefanik's campaign.