Black Conservatives Are Praising 'African American' Elon Musk
In light of Elon Musk's $44 billion Twitter takeover, Black conservatives on social media hailed the South African-born billionaire's move as a feat for African Americans.
The deal was widely praised by the right, which perceived Twitter as exhibiting left-wing bias and censoring conservative voices. Musk has pledged to enshrine free speech on Twitter, which he has dubbed a "digital town square."
A number of right-wing Twitter users hoped to see their account bans overturned, while some GOP personalities—like Fox News host Tucker Carlson—returned to the platform.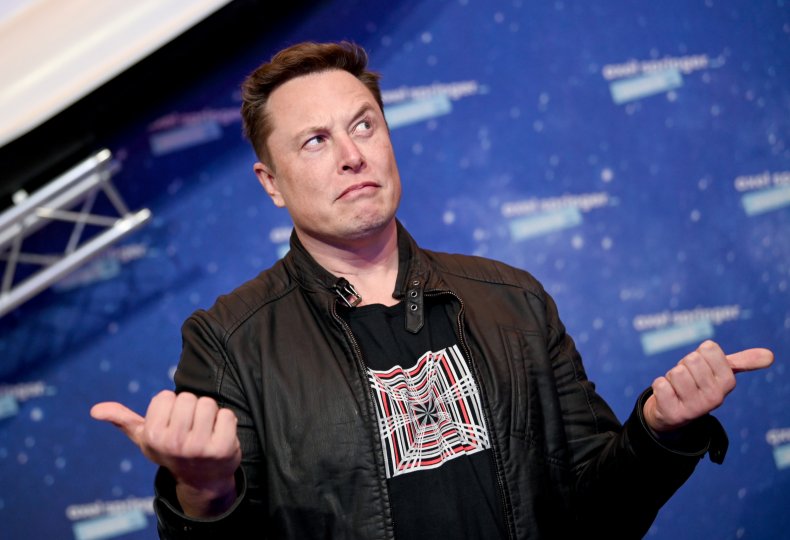 However, Black conservatives also began celebrating Musk, who is white, as the first African American to own a social media giant.
"An African American owner of the largest social media company on earth," wrote Lavern Spicer, a Black GOP congressional candidate, around the time the news of a deal emerged. "This is historic."
Elon Musk was born in Pretoria, South Africa to a white South African father and a Canadian mother. He eventually obtained Canadian citizenship through his mother and, after moving to the U.S. by way of Canada, became a naturalized American citizen.
Newsweek could not find any record of the wealthy entrepreneur publicly identifying himself as African American, though that did not stop people in the GOP from applying the designation to him as early as last year.
During a Tucker Carlson Tonight appearance in December, GOP Senate candidate Blake Masters referred to Musk as "our country's richest African American."
This label has now resurfaced, especially among Black Republicans, following Musk's purchase of Twitter. Some references appeared glibber than others.
"Elon Musk is the first African American to own a large social media platform," tweeted Black conservative comedian Terrence K. Williams. "He is one of my favorite African Americans and it's sad to see so many people on the left attacking him during this Historic moment."
"The libs are melting down, now that an African-American owns Twitter," wrote Republican congressional candidate Billy Prempeh.
"They Used to love him for his green energy advancements, but allow free speech on the Twitter safe space? ohhh no! We can't have that!
"Somehow he's a white supremacist now. Ya'll are the true racists."
Georgia congressional candidate Vernon Jones called the deal "a huge win" for free speech. "Congratulations to my African-American brother," Jones tweeted, referring to Musk.
Radio host Larry Elder, who ran for California governor as the GOP candidate, wrote: "Why the meltdown over @elonmusk's purchase of @Twitter?
"After all, Musk checks a lot of the left-wing boxes. He's paid more taxes than anyone in history. He makes electric vehicles that the climate change alarmists want us all to buy. And he's an African-American."
There was pushback to the GOP's attempts to label Musk with a term that is typically attributed to Black Americans. Many pointed to Musk having grown up white in apartheid South Africa (which ended in 1994).
"White conservatives on here calling Elon Musk African-American is as ridiculous and disingenuous as them pretending Jesus was white," tweeted Bishop Talbert Swan.
"The Venn diagram of cynical racists and people who call Elon Musk an 'African American' is a circle of hell," wrote university professor Uju Anya.
Twitter user @triviacop likened referring to Musk as African American to calling a bowl of sliced avocadoes, tomatoes and olives a "fruit salad."
"It may be 'technically' correct, but you know damn well that's not what you're expecting when you order a fruit salad," he tweeted. "Stop that. Stop that right now!"
"ppl are really calling Elon Musk African American when African American is its own UNIQUE ETHNICITY and is strictly for african descendants of slavery," wrote user @ultralovedeluxe. "it doesn't mean someone from africa who moved to America. i'm sick and f***in tired of ppl trying to erase our ethnicity"
Amid debates over whether the term "African American" applies exclusively to the American descendants of enslaved people forcibly removed from sub-Saharan Africa, Christina Greer, associate professor of political science at Fordham University, said it ultimately boils down to Black Americans' personal preferences.
"There's some people who are 10th generation Black American, but they like the term African American because it connects them to an ancestry that they were stolen from," Greer told Newsweek.
"Some people who are from the continent who migrated here like the term Black American because they're like, 'African American? But there's 54 countries in Africa.' So they find that just a little too broad."
A 2021 Gallup poll found 58 percent of the 275 non-Hispanic Black Americans surveyed did not express a preference between the terms "Black" and "African American." The poll had a margin of error of 7 percentage points.
Following a history of slaveholder-given epithets, the nomenclature for America's Black community has known shifts with the abolition of slavery and the civil rights movement.
In 1988, Reverend Jesse Jackson encouraged the use of "African American," believing it to foster a connection between Black Americans' ancestral land and the home they have always known.
"That is definitely something that was encouraged in the 1980s because it was part of a larger diaspora conversation that Black people were having in the United States and with other Black people abroad, in the Caribbean and also in the continent of Africa and in Latin America," Greer told Newsweek.
Greer said Black conservatives calling Musk African American—particularly given his background—is "at the lowest level insulting, at the highest level just unimaginable."
"This idea that because he is purchasing Twitter for $44 billion that he's somehow African American—which is another word for Black in this country, in this context—is really disingenuous," Greer told Newsweek.
"He may technically be naturalized American, but does he have the African American experience of any capacity? Absolutely not. Has he ever been interested in the African American experience? No."