Ethics Complaints Filed Against Texas AG Ken Paxton for Efforts to Overturn 2020 Election
Four former presidents of the State Bar of Texas joined a group of high-profile lawyers on Wednesday to file an ethics complaint against Texas Attorney General Ken Paxton, a Republican, over his efforts to overturn President Joe Biden's 2020 election victory against former President Donald Trump.
Paxton filed a widely criticized lawsuit with the Supreme Court in December, in which he sued the battleground states of Georgia, Michigan, Pennsylvania and Wisconsin over what he claimed were "unconstitutional irregularities" in their election processes. The Supreme Court rejected the lawsuit, which came as Trump and his allies repeatedly promoted baseless allegations that the 2020 presidential election was "rigged" or "stolen."
The organization Lawyers Defending American Democracy, which asserts it is not partisan, filed the lawsuit in connection with 16 prominent Texas attorneys.
"The injunction Mr. Paxton sought with the Supreme Court would have usurped the presidency for the next four years and cast doubt on whether truly democratic presidential elections would ever have been restored in America," Jim Harrington, one of the complaints signers and a retired founder of the Texas Civil Rights Project, said in a statement published on LDAD's website.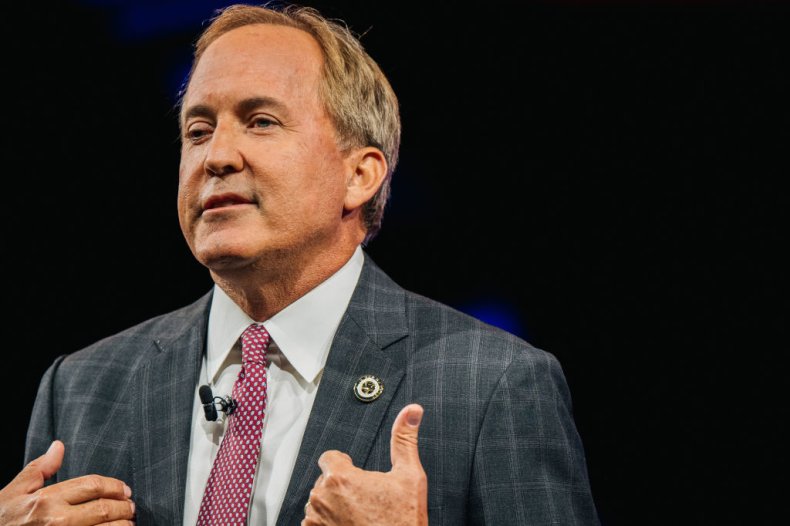 Harrington said Paxton's actions "demonstrated his disregard for the ethical rules which govern lawyers and for our country's democratic principles."
Gershon Ratner, co-founder of LDAD, explained the lawsuit did not have "standing," as the Supreme Court inevitably determined. Ratner described Paxton's lawsuit as "a prescription for an autocratic president to perpetuate his power indefinitely against the will of the voters," according to a statement published on LDAD's website.
Texas Lawyer reported the 31-page complaint was sent to Seana Willing, chief disciplinary counsel for the state's bar association. The attorneys asked the Texas Bar to review their complaint and to consider suspending the attorney general from practicing law—or disbar him altogether. Paxton was already under investigation after the chair of the Galveston Island Democrats Club filed a similar complaint against him. The attorney general has described that complaint as "unconstitutional."
Newsweek reached out to Paxton's office for comment on the ethic's complaint but did not immediately receive a response.
Trump and his allies continue to groundlessly claim Biden won the presidential election through widespread voter fraud. Dozens of election-challenge lawsuits filed by the former president and his supporters failed in state and federal courts. Even judges appointed by Trump and other Republicans rejected the often bizarre allegations.
Former U.S. Attorney General William Barr, who was widely viewed as one of Trump's most loyal Cabinet members, said in December there was "no evidence" to substantiate the claims of widespread fraud. Audits and recounts in key battleground states—including in places where the election was overseen by pro-Trump Republicans—have reaffirmed Biden's victory as well.