European Parliament President Roberta Metsola told Newsweek she is "cautiously confident" that the bloc will hand Ukraine a key victory on its path to full membership in the coming week, as top European leaders head to Kyiv for pivotal talks with President Volodymyr Zelensky.
Speaking exclusively with Newsweek from Brussels on Wednesday, Metsola acknowledged the fraught nature of EU enlargement but expressed confidence that Kyiv would be handed EU candidate status, an important step on the road to full membership and a potent signal of EU intentions.
"It is about a political signal that I would say I'm cautiously confident will be sent next week," the president of the parliament—one of the bloc's two legislative bodies made up of lawmakers elected by EU citizens—said.
"We have a decision in front of us. Either we say that we're opening the door, or we don't. If we don't, we would have failed not only Ukraine, but I think ourselves and our geopolitical strategic projects."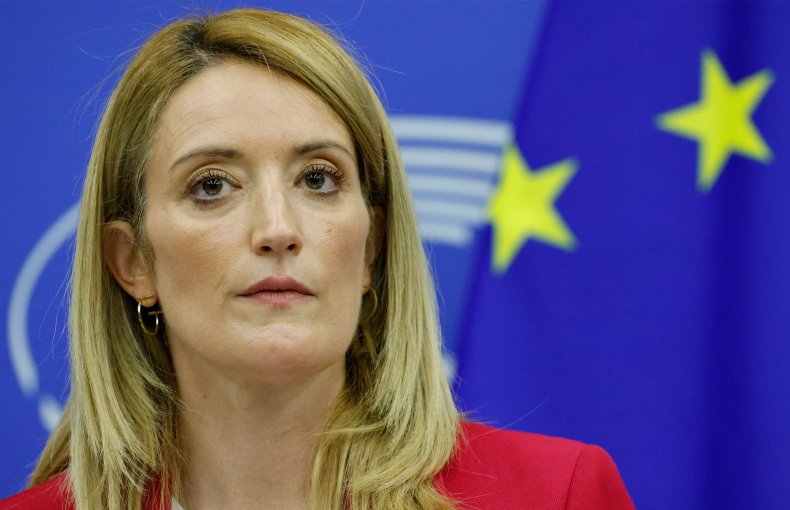 The European Commission—the bloc's executive arm—is evaluating Ukraine's suitability for candidate status, and according to Politico is expected to publish a positive verdict in the coming week.
But conferring the status on Kyiv requires unanimous approval from the leaders of all 27 member states, represented in the European Council.
Italian Prime Minister Mario Draghi said this month that every major EU nation, excluding Italy, was opposed to Ukrainian candidate status. Last week, Bloomberg reported that Denmark and the Netherlands are among the dissenters.
German Chancellor Olaf Scholz, French President Emmanuel Macron and Draghi are expected to travel to Kyiv on Thursday to meet with Zelensky. The talks could be pivotal in determining Ukraine's future path.
"Enlargement processes are always very difficult and the debates are always very, let's say, nationally based," Metsola explained.
"We have to give credit, first of all, to the Ukrainians, for the fight they're putting up but also for their blitz on capitals at all levels," Metsola said, referring to Kyiv's charm offensive urging EU nations to support—and even to fast-track—Ukraine's membership ambitions.
"I would say that they've done, and will do, so much over the next few days, and we will probably see Scholz and Draghi and Macron in Kyiv this week," Metsola said. "It would be for me, on behalf of the parliament, inconceivable that we close the door on them next week."
Ukrainian officials have appeared confident of winning candidate status in recent weeks.
"I share that cautious confidence," Metsola said.
'Crucial days ahead'
There will be many more battles before Kyiv joins the EU family, but bloc leaders, including Metsola, stress that candidate membership is a crucial signal of support as Ukrainians defend against Russia's invasion.
Questions of territorial integrity, democratic and judicial procedures are among those to be addressed, she explained.
"But these are steps that would need to be overcome once you become a member, when you're at the point of accession, and not when you open the discussions on candidacy," Metsola said.
Some in Ukraine fear that Macron's "European political community" proposal—a body through which non-EU nations can expand cooperation and integration with the EU—will leave Kyiv stuck in what Zelensky called a "gray zone" between Europe and Russia.
Metsola said any proposals to improve Ukraine-EU integration are welcome but must not undermine Kyiv's journey to membership proper.
"I don't want to talk about appeasement now," she said. "I also don't want to talk about the 'decades and the decades' that will be needed. I also don't want to talk about different categories.
"Putin didn't stop in 2008, he did not stop in 2015, and he will definitely not stop now until he—as he calls it—"liberates" Ukrainian territory for Russia, from Ukraine. This is not something that for me is possible in the very crucial days ahead."
Metsola said she did not want to "point fingers" at such a sensitive time, adding it is "difficult to say" where the opposition to Ukraine's candidate status is coming from.
"As we've seen in the past with the sanctions packages, who we thought would be reluctant in the end were not," she said.
"My concern is that government instability in a number of countries could hold things up. Rather than a few against, it's that they are not outspoken in favor," Metsola said of the holdouts. "We'll need to find the language that can be accepted here, that can be enough for Ukraine but also that can be sold at home."
Domestic politics is being complicated across Europe by soaring inflation, rising fuel costs, and the danger that rising food prices—caused by Russia's Black Sea blockade—and subsequent famine could spark a new wave of mass migration to Europe.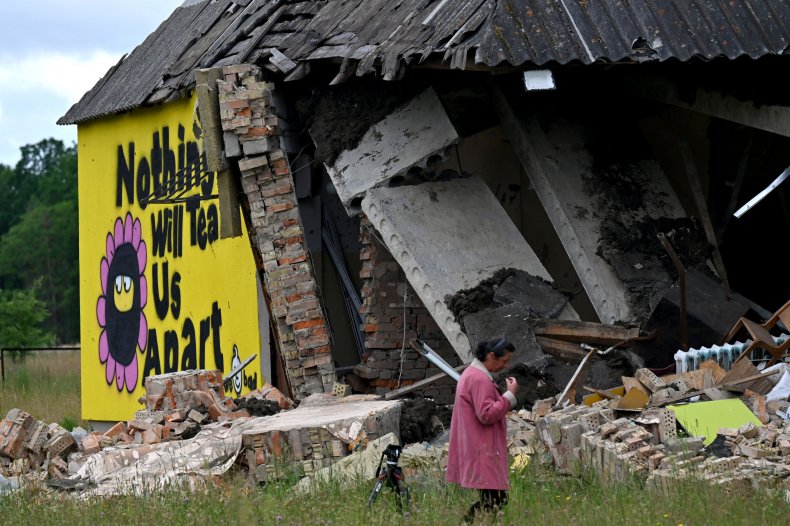 Metsola said national leaders should "absolutely" be doing more to steel their voters against long-term economic difficulty.
"How do we explain it? How do we cushion it?" she asked. "At the end of the day, our citizens are facing—in some parts of Europe—quite heavy and extensive unemployment, but also a winter where they can't pay their bills and heat their homes.
"That will then lead once again to the instability of government, with democratic change that might not be better than the ones we have now."
The war in Ukraine might also reanimate discussions about collective European defense and strategic autonomy, though Russia's invasion has starkly demonstrated how reliant Europe remains on America's military might.
"On defense, I would definitely look at a more efficient structures that can complement—not compete with—NATO while respecting the different member states and whether they have neutrality status or not," Metsola said.
The EU is a hulking, polylithic animal that rarely acts quickly. Metsola said she believes the EU is performing well, despite the well-publicized internal debates and disagreements over its Russia policy.
"Eight out of 10 Europeans are in favor of sanctions and the economic pushback against what the Kremlin is doing," she said. "And, for the first time in more than a decade, faith in Europe is growing.
"That is something not to be discounted as we look at where solutions could be found, and where political leadership is sought. We can, without trying to take credit, say that means that it's working."