Evangelical Preacher Insists Trump Won in 'Landslide' as Many 'Prophesied'
Evangelical preacher Nathan French insisted this week that former President Donald Trump won the 2020 election in "a landslide," arguing that the predictions of self-described Christian "prophets" were "true."
French is a founding leader of the The Rock Revival Center in Washington, along with his wife Danielle, according to his website Nathan French Ministries. In a Thursday interview with the online program The Elijah List, French asserted that Trump actually won the 2020 election, despite the reality that the former president lost. The evangelical speaker's remarks were first reported by Right Wing Watch.
"What God's doing is an incredible thing. There's things I know that I can't say, but what I can say is that Trump is not done," French said. "It is not over for sure. What God said, still stands."
"And did he win big? Yes. All the prophets prophesied that he was gonna win, and win big or a landslide—it was true, right?" the Christian preacher claimed. "So the real dominion is not the [voting] software they tried to manipulate, but real dominion is the Lord saying, 'I've given you all authority. Now I want my people to pray.' And from knowing I've got the authority because Christ lives in me, the hope of glory by the Holy Spirit."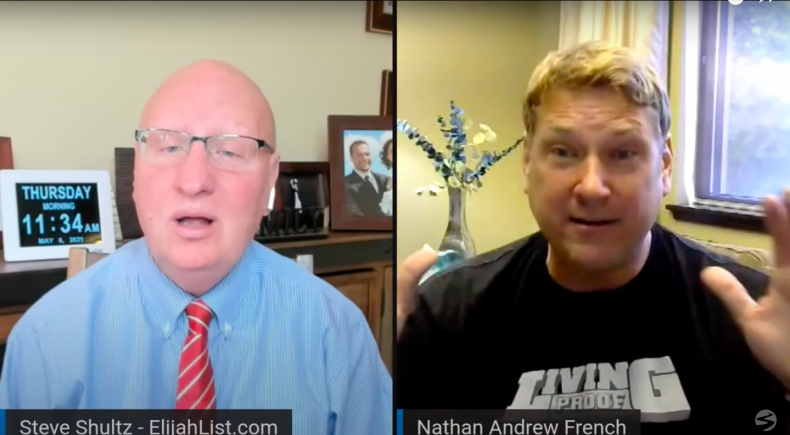 A number of prominent evangelical Christian pastors and self-described "prophets" predicted ahead of the 2020 election that Trump would remain president and defeat then Democratic presidential candidate Joe Biden. Even after Biden was sworn in as president and Trump left the White House, some of these Christian leaders have continued to claim that the former president won the election and will return to power.
Trump and many of his allies have fueled these groundless conspiracy theories as well, claiming that the 2020 election was "rigged" or "stolen" by Democrats and Biden. But there is no evidence to substantiate this extraordinary allegation.
Dozens of lawsuits challenging the 2020 election results have failed in state and federal courts. Even judges appointed by Trump and other Republicans dismissed and rejected the often bizarre claims. Meanwhile, audits and recounts in key battleground states—including in places where the election was overseen by Republicans who voted for Trump—reaffirmed Biden's victory.
Former Attorney General William Barr, who was widely viewed as one of Trump's most loyal Cabinet members, said in December that there was "no evidence" of fraud that would change the election results. Furthermore, the Cybersecurity and Infrastructure Security Agency at the Department of Homeland Security released a statement in mid-November describing the 2020 election as the "most secure in American history." The agency, which was led by a Trump appointee at the time, asserted that there was "no evidence that any voting system deleted or lost votes, changed votes, or was in any way compromised."
Conservative Christians—and particularly white evangelicals—have been a key base of support for Trump and other Republican lawmakers. Exit polling from the 2016 and 2020 elections showed that roughly eight in 10 white evangelicals voted for Trump.
The religious voters are often most politically animated by their concerns regarding prominent cultural issues, such as their opposition to women's reproductive rights, LGBTQ rights and legal protections for the transgender community. They see Trump as having championed their opposition to these issues during his tenure in the White House.
Newsweek reached out to French's ministry for further comment.