When Is 'EVE Online' X 'Doctor Who'? Everything About the Interstellar Convergence Event
In a surprise move, EVE Online will be collaborating with Doctor Who for a limited-time event later on this month.
Video game crossovers have become increasingly popular in recent years, especially when it comes to online multiplayer experiences.
The Fortnite item shop is regularly updated with skins for different movies and TV shows, Rocket League often expands its garage with rides like the Batmobile and the latest 007 cars, and Dead by Daylight features a roster of pop culture's most infamous slasher killers.
Even more serious titles such as Call of Duty have embraced the bizarre notion of having characters like Frank the bunny from Donnie Darko running around with AK-47s.
In short, it is almost expected nowadays that big-budget online games will have some kind of licensed crossover event. One release that has resisted jumping on this bandwagon (until very recently) is the space-exploration title EVE Online.
Generally speaking, this Massively Multiplayer Online Role-Playing Game (MMORPG) has a very serious tone, with fans appreciating its complex systems, political machinations, and emphasis on deep strategy.
As such, it is not the most natural fit for a quirky crossover.
Yet, that's all about to change, as developer CCP Games has announced that a Doctor Who event, titled "The Interstellar Convergence", is on the way. Running for a little over two weeks, this will be a limited-time affair, but it does indicate a big change in direction for EVE Online going forward, potentially opening up the game to more of these licensed crossovers.
What Is the Interstellar Convergence Event in 'EVE Online'?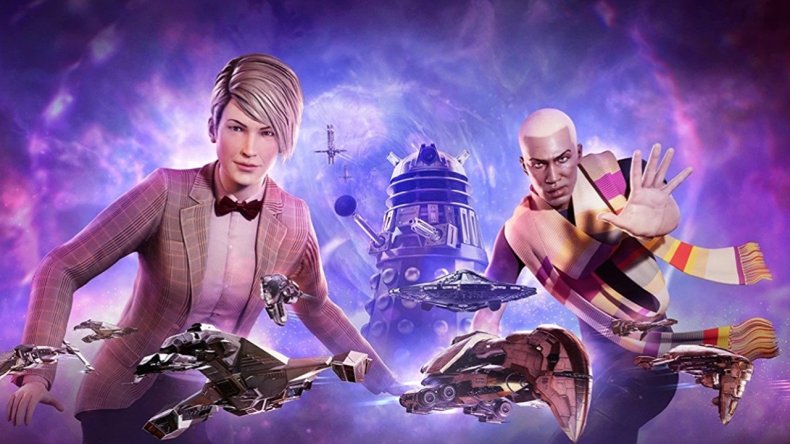 Not much is known about the specifics of the Doctor Who crossover at the time of writing, except that it will take place in an isolated pocket of the game (accessible via a wormhole), meaning that the new content will not be integrated with the rest of the EVE Online universe.
The fact that it's separate and that you cannot just stumble across it during normal gameplay should hopefully appease those purists who don't like the idea of the franchises mixing.
Once you traverse through the wormhole, you will arrive at a hitherto undiscovered area of space that is near Gallifrey (which Whovians will recognize as the planet the Time Lords hail from).
Here, you will have the opportunity to follow a trail of clues and track down the Daleks so that you can engage them in strategic battle. Defeating these iconic adversaries will then result in you getting exclusive Doctor Who inspired rewards that you cannot find elsewhere in EVE Online.
According to a post on the game's official website: "The Interstellar Convergence will be unlike any other EVE event before it, introducing a beguiling mystery, a trail of clues, multiple challenges, themed items, and even a vibrant new area of space [...] One thing you can be sure of is that The Interstellar Convergence will be one of the most distinct, engrossing events ever to take place in EVE Online, whether you are a die-hard fan of the Time Lord's adventures, or entirely new to Doctor Who."
When Is the 'Doctor Who' Interstellar Convergence Event?
The Interstellar Convergence content will be added to EVE Online on Thursday, January 13 and will remain in the game until Tuesday, February 1.
In terms of its specific start time, there is a live countdown on the homepage of the EVE Online website.
This indicates that the event will start at 6 a.m. ET. For those in other time zones, this translates to 11 a.m. GMT and 3 a.m. PST.