Every 'Gilmore Girls' Revival Pop Culture Reference, Explained (Part 1)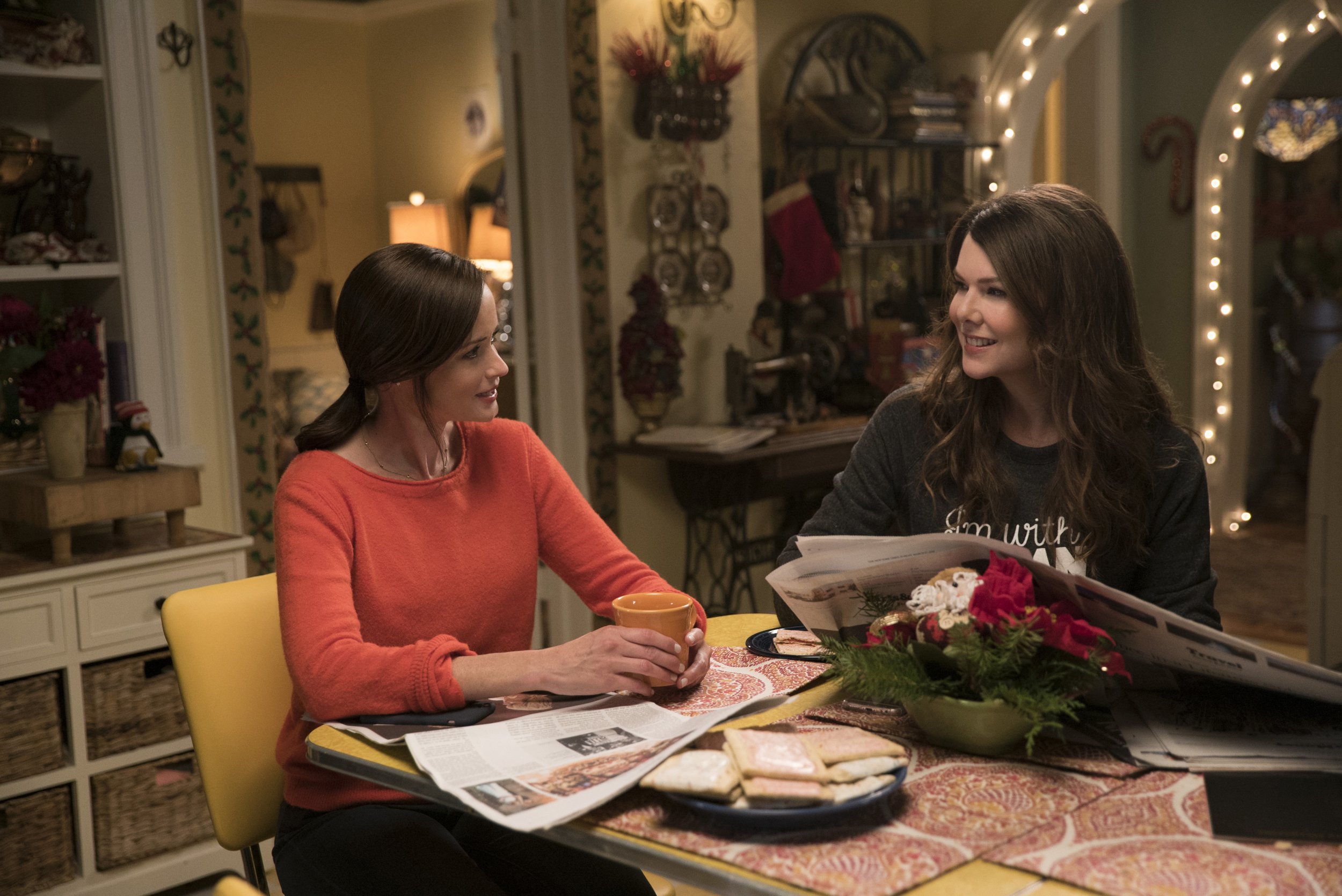 On November 25, Netflix released its four-episode Gilmore Girls revival subtitled, "A Year in the Life." As fans trek back to Stars Hollow to revisit the complicated relationships of three generations of Gilmore women, as well as the friends who orbit them, they must be forewarned: Co-creators Amy Sherman-Palladino and her husband, Daniel Palladino, who each wrote two episodes, have over-stuffed the episodes with pop-culture arcana.
By our count approximately 250 literary, film, music, television and other pop-culture items are referenced either directly or indirectly. The dialogue is denser than Rebecca Howe's mane with pop culture allusions, and if you did not catch that reference, then you will be deeper in over your head than Jack Dawson after he said farewell to Rose. You'll be more lost than those kids from Blair Witch Project. More up a creek than David Strathairn in The River Wild.
We have come to help. Below is Part 1 of our "Pop Culture Companion to the Gilmore Girls Revival." We will present it in four sections, corresponding to each episode, in the chronological order in which the references appear. Now before we begin: Coffee?
Episode 1: Winter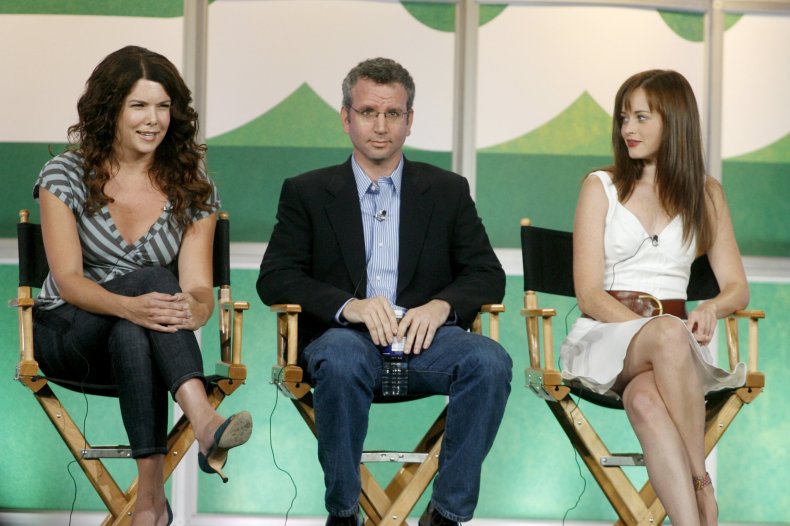 "I dreamed a dream…" (Lorelai Gilmore)
The initial reference, fittingly, is to Les Miserables, the greatest single-mother-and-daughter story set outside of Stars Hollow, Connecticut.
"You've been Gooped" (Lorelai)
Gwyneth Paltrow's San Francisco–based healthy lifestyle company.
Zoolander II (Lorelai)
The unworthy sequel to Zoolander.
Yonah Shimmel Knish Bakery (Rory Gilmore)
Rory claims to own a baseball cap repping the Lower East Side bakery whose knish is delish.
"Cat's in the Cradle" (Lorelai)
Classic 1974 Harry Chapin song focusing on the ironic twist in the parent-child relationship.
"Where would Superman change when he comes to save our town from Ben Affleck?" (Rory)
An allusion to Batman v Superman, a regrettable and forgettable 2016 film that would not yet have been released at the time of this quip.
"More burners than Omar Little" (Lorelai)
A reference to the badass character from HBO's The Wire
"A young Leonard Cohen" (Lane Kim)
Legendary songwriter and musician who wrote "Hallelujah" and died earlier this month.
The Talk of the Town (Luke Danes)
Regular section in The New Yorker, which ran Rory's piece on dissipated British feminist Naomi Shropshire.
War on Christmas (Lorelai)
Allusion to the slogan made popular by Fox News host Bill O'Reilly, among other conservatives.
"Genius of Love" (Lorelai)
A 1981 song by the Tom Tom Club, an offshoot of Talking Heads. Never mentioned, but Lorelai plays the song as she and Rory escape to bedroom, knowing that it irritates Luke.
Trainspotting (Lorelai)
A 1996 film about Scottish hooligans.
Related: What to watch and stream online this fall, from Luke Cage to "Gilmore Girls"
The Price Is Right (Lorelai)
A gameshow in which the number closest to the actual retail price without going over wins.
Huckleberry Finn (Lorelai)
Title character in the 1885 novel by Mark Twain.
Gwen Stefani (Lorelai)
Pop singer, currently dating Blake Shelton (see Episode 2: Spring)
Diane Sawyer, Mike Nichols (Rory and Lorelai)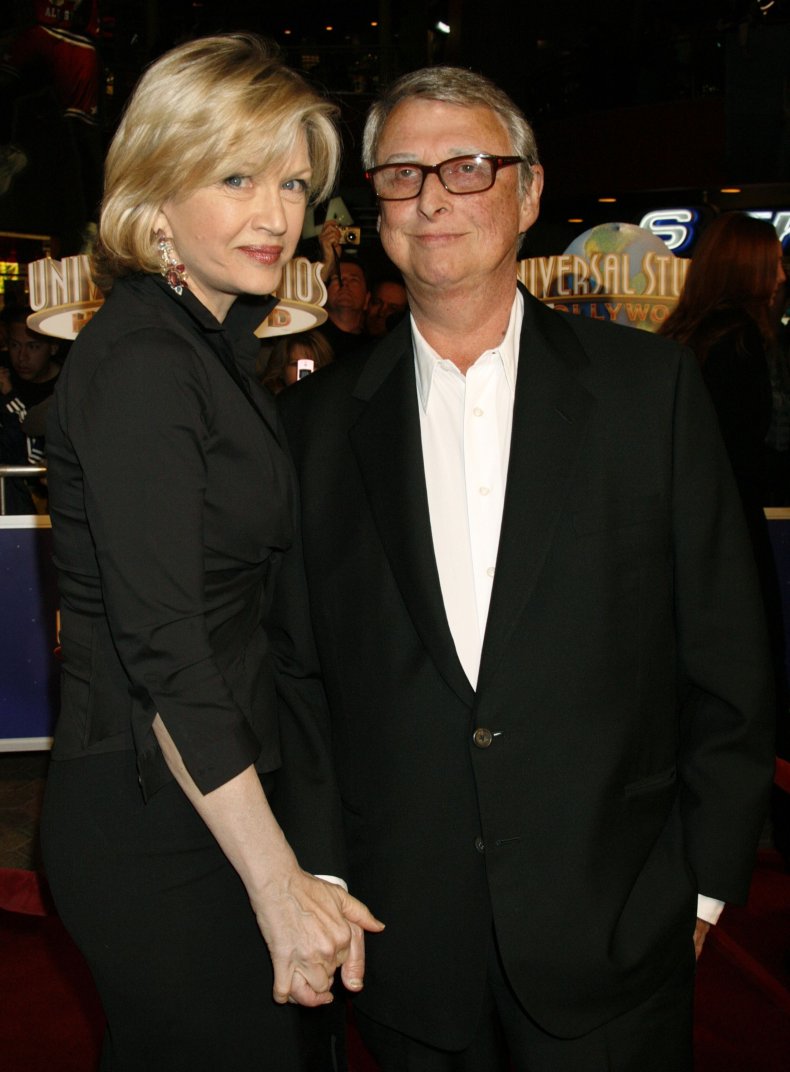 Media power couple, the latter of whom passed in 2014.
"Every Marvel Comics movie ever" (Lorelai)
Successful blockbuster film franchise based on Marvel superheroes.
Inside Out (Pet—no, Paul; or is it Patrick?)
Rory's neglected boyfriend references a 2015 animated Pixar film.
"Felix," "Oscar" (Lorelai and Luke)
Roommates from The Odd Couple, one of whom is fastidious and the other a slob.
"Eastern Promises steam room scene" (Lorelai)
A 2007 gangster film starring Viggo Mortensen and directed by David Cronenberg (see: Episode 2, Spring)
Radio City Music Hall Rockettes (Lorelai)
Talented terpsichoreans who perform in a famous art deco theater in midtown Manhattan
Gail Collins (Rory)
An op-ed columnist for The New York Times.
92nd Street Y (Rory)
A multifaceted nexus of culture on the Upper East Side of Manhattan.
Rock of Ages (Lorelai)
Broadway musical celebrating Eighties hair-metal rock.
"The well that Timmy fell down…" (Michel)
A reference to the accident-prone lad who was Lassie's closest companion.
Roy Choi
Korean taco truck magnate, who plays himself in the first of many celebrity cameos.
Wino Forever (Michel Gerard)
A tattoo worn by Johnny Depp, a remnant of his "Winona Forever" marking.
Anthony Bourdain (Michel)
Celebrity chef who does not appear.
Dan Barber (Lorelai)
New York chef whose upstate Blue Hill Farm is an avatar of the sustainable food movement.
"Top of the World" (Kirk Gleason)
A 1972 song by The Carpenters. Sung here by Kirk, but then overlaid with the 1994 version by all-female Japanese trio Shonen Knife.
Dean Martin and Jerry Lewis (Lorelai)
A 1950s-era comedy team.
Spiro Agnew (Lorelai)
Bulbous-headed vice president under Richard Nixon, 1969 to 1973.
"You got Spinal Tap-ped" (Lorelai)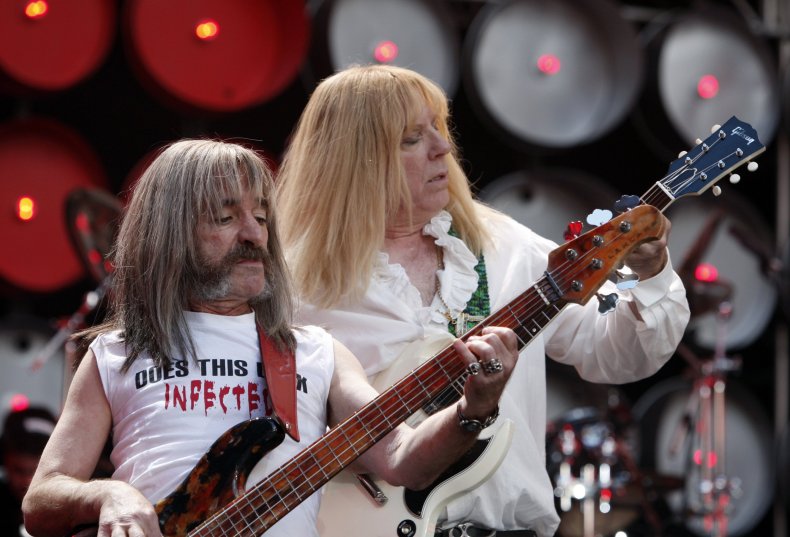 A nod to the fictitious, error-plagued British rock band from the eponymous 1984 mockumentary, This Is Spinal Tap.
Peter Jackson...the Argonath (Lorelai)
References to The Lord of the Rings trilogy, its director and a dauntingly large pair of stone pillars. To hammer the point home, Lorelai bellows, "Wizard, you shall not pass."
Jack Kerouac (Lorelai)
Renowned itinerant iconoclast, literary figure and pioneer of the Beat Generation.
Llewyn Davis (Emily Gilmore)
Title character from 2013 Coen Brothers film. We believe Emily Gilmore would only have seen this movie if Lorelai dragged her to it.
The Breakfast Club (Lorelai)
Iconic 1985 teen angst film directed by John Hughes. We believe Lorelai is able t quote this movie in its entirety.
Buffy the Vampire Slayer (Paris Geller)
Hit '90s television show that was renowned for arcane pop-culture references.
Doogie Howser/Neil Patrick Harris (Paris and Luke)
Emmy- and Tony-winning gay actor who is married and the father of twins and who first came to prominence as the adolescent star of Doogie Howser, M.D.
Gone Girl (Paris)
2014 cinematic thriller in which Neil Patrick Harris has a supporting role.
John McPhee (Rory)
Pulitzer Prize–winning American author who specializes in nonfiction.
What happens in Vegas (Rory)
Successful marketing slogan for Sin City.
"I'm the Pablo Escobar of fertility centers" (Paris)
A nod to the ruthless and rich Colombian drug lord.
"YouTubing Zoella" (Taylor Doose)
An allusion to the British millennial fashion vlogger with a wildly popular YouTube channel.
Def Leppard (Paris)
Massively popular Eighties British rock band.
Brett Ratner (Paris)
Bad boy Hollywood film producer.
"Our nanny looks like Benicio del Toro" (Paris)
Oscar-winning Puerto Rican actor.
"Fridays on ABC" (Lorelai)
Early Eighties late-night sketch comedy show patterned after Saturday Night Live that aired on ABC. Spawned the careers of Larry David and Michael Richards.
"The student surpasses the teacher" (Lorelai)
Reference to an iconic line from the Seventies TV show Kung Fu.
"I'm The Man" (Hep Alien)
Classic 1979 New Wave punk song by Joe Jackson, covered here by Stars Hollow's most beloved garage-rock band. That's Sebastian Bach, lead singer for Eighties hair-metal band Skid Row, doing co-lead vocals in the role of Gil.
Marie Kondo (Emily)
Best-selling Japanese self-help author who wrote The Life-Changing Magic of Tidying Up.
Billy Squier (Lorelai)
Early '80s rocker best known for "The Stroke."
"Tony Soprano show" (Emily)
A reference to the HBO mob family drama The Sopranos in general and to Tony's therapy sessions with Dr. Melfi in particular.
Woody Allen (Lorelai)
Legendary New York filmmaker who for decades has extolled therapy in his movies.
Read more from Newsweek.com:
- Why "Gilmore Girls: A Year in the Life" will be bingeworthy
- Netflix releases first "Gilmore Girls: A Year in the Life" trailer
-Reserve Thanksgiving weekend for "Gilmore Girls: A Year in the Life"