Every Republican Candidate to Be Asked if They Think Election Was Stolen
A progressive campaign is set to ask every elected Republican official and every Republican running for office in this year's midterms whether they believe the false claim that the 2020 presidential election was stolen.
The project was announced by the grassroots movement Daughters Defend Democracy, which seek to elect Democrats, in collaboration with the liberal Political Action Committee MeidasTouch. In a tweet, Daughters Defend Democracy said the question will be sent via certified mail via the United States Post Office and that they "will not be accepting non-answers."
The group announced the plan in the wake of the latest January 6 hearing, which detailed how a number of members of former President Donald Trump's inner circle had accepted that he had lost the election and that there was no evidence of widespread voter fraud, as he claimed.
However, Trump refused to listen and continued to falsely declare he had beaten Joe Biden in 2020, eventually culminating in his supporters storming the U.S. Capitol on January 6, 2021.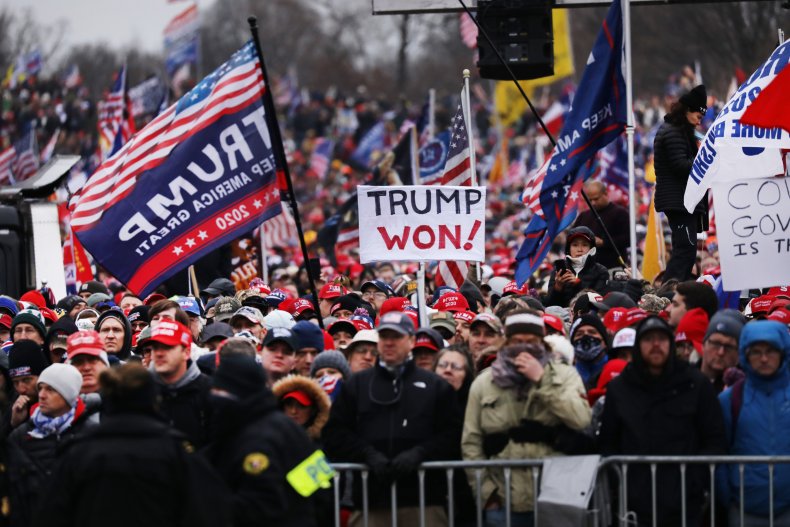 Former White House counsel Pat Cipollone also testified that the former White House chief of staff believed that Trump would eventually concede defeat, but still stood by the president even after the insurrection.
"The January 6th hearings today reminded us of how every Republican elected official knew that there was no voter fraud in the 2020 election," the group tweeted on Tuesday. "Yet they said and did nothing. They must all be voted out."
It is unclear what the Daughters Defend Democracy and MeidasTouch plan to do with the answers from the hundreds of sitting and potential Republicans, should they get the responses.
A number of senators and House members openly support Trump's false claim the last election was rigged, with large swathes of MAGA-esque candidates across the government—many of whom have been endorsed by Trump—making exposing the non-existent voter fraud a key part of their midterm election campaigns.
A recent poll showed that a large percentage of Republicans also still do not believe that Biden legitimately won the 2020 presidential election despite no evidence of voter fraud more than 16 months since the election took place.
According to an Economist/YouGov poll conducted between July 2 and 5, just 25 percent of people who voted for Trump in 2020 believe Biden won fairly, with more than a third (36 percent) of the total respondents also backing the false claim Biden did not legitimately win the last election.
On January 5, the eve of the one-year anniversary of the Capitol attack, a Washington Post/University of Maryland survey found that 62 percent of Republicans believe that there is evidence to suggest widespread voter fraud was the reason Trump lost to Biden.
Newsweek reached out to Daughters Defend Democracy for comment.